A former Mart woman who sexually abused a young family member for almost three years was sentenced to life in prison without parole Thursday.
Jurors in Waco's 19th State District Court deliberated about 15 minutes before returning the maximum punishment for Aerial Monique Simon, 33, who was fired as a correctional officer at the Texas Youth Commission facility in Mart in 2009 for "unprofessional conduct and inappropriate relations" with a juvenile offender.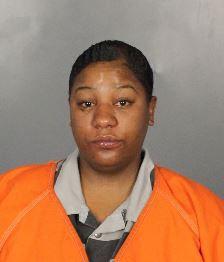 The jury of nine men and three women deliberated about 90 minutes before finding her guilty of continuous sexual abuse of a child. Prosecutors Will Hix and Sydney Tuggle abandoned a count of indecency with a child by contact at the close of their case.
"We are proud that once again the citizens serving as jurors in McLennan County heard and believed the story of the courageous young man who took the stand this week," Hix said. "The verdict they returned is the first step on his road to healing, and we were humbled to be able to play our part."
Simon was convicted of sexually abusing a family member from March 2015 to December 2017, starting when the boy was 11. She was arrested in January 2019 after the boy reported to another family member that Simon abused him, and that information was passed on to Seagoville Police and Child Protective Services. The boy was living with a family member in Seagoville at the time.
In punishment phase evidence, prosecutors told jurors Simon has convictions for assault on a public servant and theft and frequently was disciplined during the 1,016 days she spent in the McLennan County Jail before trial. She engaged in frequent arguments with inmates and left at least one inmate bloodied and injured after a fight in their holding tank, a county jailer testified Thursday.
Defense attorney Jonathan Sibley reminded jurors in closing statements that the boy recanted his allegations on a number of occasions and admitted as much from the witness stand Wednesday. Sibley also attacked the thoroughness of the investigations by Seagoville and Mart police, Child Protective Services investigators and child advocacy forensic interviewers.
Sibley said after the three-day trial that he and Simon are "incredibly disappointed" with the jury's verdict.
"There were contradictory facts that seemed to be ignored during this investigation and that should terrify anyone in a position that might expose them to a false accusation," Sibley said.
Sibley argued that CPS investigators did not talk to Simon's side of the family, investigate the crime scene or press the boy after learning that he recanted.
"Have you ever seen a story that doesn't have another side?" Sibley asked jurors. "The other side came out when he was allowed to go back to the other side of the family. The fact that he told several people different things, the fact that he told different things on the witness stand, the fact that he recanted all adds up to reasonable doubt."
Sibley suggested the boy's father urged him to accuse Simon because he wanted the boy to live with him and to stop paying child support.
While the boy acknowledged his recantations, he testified he was pressured by Simon and her family members to change his story. A relative reported to authorities that Simon threatened to kill the boy if she ever saw him again.
Hix asked jurors to remember how uncomfortable the boy was during his testimony, saying he looked like he wanted to die up there. Hix asked what the boy had to gain by humiliating himself in court by continuing with the accusations and describing for the jury the sexual abuse in graphic detail.
"It would be so much easier for him for the remainder of his life if this all weren't true," Hix said.
In punishment summations, Sibley reminded jurors of defense witnesses who described Simon as a loving, caring person. He asked the jury to show her love, grace and mercy, saying if they assessed the minimum 25-year sentence without parole, she would be almost 60 before she could be released.
Tuggle countered that her friends and family members painted a far different portrait of Simon than who she actually is, while Hix asked the jury where was the love, grace and mercy Simon should have shown the boy.
"That boy was tortured by the memories of what this woman subjected him to and he will be tortured for the remainder of his life," Hix said.