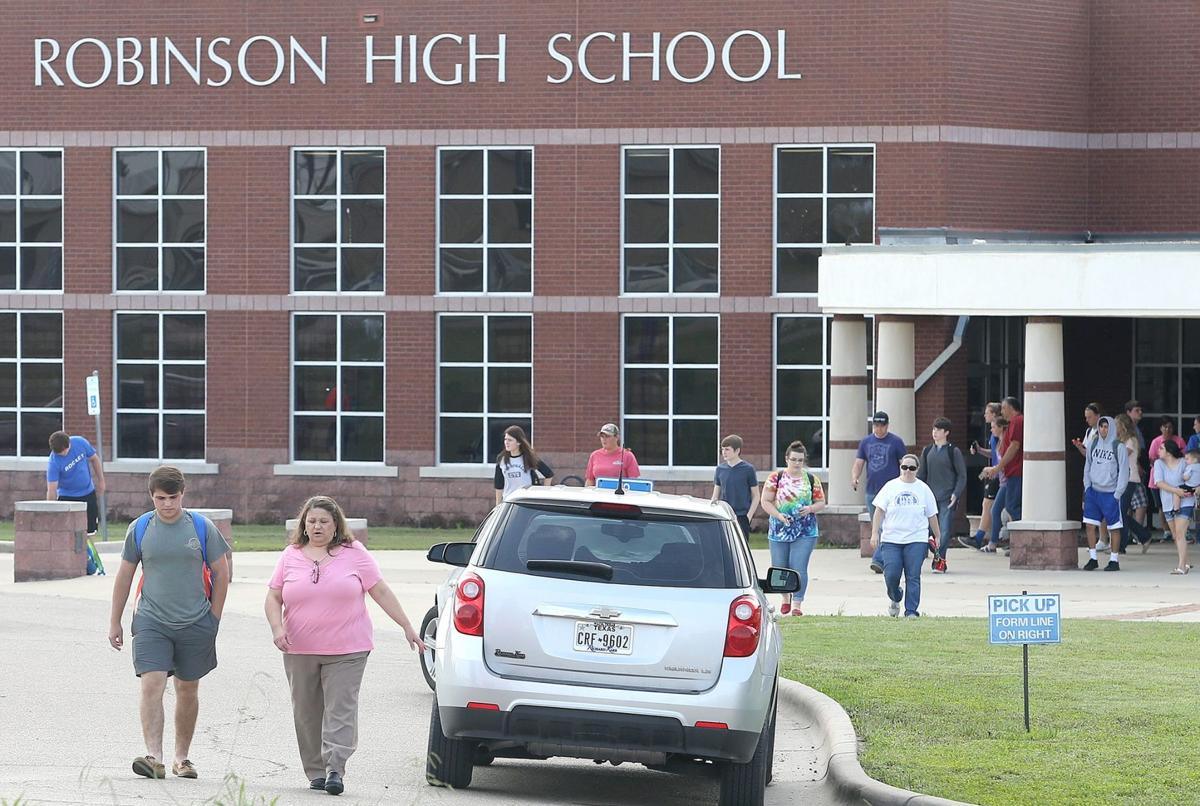 The former principal at Robinson High School and his wife allege in a lawsuit that they were forced out of their jobs in 2019 because of "bigotry, racism and discrimination."
Lamar Collins and his wife, Rose Collins, a former substitute teacher, are seeking from $250,000 to $1 million in damages in their lawsuit against the Robinson Independent School District.
The suit, filed Thursday in Waco's 414th State District Court, says the Collinses were two of only four Black employees at Robinson High School and alleges school officials violated the Texas Labor Code through racial discrimination and retaliation.
Deputy Superintendent Tim VanCleave declined comment on the lawsuit Friday. He said school officials do not discuss personnel issues.
Austin attorney Christine Badillo, who represents the school district, did not return telephone messages Friday.
According to the lawsuit, Lamar Collins was hired as principal at Robinson High School in the fall of 2018 and his wife worked as a substitute teacher.
"They were both well-liked by students and parents," the suit states. "Unfortunately, When Dr. Collins' white secretary complained about Ms. Collins to the white superintendent and white deputy superintendent, RISD reacted with bigotry, racism and discrimination."
The suit alleges that, "without explanation," Robinson ISD banned Rose Collins from the high school, and banned her from all campuses a month later.
"RISD then went after Dr. Collins," the suit alleges. "In June, Dr. Collins was told, without explanation, that his contract would not be renewed. Dr. Collins was told to quit or be reassigned. When Dr. Collins refused to quit, he was reassigned. RISD then cut his pay by nearly $20,000. No explanation has ever been given for RISD's actions. RISD has broken the law."
Austin attorney Colin Walsh, who represents the Collinses, said Lamar Collins is now a high school principal in Windsor, California. Walsh declined additional comment.
The suit claims Lamar Collins' secretary did not like Rose Collins "and was often rude and disrespectful to her." Collins decided to address the tension between the women in May 2019 and called them in for a meeting.
The secretary said she did not have a problem with Rose Collins, "it was simply that she did not have time to socialize with substitute teachers."
Rose Collins said the secretary often looked her in the eye but did not speak, the suit alleges. As an example, she cited a time when the secretary came into Lamar Collins' office, looked at some papers and was about to walk out when Rose Collins, according to the lawsuit, said, "Are you still not going to speak?"
The secretary replied that she did speak to her.
"Ms. Collins then very sternly said, 'That's a bold-face lie. You are so disrespectful,'" the lawsuit states.
The secretary filed a complaint with VanCleave, who then met with Lamar Collins and Superintendent Michael Hope. After Collins told them what happened, VanCleave, "without further investigation or even asking Ms. Collins what had happened, told Dr. Collins that his wife was prohibited from substitute teaching and banned from the high school for the rest of the year," the suit alleges.
In June 2019, Rose Collins received a letter imposing "an indefinite, physical ban from all RISD campuses." Lamar Collins was told five days later that his contract as principal would not be renewed. The lawsuit claims no reason was given.
Hope told Collins the following week that he would be reassigned to another position if he did not resign.
"No explanation was provided. When Dr. Collins did not resign, Dr. Hope reassigned him to a position that paid $20,000 less a year," the suit states. "In July, Dr. Collins realized he could not support his family with the significant pay cut and he was forced to resign as a result."
The suit says he was replaced by a white employee and the "only explanation seems to be race discrimination and retaliation," the suit states.