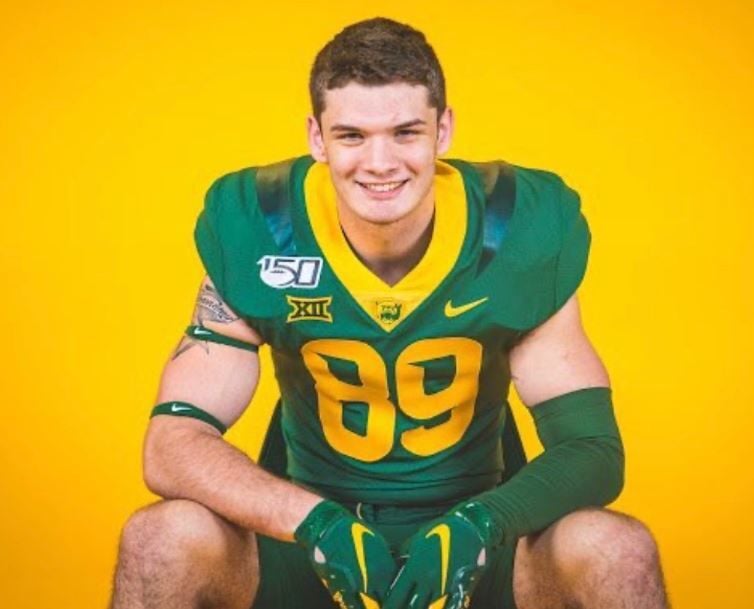 A Falls County grand jury cleared a Baylor University football player of wrongdoing Monday after hearing new evidence that road conditions — more than his excessive speed — played a major role in causing the June 2019 fatal crash that killed a mother of six.
The grand jury no-billed Logan Compton three weeks after Falls County District Attorney Jody Gilliam dismissed a manslaughter indictment against the freshman tight end after discovering new evidence of the dangerous road conditions at the spot of that accident and two other fatal crashes since 2016.
Gilliam said she decided to reopen the case after speaking with residents who live near the location that locals call "Dead Man's Curve." They reported that every time it rains, there were multiple wrecks and cars sliding off the road before Texas Department of Transportation officials improved the roadway after the death of Falls County Deputy Matt Jones.
Jones was killed and Riesel Police Chief Danny Krumnow was badly injured while working an accident about a mile south of Riesel in the northbound lane of State Higway 6 four months after Compton's wreck in the same location in which Hermaleen Haney, 30, of Granbury, was killed.
"I presented it to the grand jury and they made their decision," Gilliam said Monday.
Gilliam cited the confidentiality of grand jury proceedings for declining to identify the witnesses she called and details of their testimonies. However, she said the difference between the previous grand jury that indicted Compton was new evidence of all the other wrecks at that location when it rained, and the fact that no wrecks have occurred there since TXDOT resurfaced Highway 6 from Marlin to Riesel.
Gilliam said last month that she thinks dismissing the case was the right thing to do despite the fact that the "black box" in Compton's 2008 Dodge Ram pickup truck showed he was driving 86 mph in a 75 mph zone when he lost control on the slick road, slid across the median and struck the car driven by Haney.
Haney's husband, Andrew Haney, who was riding in the car when his wife was killed, said he is "very upset" that Gilliam dismissed the charges and then presented the case again to another grand jury.
"They didn't bring in the key witness who gave a report of reckless driving by Compton," Haney said. "He said Logan came up on his tail so fast and so hard that he had to speed up and move over to get out of his way. He saw Logan pass him and saw him lose control, cross the median and hit us head on. He gave them a full report, but for some reason they did not contact him."
Gilliam said that witness was not called because he "did not give the same report to the trooper that he gave to Mr. Haney, and Mr. Haney and I discussed that."
"I have an ethical obligation to follow the law and present all evidence to the grand jury that would be exculpatory, and that is what I did," Gilliam said.
Haney said he thinks officials are "overlooking" evidence because Compton is a Baylor football player.
"I don't feel like she did her job and now I am going to hire a lawyer, appeal it and do everything I can for justice to be served," Haney said. "I want him to be held accountable for reckless driving."
Compton's lawyer, Cody Cleveland, said he notified Compton of the grand jury's decision Monday afternoon just before he went to a Baylor team meeting. He said the former Tomball High School standout was relieved and thankful. Baylor officials allowed Compton to return to school and the football team after the manslaughter charge was dismissed.
"I want to thank Jody for taking the time to revisit the new evidence and things that came to light since the last grand jury indicted Logan," Cleveland said. "Two weeks after the grand jury indicted Logan, Deputy Jones was killed in the same spot, which highlighted the dangerous issues with the road. Those issues have since been fixed and there have been zero accidents there since. I also want to thank the grand jury for taking the time to fairly evaluate the new evidence and making the right decision."
Cleveland said he will seek to have Compton's arrest and indictment expunged from his criminal record. He also will ask Baylor to lift its order prohibiting Compton from driving on campus, he said.
Cleveland said the first grand jury indicted Compton because "all they heard was he was speeding."
"In the officer's report, he indicated the reason for the accident was that Logan was traveling 86 in a 75 in the rain, and he never listed there were issues with the road as a potential cause," Cleveland said.
Compton was so affected by the accident that he has been receiving counseling for post traumatic stress and survivor guilt and has had the date of the crash tattooed on his chest in Roman numerals as a forever reminder of the tragic incident, Cleveland said.
Haney said if Compton is sorry for his actions, he has seen no sign of it.
"My son is 23 years old," Haney said. "If he was to run off and drive stupidly or drive recklessly or just have a pure accident and take the life of another, I would have reached out to that family and I would have extended my condolences. The DA keeps saying how sorry Compton is, but not one time have I seen it or heard one word of condolences from anyone."
In a statement to the Tribune-Herald last month, Compton thanked his family, Cleveland, friends and Baylor for their love and support.
"The events of June 16, 2019, have haunted all of those involved for over a year," Compton said. "Not a day has gone by that I haven't thought about the tragic accident that took place. Although I am excited about the opportunity to continue my education and rejoin my teammates, my heart still breaks for the family that lost a love one. I will continue to keep the Haney family in my prayers."
Gilliam said she also had hoped to present the case involving Jones' October 2019 death and Krumnow's injuries to a grand jury on Monday, but said she could not do so because she has not received a final report on the investigation.
The driver's vehicle hydroplaned and slid into the officers while they were working an earlier wreck in the same spot in which Compton lost control. The driver in that crash has not been arrested.
Sign up for our Crime & Courts newsletter
Get the latest in local public safety news with this weekly email.