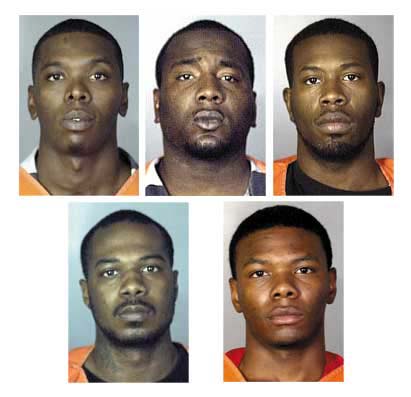 Five men, including three brothers, were indicted Wednesday on capital murder charges in the March shooting deaths of a high school student and a 20-year-old man at the Lakewood Villas apartment complex.
A McLennan County grand jury indicted Kennedy Wayne Hardway, 25; Albert Leslie Love Jr., 24; Tyrece Edward Richards, 23; Ricky Donnell Cummings, 21; and Darvis Tyrell Cummings, 20, on capital murder charges in the deaths of Tyus Sneed, 17, and Keenan Hubert, 20.
The pair were shot and killed as they sat in the back seat of a car at the complex at 1601 Spring St.
Two other men in the front seat of the car suffered multiple gunshot wounds but were able to escape and flee from the area, police have said.
McLennan County District Attorney Abel Reyna said Wednesday that authorities don't think all five men fired shots that resulted in the deaths of the two men.
But they are being charged under the law of parties, making them equally culpable for the planning and execution of the attack.
Reyna said his office has not determined if it will seek the death penalty in any of the cases.
If not, the defendants will face life without parole if convicted of capital murder.
They were indicted for capital murder because more than one person died in the criminal episode.
"Rest assured, the actions of the district attorney's office should ring loud and clear throughout the whole community that if you choose to prey on McLennan County citizens, if you choose to engage in violent crime, or any crime for that matter, you will be met with a new, aggressive attitude," Reyna said. "You will be met with thorough, swift and aggressive justice."
According to court records, police said Cummings, Richards, Love and Hardway were part of a group who approached the car where the victims were sitting and starting firing handguns and an assault rifle. The onslaught pierced the driver's side of the car with at least 20 bullet holes, police have said.
Witnesses reported to police that they saw five men flee the scene of the shooting. One man appeared to be acting as a lookout during the attack, police said.
All five remained jailed Wednesday.
In other action, the grand jury also indicted 21-year-old Delarontae Dantario Walker on four counts of aggravated robbery.
Police said Walker robbed five people in four separate robberies from May 7 to May 28, including one in which he walked into the home of a 66-year-old Waco man on Frost Avenue and robbed him at gunpoint.
In another incident on May 22, Walker reportedly opened the back door of a car in which a woman and man were sitting, pointed a gun at them and took their property and their car.
Walker remains jailed in lieu of bonds totaling $493,500.