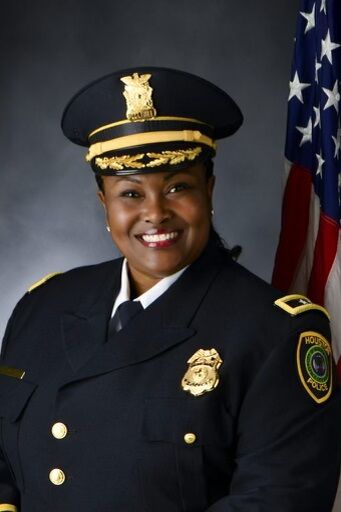 Waco's city manager has recommended an assistant chief from the Houston Police Department as Waco's next police chief, giving the city its first female and first Black police chief if confirmed by city council next week.
Waco City Manager Bradley Ford selected Sheryl Victorian as the final candidate Monday, and the Waco City Council is set to confirm the decision Feb. 16.
In addition to 28 years of experience with Houston Police Department, Victorian has a doctorate in administration of justice from Texas Southern University, a master's degree in criminal justice from the University of Houston-Downtown, and a bachelor's degree in public affairs from Texas Southern University. She is also a graduate of the FBI National Academy.
In a press release, Ford said the five-month search drew 43 applications from 17 states.
"Sheryl's depth of hands-on management experience, her educational background and her support for innovative programs all stood out." Ford said. "Sheryl shared our community's vision for a leader who embraces continuous improvement, community policing and a commitment to serving and protecting all of our citizens."
Former Chief Ryan Holt left the post a year ago to become an assistant city manager, leaving Frank Gentsch as acting chief and later interim chief.
The city narrowed a nationwide search for five candidates during a previous candidate search for the position in June, then restarted the search, citing the need for more community input amid a national dialogue about the relationship between police and racial minorities.
The new process included a community stakeholder panel that started meeting in October, an online survey and at city libraries asking what residents want in a new chief.
Waco NAACP President Peaches Henry, who served on the community panel, said restarting the police chief search was a "courageous" move on the city manager's part and the changes to the process made the search more inclusive.
"I think doing so has really given the community a sense of engagement and ownership of the process, so I think that's great," Henry said.
Henry said she was impressed by Victorian's experience as a patrol officer, sergeant, lieutenant, captain and assistant chief, but also with her academic experience. Victorian has taught courses on technology, ethics, contemporary policing issues and racial disparities as an adjunct professor at Southern New Hampshire University.
"I just think she's going to be a role model for young people, especially young women of color," Henry said.
Victorian also won the 2018 Public Interface award from the American Society of Public Administration for her community engagement work.