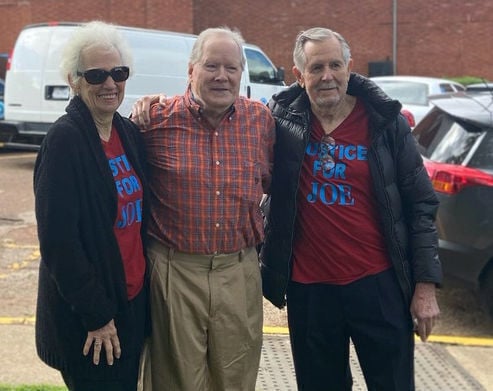 Attorneys for Joe Bryan have not abandoned their quest to clear the former Clifton High School principal's name in the 1985 murder of his wife, Mickey.
Eight months since the 80-year-old Bryan's parole from prison after 35 years behind bars, Allison Clayton, deputy director of the Innocence Project of Texas, filed a petition this week asking the U.S. Supreme Court to consider Bryan's innocence claims.
While Bryan is happy he was released in March after being rejected for parole seven times, neither he nor his attorneys harbor any delusions that his exoneration is a sure thing, despite their building a solid case that he did not kill his wife and debunking forensic evidence used to convict him.
Bryan said he tries to maintain a positive attitude but admitted Thursday he is "profoundly frustrated" by the criminal justice system. He said he is "truly blessed" to have such dedicated lawyers trying to win his exoneration.
"I think it is an uphill battle, but you can't give up hope," Bryan said. "You have to think that someday someone will realize that we made a big mistake and we need to correct this, and we just haven't met that person yet. It is highly unusual that people can perjure themselves in two trials and get away with it and that evidence can be manipulated and they can get away with it."
The Texas Court of Criminal Appeals denied Bryan's innocence claims in January, and the U.S. Supreme Court has a denial rate of more than 98% for petitions for writs of certiorari, or review of a lower court decision, Clayton said.
"The Supreme Court doesn't have to hear every case," Clayton said. "They can't hear every case. They are extremely choosy. They look for the perfect case, and even if they have the perfect case, the decision whether to grant a writ of certiorari can be influenced by a whole lot of factors that we don't have any control over."
Defendants with actual innocence declarations are eligible to collect a lump sum of $80,000 for every year of wrongful incarceration, plus an additional annual annuity. If Bryan were declared innocent, he stands to collect a payment of $2.8 million, plus the annuity, Clayton said.
"It was painful how the Texas Court of Criminal Appeals denied Joe's petition without even issuing an opinion," she said. "There was compelling evidence from leading experts in the state, and the court didn't even address it. It is just an insult to injury."
Since his release from prison, Bryan, who has a pacemaker and suffers from congestive heart failure, has been living with his brother and sister-in-law in the Houston area. He has never wavered in his claims of innocence through two trials, multiple appeals and writ hearings at which an officer who testified about forensic blood-spatter evidence at Bryan's trials in Bosque and Comanche counties admitted his conclusions were wrong.
Bryan told the Tribune-Herald in March he thinks he could have been paroled earlier if he had only told parole officials what they wanted to hear — that he killed his wife and that he is rehabilitated.
"I think if I had admitted to it, I would have been out years ago," he said. "When was I first eligible for parole? 1996. After 1996, I would have been eligible for parole and it's been 14 years since then. I did 14 years extra. But I didn't do it and I am not going to admit to something that I didn't do. We proved in a court of law that several people were not telling the truth and that others were wrong and that I was innocent, and they don't want to admit that. That is their problem."
Waco attorneys Jessi Freud and Walter Reaves Jr. spent thousands of hours, working with the Innocence Project of Texas, trying to prove Bryan's innocence or, at the very least, win him a new trial.
The attorneys challenged the state's theory that Bryan, who was two hours away in Austin attending an educators' conference, drove overnight, through thunderstorms, from Austin to his home in Clifton, shot his wife and drove back to Austin, where he was seen the next morning.
The state did not recover a murder weapon. It had no eyewitnesses or a theory of motive, the attorneys argue in the writ petition. They showed from Bryan's car odometer and his gas purchases that he made only one trip — from Clifton to Austin. Also, the attorneys argue, the crime scene was bloody, but there was no evidence the murderer cleaned up inside or outside the house and there was no blood found in Bryan's car.
"We recognize this is a Hail Mary effort, but it is a meritorious one when you are a wrongfully convicted, innocent person, like Joe," Freud said. "We've said it before and will continue to say as long as there remain legal avenues to try to get justice for Joe, we will not stop."
Bryan was convicted of murdering his wife in 1985. That conviction was reversed and he was found guilty again on retrial in Comanche County in 1989. A retired judge denied Bryan's relief requests after hearings in 2018, despite new concessions from an officer who admitted his trial testimony concerning blood-spatter evidence was flawed, and testimony from an expert who explained why the officer's conclusions were wrong.
"I have never seen testimony from an expert that is as compelling as the expert testimony in Joe's case, because the expert in Joe's case got on the stand at Joe's hearing and said it was just a nightmare," Clayton said. "The expert said the evidence used against Joe was so false, so incorrect, that it was a nightmare. It was just horrific. You never hear an expert say anything like that."
Clayton said she is amazed by Bryan's attitude despite being locked up for so many years for a crime he insists he did not commit.
"He is trying to keep a positive attitude, even though these horrible things happened to him," she said. "His life has been taken from him, in a sense, and it is difficult to keep a positive attitude with that reality in your life. I don't know how he manages to keep such love and positivity in his life after having gone through something like this."