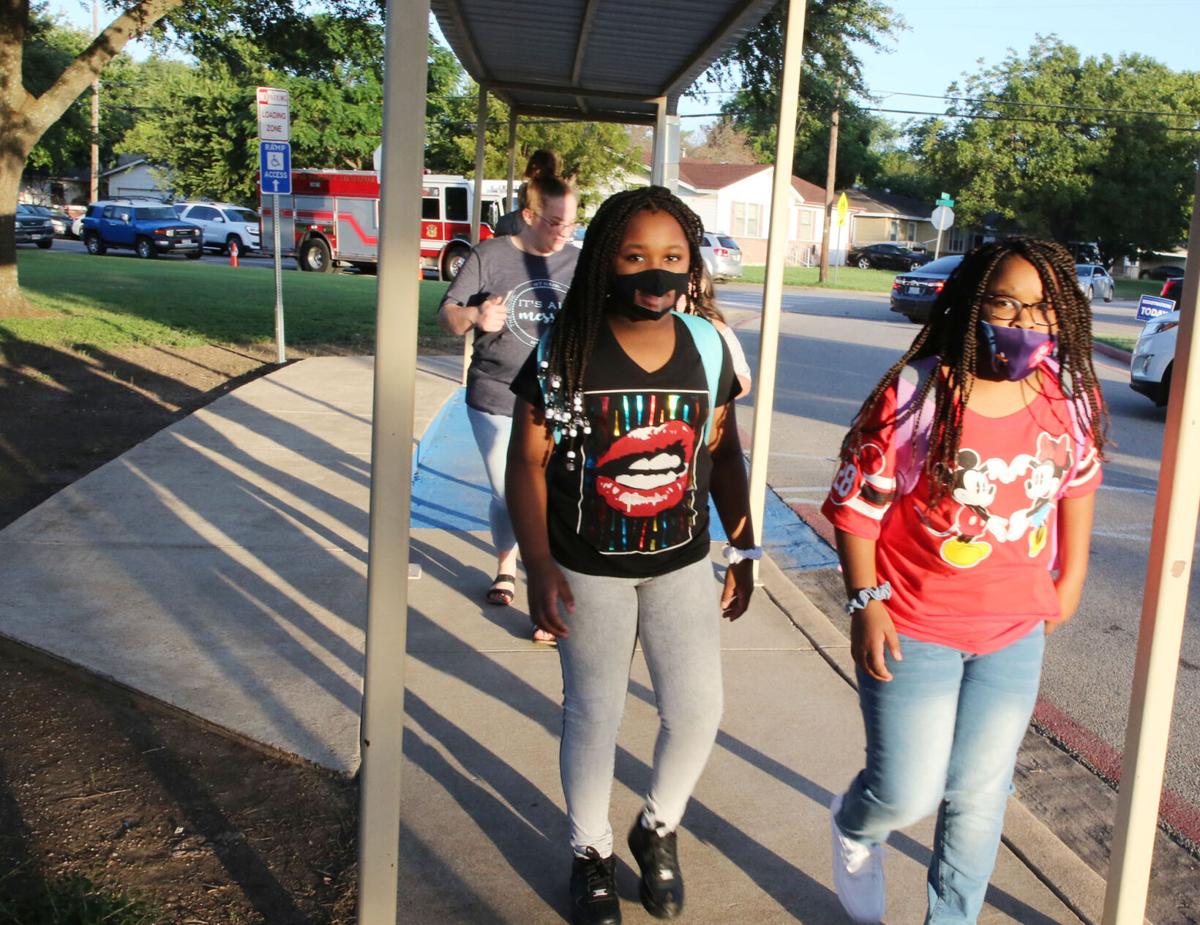 A Waco judge has put on hold a Texas Attorney General's Office lawsuit over mask mandates in McLennan County schools until the Texas Supreme Court resolves similar lawsuits across the state, effectively leaving the policies in place at Waco and La Vega schools.
In a two-paragraph order issued Monday, 414th State District Judge Vicki Menard granted a motion filed by attorneys for Waco and La Vega school districts to abate the local lawsuits pending final resolution, including appeals, in the case of La Joya independent School District v. Greg Abbott.
That mask mandate case was filed in a Travis County state district court and involves large districts in Travis, Harris and Dallas counties. It currently is pending in the 3rd Court of Appeals in Austin. Attorneys involved on both sides of the mask mandate debate have said they expect the case to go to the Texas Supreme Court.
Peter Rusek, one of the attorneys representing WISD, said he is pleased that the judge granted the motion and that she recognized that the local case involving Waco ISD and La Vega ISD is among dozens of others involving school districts that Texas Attorney General Ken Paxton chose to sue, although there are 80 to 100 districts with mask mandates in place.
Menard has held two hearings in the case in the past two months. Paxton's office is seeking temporary injunctions to force Waco and La Vega school officials to discontinue their mask mandates and to abide by Gov. Greg Abbott's order banning mask mandates by state entities.
Midway and McGregor schools also were included as defendants in the original lawsuit, but the AG agreed to dismiss them after Midway argued it had no such mandate in place and McGregor said its mandate was not enforced. Rusek, a longtime school board president at Midway ISD, has represented Waco ISD for a number of years.
Dallas attorney Carlos Lopez, a former state district judge who represents Waco and La Vega, argued in his motion to abate the cases in a hearing Oct. 12 that 95% of courts that have heard similar motions have ruled against the attorney general's office.
He noted appeals of those rulings already are pending in the Austin intermediate appellate court. He urged Menard to abate the Waco-area cases until those cases are resolved, to prevent a confusing patchwork of rulings on the same issue.
Waco ISD Superintendent Susan Kincannon has said the district decided to issue the mask mandate after the deaths of local educators and an alarming increase in COVID-19 cases at the beginning of the school year. Since the mandate was instituted, COVID-19 cases in schools have decreased, officials have said.
Rusek argued at the Oct. 12 hearing that the state appears to be "forum shopping" by continuing to press Menard for the temporary injunction after losing that issue in a number of other courts around the state.
"We are here because other courts ruled against them and they want another bite at the apple," Lopez said earlier this month. "They are saying, 'We want a do-over.' If you abate the cases, then they can all go up in a nice, consistent package because we all know this matter is ultimately going to be settled by the Texas Supreme Court anyway."
Assistant Attorney General Will Wassdorf told Menard that McLennan County is the proper venue for the lawsuit because Waco and La Vega schools are violating the mask mandate ban and they are in McLennan County.
"The venue to sue Waco and La Vega is not proper in Travis County," Wassdorf said. "If we allow the Travis County cases to continue and sit on our laurels until it is over, we will be right back here to establish that Waco and La Vega violated the mask mandate."
Wassdorf said the cases should focus on the fact that the school districts are violating Abbott's emergency order, which he said carries the same weight as law.
Waco ISD Chief of Staff Kyle DeBeer said school officials are pleased with the judge's ruling.
"We very much appreciate her careful consideration of the issues in this case," DeBeer said. "We will, as we have been doing, continue to monitor developments in the other cases around the state, particularly those that are further along in the process."
Waco ISD ended last week with seven reported COVID cases and a total of 796 since Aug. 1. Twelve out of 15 elementary schools reported no cases last week and four of seven secondary schools also reported no cases.
"Certainly, that is a pretty dramatic decline since we put the mask mandate in place," DeBeer said. "The first week of school, we had more than 100 cases, and that is when Dr. (Susan) Kincannon required masks. The second week, we had 285 cases, and since then, we have seen numbers declining. So it is certainly a promising trend and we hope that it holds."
La Vega reported four new COVID cases last week, two at the primary school and two at the junior high. Since Aug. 12, the district has reported 210 COVID cases.
COVID-19 cases have been declining generally across McLennan County and Texas since a post-Labor Day peak. The active case count for McLennan County has dropped from 2,047 on Sept. 16 to 183 on Monday.
In the three days ending Monday, the Waco-McLennan County Public Health District logged 71 new cases, with three new deaths. Forty-eight COVID-19 patients were in McLennan County hospitals, down from a peak of more than 200 in mid-September.