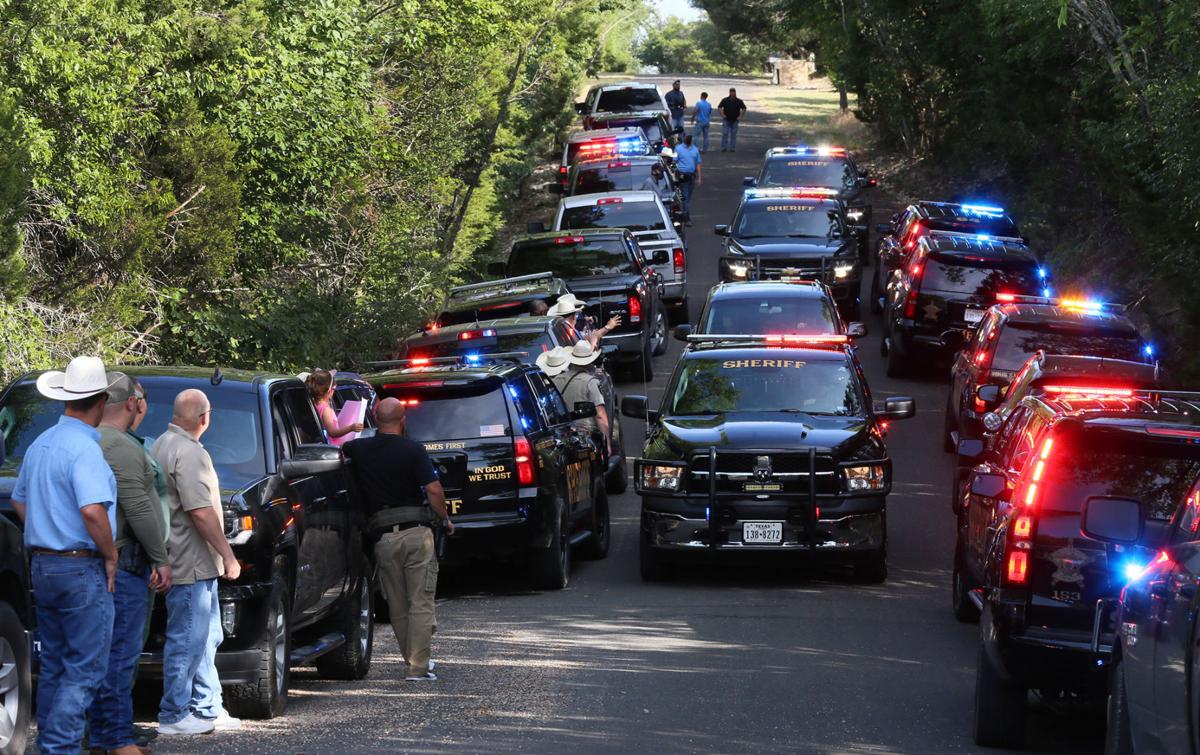 Lights, sirens and waves of support ushered longtime county lawman Shawn Nixon home Monday evening after three weeks wrestling with COVID-19 in a local hospital.
Nixon, 54, a captain with the McLennan County Sheriff's Office, was welcomed home with a crowd of supporters and colleagues lining the rural road where he lives.
The supporters waved as he sat with his mask on in a car, driven by his wife, Lisa, feeling a strong sense of encouragement and recovery from COVID-19, the disease that nearly killed him. That included nine days on a ventilator, mostly sedated and lying face-down.
"I am 38 pounds lighter than I was three weeks ago, I've lost a lot of muscle mass, I'm really weak and I don't know what my lung capacity is or what it will be when all of this is said and done, but I'm getting better every day," Nixon said. "There were times, according to my doctor, that I was close to not making it, and I can only say all the prayers I got and God's grace pulled me through."
Homecoming surprise
Nixon, a 22-year sheriff's office veteran, serves as the head of the McLennan County bomb squad and SWAT office and is the helicopter pilot for the department. He said he was surprised by the long line of supporters celebrating his homecoming. Sheriff Parnell McNamara said the strong show of brotherhood was meant to encourage Nixon to get well soon.
"We are a band of brothers because we are all in the fight for the same reason, and after working with each other for many years, we become like family," McNamara said. "Shawn is irreplaceable, because he wears many different hats for the sheriff's office...and he does so many things, he is really irreplaceable so it was really wonderful he was finally about to be released from the hospital."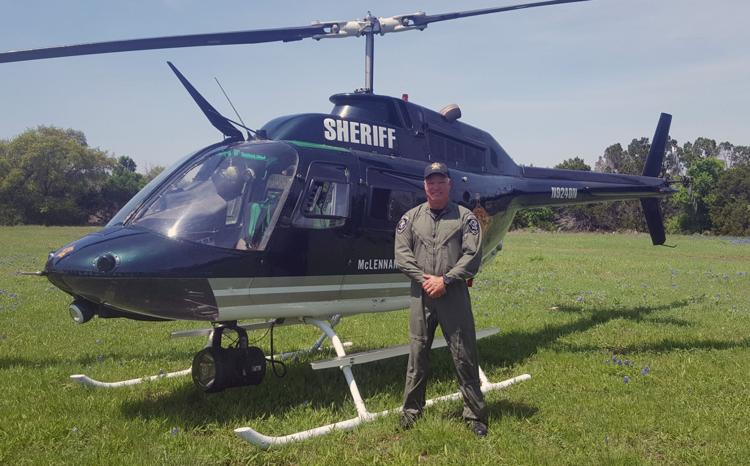 Nixon was tested with most of the McLennan County Sheriff's Office for COVID-19 in late June as the novel coronavirus outbreak worsened in McLennan County. As he waited for his test results, Nixon began to get increasingly ill.
"He started with a low-grade fever on June 27, it was a Saturday evening, but he had his first COVID test through the sheriff's office on June 26," said Lisa Nixon, a registered nurse. "That test was negative, but we didn't find that out until two weeks later, but Shawn had nearly every symptom of COVID-19 that is described."
Symptoms, pneumoniaWhile Shawn Nixon's test remained pending, symptoms gradually continued to get worse, his wife said. His temperature grew higher the following Wednesday and Lisa Nixon started monitoring his oxygen levels.
On July 3, Shawn Nixon went to a local urgent care clinic with a high fever and low oxygen levels, she said. He was diagnosed with bilateral pneumonia and was admitted to Baylor Scott & White Hillcrest Medical Center, where he tested positive for COVID-19, Lisa Nixon said. The next day his oxygen levels had been improved and he was sent home.
One day later, Shawn Nixon's cough began and his oxygen levels dropped again, forcing Lisa Nixon to take her husband back to the hospital July 6. He was directly admitted to the hospital.
"I dropped him off at the ER door at 4:45 p.m., and then it was three solid weeks before I saw him again," Lisa Nixon said. She said that in the meantime she and her 20-year-old daughter were presumed to be positive for COVID-19 and had to self-quarantine for two weeks.
Lisa Nixon said she came down with a cough and a loss of smell and taste, which are symptoms of COVID-19, while her daughter experienced body aches, but neither have been tested or hospitalized.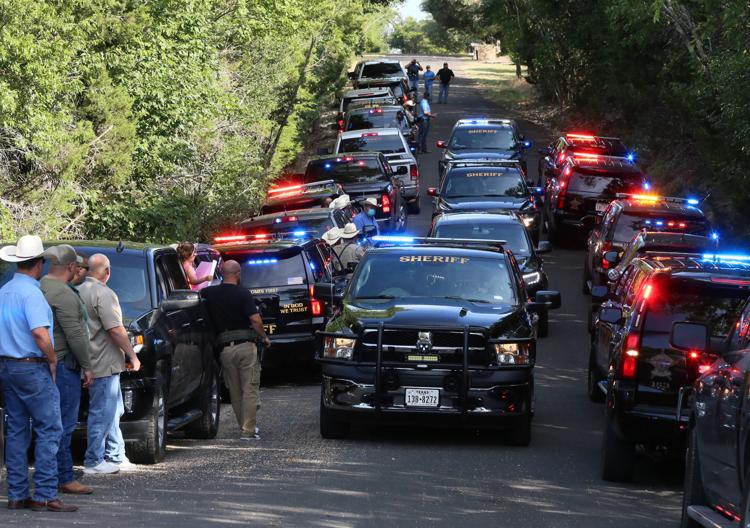 Time on ventilator
Shawn Nixon received an antibody blood transfusion and was placed on a ventilator, which left his throat sore for days afterward. Shawn Nixon said he does not remember much of that time, but he credited hospital staff and the diligence of doctors and nurses for his survival.
"I feel like I got the best possible care from my doctors and nurses at Hillcrest, because they did an amazing job," Shawn Nixon said. "When you are completely detached from your family, the work the doctors and nurses did, and the fact they are willing to put themselves at risk to go into the COVID unit to work their 12-hour shifts, they are the real heroes in this pandemic."
Fifty-six sheriff's office employees, including deputies, jailers and civilian staff, have tested positive for COVID-19, which is about 10 percent of the workforce, officials said. Currently the office has three active cases.
Fellow McLennan County Sheriff's Office Capt. Chris Eubank was among many local and regional officers rooting for Shawn Nixon's return home. Eubank, an eight-year veteran with the department, said he is eager for Shawn Nixon's continued recovery.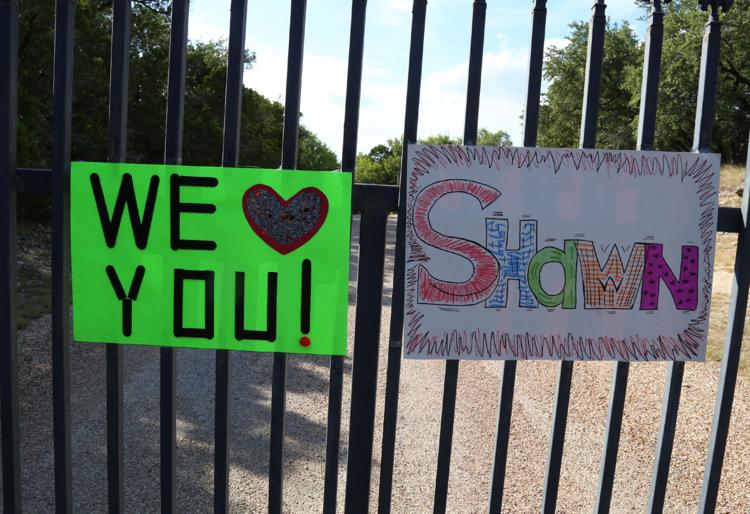 "Having him come home, for me, was a really great day," Eubank said. "We are a blue family, that is just what we are, and having him come home was a real relief. My office is right next door to his, ... and he is definitely one of the most crucial captains we have."
Now resting and recovering at home, Shawn Nixon stressed the public's duty to protect themselves against COVID-19. He said the Waco-McLennan County Public Health District's warnings about wearing masks, social distancing and proper hygiene are crucial in slowing the spread.
"This is very real, very serious, and please wear your masks, social distance and practice good hygiene. This is going to be a community effort," he said. "Let's get through this together."
Sign up for our Crime & Courts newsletter
Get the latest in local public safety news with this weekly email.