The McLennan County Sheriff's Office dug up an old well at Tradinghouse Lake on Wednesday morning hoping to uncover the remains of a missing man whose family has searched for answers for almost two decades.
Investigators with the sheriff's office cold case unit and Baylor University forensic anthropologists Lori Baker and Jim Huggins briefly perked up about an hour into the search after a backhoe operator unearthed a blue electric blanket that enveloped what appeared at first to be bone fragments.
The investigators were hoping they were on the way to uncovering the remains of Justin Weldon O'Brien, or at least evidence that would aid in the ongoing 2002 missing person case. However, after cleaning the items with bottled water, the forensic team determined the items to be pieces of plastic.
O'Brien, a truck driver, was 23 when he was last seen April 26, 2002. He told family members he was on his way to his mother's birthday party, but he never made it, Sheriff's Office Capt. Steve January said.
O'Brien's 1997 Toyota Tacoma pickup was found abandoned in Dallas two days later. An investigation by the Waco Police Department, Texas Department of Public Safety and sheriff's office have led to no arrests or O'Brien's remains.
The cold case unit took over the case about two years ago, and Wednesday's search was part of the ongoing investigation into what happened to O'Brien. January said he was not disappointed after officials called off the search after about four hours without finding anything helpful to the investigation.
"We have been on some of these adventures before with this same result," January said. "We are not going to give up. This was just a continuation of the investigation and this was a detail that needed to be addressed since we had information on it before. Somebody smelled something decomposing and the precinct at that point filled in the well. That was in 2002. So we just needed to make sure it wasn't anything pertaining to our investigation and to eliminate that as a potential burial site."
January watched the process with cold case investigators Terry Fuller and William Hitch. Throughout the course of the investigation, officials have searched four bodies of water, including draining a small lake in the Gholson area, searched locations in Jewett and Centerville and a cemetery off Tradinghouse Lake Park Road 3, not far from Wednesday's search site.
O'Brien's 90-year-old grandfather, Weldon Hill, a 40-year veteran of the Waco Fire Department, shared memories of his grandson Wednesday morning as he watched the workers with O'Brien's 41-year-old sister, Jennifer O'Brien, of Austin. Both said it was important for them to be there if the remains were unearthed so they could finally find peace and give him a proper burial.
"He always had a smile on his face and he was always smiling," Hill said. "Justin had two sets of friends. Some of them would tell you that Justin was a great guy and would do anything for you. Then he had some other friends I don't know about."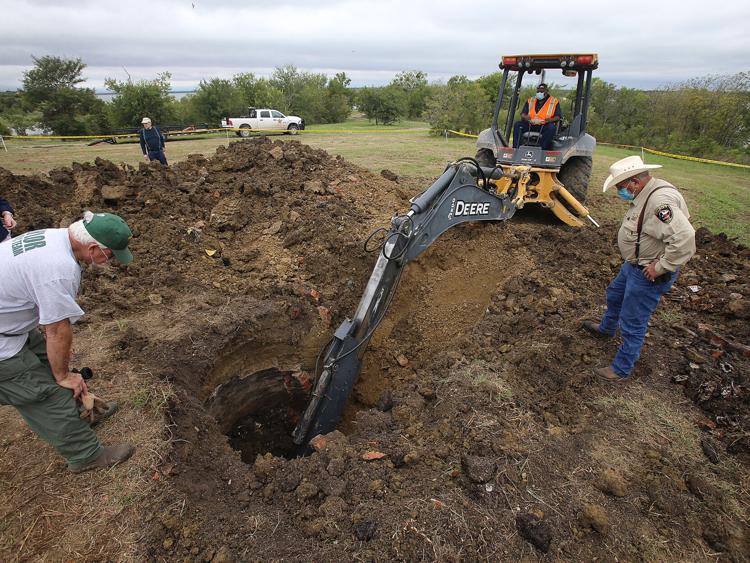 Hill said his grandson grew up near the lake, where he spent a lot of time with Hill. O'Brien attended schools in Hallsburg, Riesel and Mart and was a pretty fair baseball player when he was young, his grandfather said, relating stories about taking his grandchildren skiing in New Mexico and other locations.
"I had him driving a tractor when he was about 4 or 5 years old and I moved from my house down to a house in Hallsburg to where he could walk to my house from his house," Hill said. "He and sister would spend just as much time at my house as they would their house."
O'Brien's father and mother both died not knowing what became of their son, Hill said.
January said investigators think there are multiple people involved in O'Brien's disappearance and "one primary person of interest responsible for his death."
"We have conducted very pertinent interviews with those in the inner circle of people we think were involved," January said. "We think we know what happened."
He declined to divulge more details for fear of jeopardizing the ongoing investigation. January asks that anyone with information about the case call the sheriff's office at 757-5095.
Rodney Roddy, the backhoe operator who works for McLennan County Precinct 2, dug down about 40 feet into the old well before officials called off the search. Hill, who marveled throughout the morning at Roddy's skill, walked over to the heavy equipment operator and offered him a $20 bill for his work.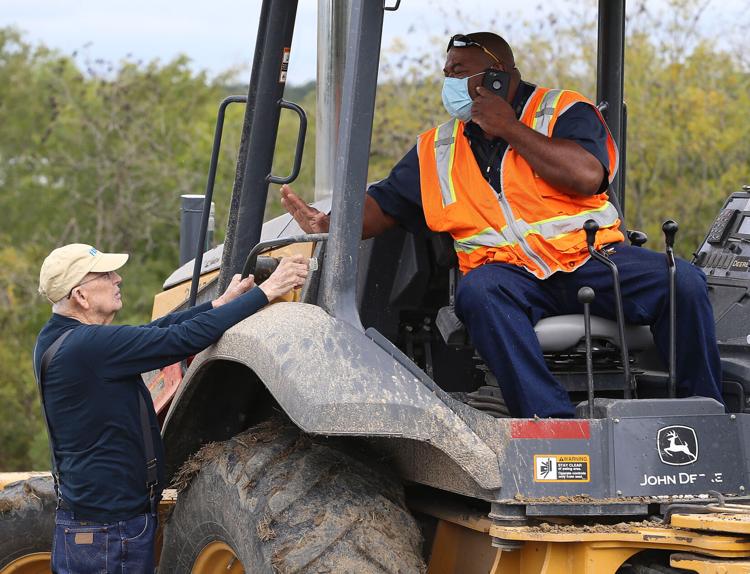 Roddy looked down at Hill and smiled. He politely declined the donation and asked that Hill donate the money to Hill's church, instead.
"That's why you do the job," said January, who witnessed the exchange. "You do it for the family and because it's the right thing to do. That's why we never give up."
Tribune-Herald staff writer Kristin Hoppa contributed to this story
Sign up for our Crime & Courts newsletter
Get the latest in local public safety news with this weekly email.