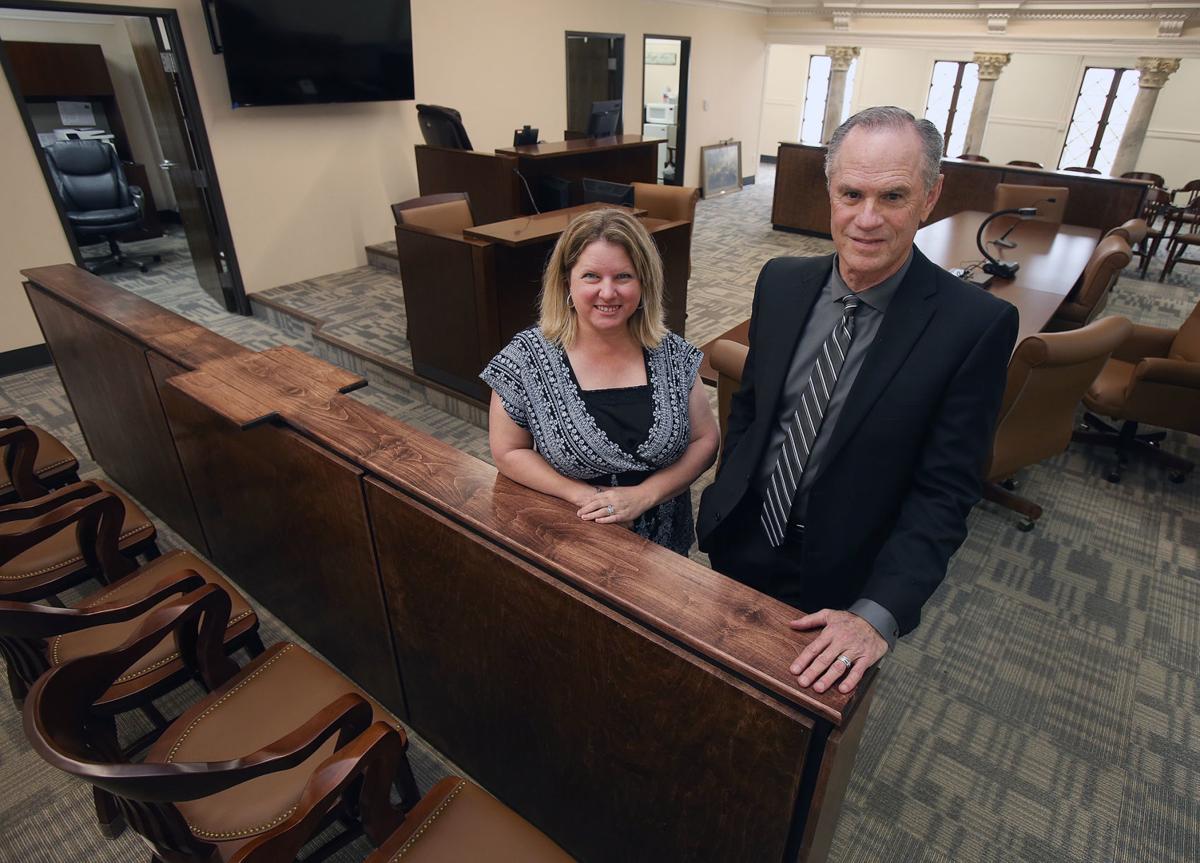 One in three McLennan County jail inmates suffers mental health issues, which is why Judge David Hodges wants the court created to handle their cases to run more smoothly and efficiently than it has to date.
Hodges told county commissioners this week such offenders continue to fall through the cracks of the criminal justice system. Deemed not competent to stand trial or otherwise impaired, they receive treatment and a clean bill of health only to languish behind bars for months. Their extended stays cost taxpayers $200 a day or more, but most troubling is that prisoners "decompensate," their mental status deteriorating during their incarceration, Hodges said.
The mental health court over which Hodges presides was supposed to change that scenario when it started handling cases earlier this year.
That has not happened to the extent Hodges had expected.
"We started asking all the other courts to send us their mental health cases, and we found out quickly that wouldn't work," Hodges said. "We had to back off and plug some holes. We need specially trained attorneys to represent these people. They need to understand the Mental Health Code, know how to get someone committed and declared competent before they stand trial, and how to proceed once a determination is made."
He said from an appointment list of 100 attorneys, about 10 fit the bill. He said a rotational system that focuses on the few "who are good at it," is preferable to choosing someone randomly from many candidates.
McLennan County Commissioners Court heeded Hodges' plea, and voted this week to formally accept a $169,000 grant from the Texas Indigent Defense Commission. The grant is spread over four years, and is meant to kick-start a program locally patterned after one in Collin County producing impressive results, especially in terms of savings per defendant, Hodges said.
The grant reimburses the county 80% to 20% of the program's cost, the rate declining each year of its four-year life. McLennan County Judge Scott Felton said commissioners will grade its performance annually.
With the money, the county will hire someone to oversee the program, a "managing attorney" to secure representation for defendants with mental illness, Hodges said. A licensed professional counselor will serve as case worker.
Grant money also will pay to train local attorneys wanting to get involved.
McLennan County Sheriff's Maj. Ricky Armstrong, who oversees jail operations, said he looks with favor on the new approach.
"The key is getting these inmates out of jail, to stop the revolving door," said Armstrong, who estimates the county spends $300 a day housing an inmate with mental health issues, counting psychiatric consultations.
He said inmates with mental health problems "can be a handful" if they've stopped taking their medication, either because they have run out or because they are resistant to taking it. Those arriving at jail without their medicine are asked to sign a release giving authorities permission to seek out their doctors or pharmacists to get prescriptions filled, Armstrong said.
Taking medicine is another issue commissioners took up at Hodges' urging.
The court approved a motion that inmates be given a 30-day supply of medication upon their release, not the week's worth under existing policy. Hodges said inmates need this time to stabilize and get into treatment, without which they often end up back behind bars.
Waco attorney Rob Swanton, who has represented many clients with mental illnesses, said he applauds both decisions by commissioners.
"Thirty days gives them time to get settled, see a doctor and get their medication established," Swanton said.
Waco attorney Josh Tetens, who represented the first mental health court defendant earlier this year, lauded its creation in an interview with the Tribune-Herald at the time. He said his client had improved drastically from his unexpected "mental health episode," following drug treatment.
Tetens said he is grateful to jail and MHMR officials for their dealings with his client, and glad the mental health court was in session.
As judge of the mental health court, Hodges presides over three levels of misdemeanor and felony cases. He does not accept violent offenders or those charged with sex crimes where probation is not an option.
The focus remains marshalling all available forces, including defense attorneys, prosecutors and mental health professionals, to get defendants competently into court and have their cases disposed of, usually either by placing them on probation or into a treatment program, Hodges said.
Tweaking the process is a step in that direction, Hodges said.