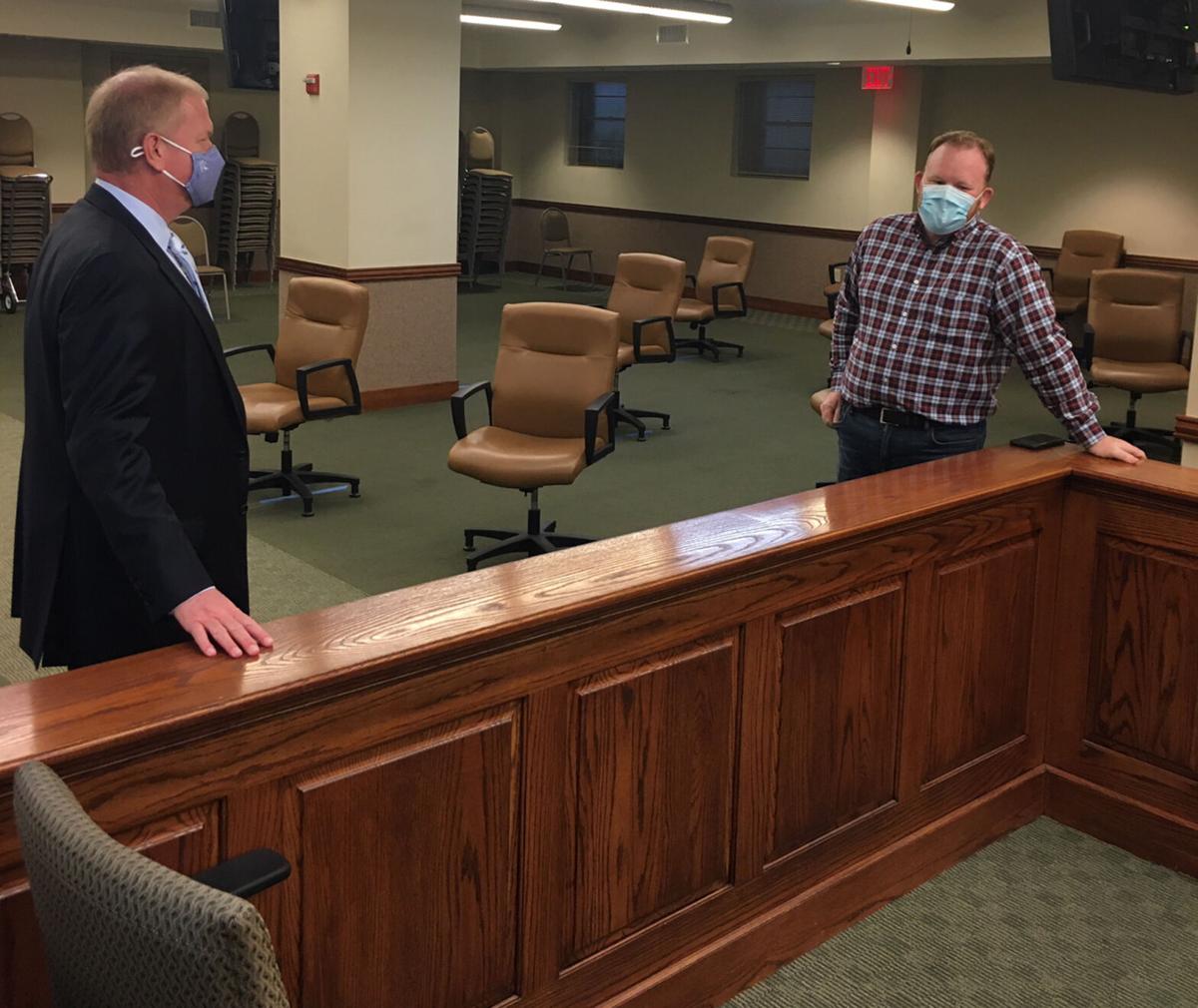 No one is ready to say for certain whether criminal trials in McLennan County will resume next week as planned, but court officials, who have planned for the day for months, moved a few steps closer Friday.
Five hundred jury summons went out a month ago, judges have submitted a complex plan designed to keep trial participants safe that was approved by a regional administrative judge, and Judge Matt Johnson winnowed down his trial list Friday in anticipation of a Nov. 2 felony criminal trial.
Officials scouted alternative sites for jury selection, with social distancing in mind. Members of the jury panel are set now to report to the Waco Convention Center on Friday, Oct. 30, because the facility is much larger than any rooms at the McLennan County Courthouse or neighboring courthouse annex. If a jury or juries are chosen Friday, they will report Monday to the courthouse annex, where Johnson, at this time, intends to preside over a murder trial.
County Court-at-Law Judge Vik Deivanayagam also plans to resume trials in his court with a misdemeanor assault case.
All of these latest plans could be canceled after Johnson and Judge Ralph Strother meet next week with public health officials to get their opinion about the safety of resuming jury trials, Johnson said. Trials will not resume unless the health experts sign off on protocols, the judge said.
Johnson had hoped to start back with a trial that would not be very long or complicated or involve a child victim. He had six potential trials on a status conference list for Friday that was reduced fairly quickly to only one. Two defendants on the list accepted reduced plea offers, and an attorney involved in a burglary of a habitation case asked for a pass after expressing COVID-19-related health concerns for her and her husband.
The murder case, if it is held, involves Casey Wade Hughes, a 22-year-old Dayton man charged in the April 1, 2019, shooting death of Preston Jermone Scott, a 29-year-old budding rapper known as PJ OneEight. One of the defendants on Friday's trial list was Justice Allen Stanford, Hughes' 26-year-old co-defendant. His case was passed.
Johnson got a bit perturbed as the list was called after several attorneys said they were not ready for trial because they had not received all of their discovery requests for evidence, photos, reports and other items from the district attorney's office. The judge asked how it was possible for last-minute discovery issues to surface in the case.
"Mr. Hughes has been in jail 528 days, and we don't have all the (search warrant) returns in yet? Is that what you are telling me? How can that be possible? What is the problem with discovery in the DA's office?" Johnson said to participants in the teleconference hearing.
Johnson threatened to set the cases for trial anyway and to exclude any evidence defense attorneys said had not been provided to them.
McLennan County District Attorney Barry Johnson said he would be surprised if attorneys are experiencing discovery problems with his office.
"We get the discovery to them immediately," he said. "A lot of times we get it to them before the indictment. As soon as we get it, we get it to them. I am not aware of any problems from our perspective about not getting defense lawyers discovery, especially a week out before trial."
Hughes' attorney, Abel Reyna, the former DA who lost to Barry Johnson two years ago, said Friday he is experiencing "some outstanding discovery issues" in the case, but said he is continuing to prepare for trial.
Another case on the trial list involved Billy Wayne Shirley, a felon charged with indecency with a child by exposure. Shirley's attorney, Jessi Freud, said Shirley has a long history of mental issues, and a psychologist provided a diagnosis that would make him not guilty by reason of insanity, based on his condition at the time of the incident.
She said the DA's office would not accept the doctor's diagnosis and insisted on allowing a jury to decide if Shirley, who has been deemed competent to stand trial, was legally insane at the time of the offense.
However, instead of risking a possible 10-year prison term, Shirley pleaded guilty Friday after prosecutors agreed to reduce the third-degree felony to a Class B misdemeanor and recommend 180 days in jail as his sentence. Shirley has been in the McLennan County Jail 512 days and would be eligible for immediate release if Judge Johnson accepts the plea agreement.
Johnson ordered a presentence report in the case, which he will review before a Dec. 3 hearing, at which he will either sentence Shirley or reject the plea bargain.
Court records show Shirley has a long string of arrests dating back to 1982, felony convictions in Brazos County for indecency with a child and deadly conduct and misdemeanor convictions for assault family violence, resisting arrest and public intoxication.
He was found not guilty by reason of insanity in McLennan County on a 2015 misdemeanor indecent exposure charge, records show.
Prosecutors had the option of indicting Shirley as a habitual criminal, for which he would have faced a minimum of 25 years in prison and up to life if convicted. However, they chose to reduce the offense to a misdemeanor and recommend time served instead of go to trial, at which time he would have pleaded not guilty by reason of insanity.
DA Barry Johnson said it is not his office policy to oppose all rulings by doctors who examine a defendant and report a finding that he was not sane at the time of the offense, although several cases pending in the DA's office have met the same response.
"It is always on a case-by-case basis," Barry Johnson said. "Insanity is an affirmative defense. Typically that is something alleged by the defense and is decided by the trier of fact, a judge or, most of the time, a jury. Just an automatic dismissal because someone says they are insane, in my view, is not appropriate. I don't micromanage all these cases, but if they offered him time served, they can either do that or take it to trial and he can urge his defense of insanity."
District Clerk Jon Gimble said that of the 500 jury notices his office sent out, about 30 or 40 have been returned with prospective jurors saying they fear exposure to COVID-19 if they report for jury duty. They were excused.
"It's an acceptable excuse," Gimble said. "People are going to take advantage of it. If you have an opportunity to miss jury service, some people are going to take advantage of that. The Supreme Court has given them that right."
Concerned about COVID-19?
Sign up now to get the most recent coronavirus headlines and other important local and national news sent to your email inbox daily.