Note: This story has been edited to clarify the death toll in the West Texas shooting. The gunman killed seven and was then killed by police.
The gunman who killed seven people in a West Texas rampage Saturday had a documented history of violence in McLennan County and once broke a plate glass window at a Waco mental facility where he was under evaluation, a source close to the case said Tuesday.
Seth Aaron Ator, who dropped out of Lorena High School in 2000, was arrested on felony criminal mischief charges on July 8, 2001 for the incident, which the source said took place at DePaul Center, a psychiatric and drug abuse facility at Ascension Providence in Waco. He later served probation on unrelated charges and was ordered to attend Narcotics Anonymous, county records show.
A month after the DePaul incident, he was arrested on misdemeanor charges of evading arrest and criminal trespass, charges for which he received deferred probation. As recently as 2012, he was arrested in Woodway on a public intoxication charge stemming from a fight.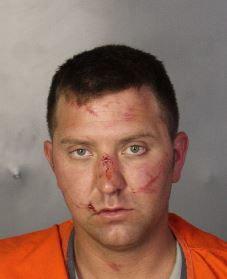 The Associated Press reported this week, citing law enforcement officials, that a federal background check blocked Ator from buying a gun in January 2014 because of a "mental health issue." It is unclear whether that issue was connected to the Waco incidents.
The Texas Department of Public Safety is precluded by law from disclosing the reason for blocking a gun purchase. The killer bought the gun through private channels, the AP reported, citing unnamed law enforcement sources. Police killed Ator, 36, at a busy Odessa movie theater after a spate of violence that lasted more than an hour and spread over 10 miles in the Midland-Odessa area. He fired indiscriminately out his window, leaving about two dozen people injured in addition to the deaths, and killed a postal worker in a carjacking.
The killer, an oilfield worker who lived outside Odessa, had Waco-area ties dating back to at least 1995, when he started school in Lorena Independent School District. He moved several times between Canyon ISD in Amarillo and Lorena during this time, and he dropped out of school in November 2000, missing his class' graduation in 2001, according to a statement from Superintendent Joe Kucera.
Kucera said school records show Ator withdrew from Lorena High School in November 2000 to enroll in a GED program. McLennan Community College spokeswoman Lisa Elliott said Ator took a single macroeconomics class in fall 2000, possibly on a dual credit basis.
A Texas State Technical College spokeswoman said Ator attended classes at Waco's TSTC campus in the fall of 2005 but he did not complete a full semester. She declined to say what he was studying.
Local troubles
Ator ran into trouble in 2001, first with the state jail felony charge of criminal mischief stemming from breaking the window at the mental facility. McLennan County records indicate that Ator paid restitution and was not prosecuted at the wishes of DePaul officials.
Court records also show that former McLennan County Court-at-Law Judge David Hodges ordered Ator to undergo drug and alcohol screening in 2001, when he was placed on deferred adjudication probation after he pleaded guilty to misdemeanor evading arrest and criminal trespass charges.
Two years later, former McLennan County Court-at-Law Judge Tom Ragland amended the terms and conditions of Ator's probation to require him to attend Narcotics Anonymous meetings, court records indicate. Court records show he successfully completed probation in both cases in 24 months.
Waco attorney Phil Frederick represented Ator on the dismissed criminal mischief charge, while his law partner, Rob Swanton, represented him on the two misdemeanor cases, records indicate. Both Frederick and Swanton declined comment on Tuesday.
Ator's misdemeanor arrests in McLennan County in 2001 would not have prevented him from legally purchasing firearms in Texas, but his time at the DePaul Center could have been a factor. Federal law defines nine categories that would legally prevent a person from owning a gun, which include being convicted of a felony, a misdemeanor domestic violence charge, being adjudicated as a "mental defect" or committed to a mental institution, the subject of a restraining order or having an active warrant. Authorities have said Ator had no active warrants at the time of the shooting.
Ator had been fired from his oil services job the morning he killed eight people, calling 911 both before and after the shooting began, authorities said Monday.
'Rambling statements'
FBI special agent Christopher Combs said Monday that Ator called the agency's tip line as well as local police dispatch on Saturday after being fired from Journey Oilfield Services, making "rambling statements about some of the atrocities that he felt that he had gone through."
"He was on a long spiral of going down," Combs said. "He didn't wake up Saturday morning and walk into his company and then it happened. He went to that company in trouble."
Fifteen minutes after the call to the FBI, Combs said, a Texas state trooper unaware of the calls to authorities tried pulling over Ator for failing to signal a lane change. That was when Ator pointed an AR-style rifle toward the rear window of his car and fired on the trooper, starting a terrifying police chase as Ator sprayed bullets into passing cars, shopping plazas and killed a U.S. Postal Service employee while hijacking her mail truck.
Combs said Ator "showed up to work enraged" but did not point to any specific source of his anger. Ator's home on the outskirts of Odessa was a corrugated metal shack along a dirt road surrounded by trailers, mobile homes and oil pump jacks. On Monday, a green car without a rear windshield was parked out front, the entire residence cordoned off by police tape.
Combs described it as a "strange residence" that reflected "what his mental state was going into this." Combs said he did not know whether Ator had been diagnosed with any prior mental health problems.
A neighbor, Rocio Gutierrez, told the Associated Press that Ator was "a violent, aggressive person" that would shoot at animals, mostly rabbits, at all hours of the night.
"We were afraid of him because you could tell what kind of person he was just by looking at him," Gutierrez said. "He was not nice, he was not friendly, he was not polite."
Texas Gov. Greg Abbott tweeted Monday that "we must keep guns out of criminals' hands" — words similar to his remarks that followed the El Paso shooting on Aug. 3, when he said firearms must be kept from "deranged killers." But Abbott, a Republican and avid gun rights supporter, has been noncommittal about tightening Texas gun laws.
Odessa Police Chief Michael Gerke said Ator's company also called 911 on Saturday after Ator was fired but that Ator had already taken off by the time police showed up.
"Basically, they were complaining on each other because they had a disagreement over the firing," Gerke said.
Gerke said he believes Ator had also been recently fired from a different job but did not have any details.
2012 arrest
Ator was arrested by Woodway Department of Public Safety officers in June 2012 for a fight he got into with friends at a Woodway apartment complex in the 1500 block of Western Oaks Drive, Public Safety Director Bret Crook said. Officers found Ator, who had been "drinking all day" was fighting with others, causing Ator to suffer a broken nose and superficial injuries, police records state.
Crook said police took Ator to a local hospital for medical clearance due to his intoxication level. He refused to be seen by doctors, but he was evaluated for head injuries before he was transferred to McLennan County Jail on a Class C misdemeanor charge of public intoxication.
His 2012 arrest was the last time he was in custody in McLennan County, jail records show.
The weekend shooting brings the number of mass killings in the U.S. so far this year to 25, matching the number in all of 2018, according to The AP/USATODAY/Northeastern University mass murder database. The number of people killed this year has already reached 142, surpassing the 140 people who were killed all of last year. The database tracks homicides where four or more people are killed, not including the offender.
Tribune-Herald staff writer Kristin Hoppa and the Associated Press contributed to this report.
Sign up for our Crime & Courts newsletter
Get the latest in local public safety news with this weekly email.