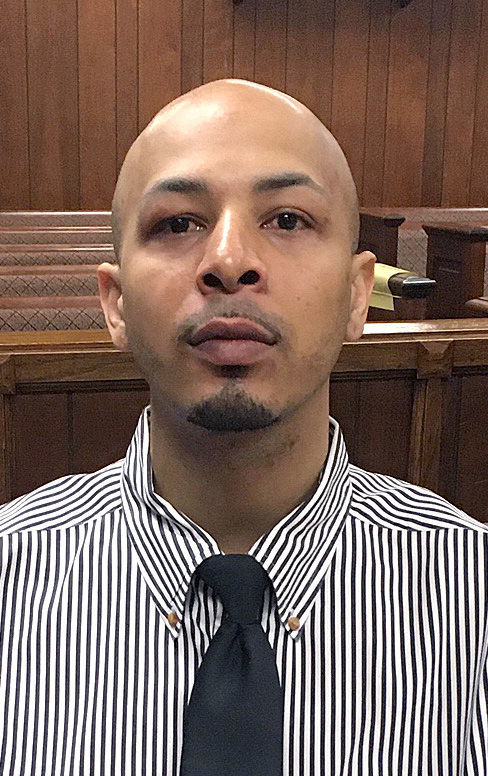 Warning: A surveillance video embedded in this story shows a violent exchange.A Falls County man, branded by a prosecutor as the "masked face of evil," was sentenced to life in prison Thursday in a 2017 robbery in which the owner of a smoke shop shot him three times.
Jurors in Waco's 19th State District Court deliberated about three hours before deciding punishment for Carlos Dawayne Robinson, 32, of the Satin community.
Robinson, who was on probation for possession of 11 grams of methamphetamine when he robbed Tee's Smoke Shop, 3528 N. 19th St., in July 2017, pleaded guilty and elected to have the jury assess his punishment.
He previously rejected a 20-year plea bargain from prosecutors. But that was before he was linked to the robbery of another smoke shop on Lake Air Drive when his DNA was found on a pistol magazine he mistakenly ejected during the robbery.
After that, prosecutors Amanda Smith and Christi Hunting Horse offered him 40 years in a subsequent plea bargain that Robinson also rejected. Robinson must serve at least 30 years in prison before he can seek parole.
Smith, who called Robinson the "masked face of evil" in jury summations Thursday, told jurors Robinson earned a life prison term through his violent actions and lengthy criminal history.
"The jury sent a clear, swift message to anyone considering committing a violent crime at any place in this county," Smith said. "They also told law enforcement with their verdict that the people of the community will back them with their verdicts. We are happy with the result."
Robinson's attorney, Sam Martinez, declined comment after trial.
Robinson, who worked 10 years for a construction maintenance company, committed a robbery as a juvenile when he was 16 and has a misdemeanor conviction for theft, two for possession of marijuana, two for evading police and one for failure to ID. At the time of the smoke shop robberies, he was serving eight years deferred probation for possession of 11 grams of methamphetamine from Bosque County.
He pleaded guilty to charging into Tee's Smoke Shop, wearing a mask and pointing a pistol at owner Talal Safi. Store video captured the incident. It shows Safi pulling a pistol and firing shots at the retreating Robinson.
Robinson was shot twice in the stomach and once in the left arm. He was taken to a hospital by an acquaintance of his who was pulling into the store parking lot as the incident played out.
Waco police took samples of Robinson's blood at the scene and linked it to DNA found on a pistol magazine a masked robber dropped during the robbery of the Lake Air store in May 2017. In that incident, the robber came in to the store at 6 a.m. and bashed a sleeping employee over the head with a pistol.
Robinson was arrested in that robbery but has not been indicted. It was unclear Thursday how his life sentence will affect the pending case.
In jury summations, Martinez asked jurors to consider that Robinson suffered pain after being shot during the robbery, that he accepted responsibility for his actions by pleading guilty and that defense witnesses said he was an attentive father to his son and stepson.
Sign up for our Crime & Courts newsletter
Get the latest in local public safety news with this weekly email.