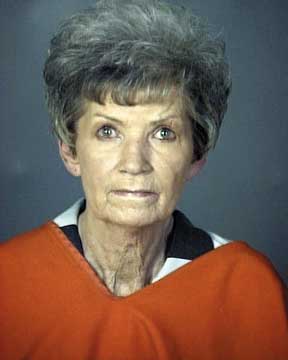 The wife of a local transmission shop owner tried to hire two men to kill him, then carried out the slaying herself after they backed out of the murder-for-hire plot, an attorney prosecuting the case said Wednesday.
Joyce Sturdivant, 65, was arrested Wednesday afternoon, hours after a McLennan County grand jury indicted her. She is charged with capital murder in the October 2008 shooting death of her husband, Joe Sturdivant Jr.
Joyce Sturdivant also is facing an attempted capital murder charge for allegedly trying to hire hit men about a month before her husband's death, said Guy Cox, a Waco defense attorney who has been appointed as a special prosecutor for the case.
Joe Sturdivant, 68, was shot in the back and the back of the head while in his bed. Joyce Sturdivant called police at 5:23 p.m. on the day of his death, saying she found him in a pool of blood after arriving at their home in the 3100 block of State Highway 77 South, according to Robinson police.
Joyce Sturdivant's attorney, Jason Darling, could not be reached for comment following her arrest Wednesday. She remains in the McLennan County Jail in lieu of $1 million bond set by 54th State District Judge Matt Johnson.
Cox said the indictments and arrest were the result of tireless work by Robinson police.
They said they had a strong case against Joyce Sturdivant not long after the slaying and conferred with the McLennan County District Attorney's Office about it. But the office, led by John Segrest at the time, did not think there was enough evidence to pursue the case, he said.
When Abel Reyna took office in January after beating Segrest in the election for district attorney, Reyna discovered the office had an open file on the case. He disqualified his office from any dealings with the case because he previously represented a potential witness. Johnson then appointed Cox as a special prosecutor to coordinate the ongoing investigation.
When Cox began work on the case, he viewed a presentation Robinson police had prepared about it. That convinced him of Sturdivant's guilt, he said.
"I looked it and said, 'Whoa, why hasn't this lady been arrested?' " Cox said.
Robinson police released only limited information about the case Wednesday, through a written statement.
"There has been much speculation by friends and family regarding this case," Chief Rusty Smith said in the statement. "As much as the Robinson Police Department would like to give specific answers to their questions, Joyce Sturdivant has her right to a trial, and any discussion about what occurred is not judicious at this time."
Suspicions about Joyce Sturdivant's role in her husband's death were publicly aired by her son, Joe Sullins, in June.
A lawsuit he filed claimed she was not entitled to proceeds from her husband's estate because she "willfully and wrongfully" caused his death.
The suit was part of a legal battle between the two, in which both claim to have the lawful deed to two parcels of land adjacent to and on which Sturdivant's Automatic Transmission Service sits in the 600 block of South 18th Street.
Joe Sturdivant Jr., a former champion stock-car driver, had operated the shop since 1968.
But before Wednesday, there was no public knowledge of the alleged murder-for-hire plot. Cox said it came to light as police investigated the killing.
A friend of Joyce Sturdivant's helped her solicit would-be hit men, and she eventually connected with a pair of men, Cox said. The men didn't intend to go through with the plot, he said. "All they wanted to do was steal from her," he said.
Police have verified Joyce Sturdivant's payment to the two men, Cox said.
That "remuneration," as it is called in the Texas Penal Code, is why the indictment was for attempted capital murder, rather than murder.
Similarly, Joyce Sturdivant was indicted for capital murder because authorities think the slaying was committed for "monetary reasons," Cox said.
Asked if information contained in the civil case aided the criminal investigation, Cox said a deposition given by Joyce Sturdivant contained some statements that "helped with the presentation to the grand jury."
Bill Johnston, the Waco attorney who filed the civil suit on behalf of Sullins, said Sullins became suspicious of his mother after noticing odd behavior following Joe Sturdivant's death. He declined to be more specific.
Joe Sturdivant was Sullins' stepfather, but the two were close, Johnston said. They worked together at the transmission shop for years, he said.
"It was as troubling to him that Joe Sturdivant died as if it had been his natural dad," Johnston said.
Joyce Sturdivant has run the business since her husband's death, Johnston said.
Proceedings in the civil dispute have been on hold since February, when Cox asked that they be stayed in deference to the criminal investigation. Johnston said the civil case will remain on hold until the criminal case is resolved.
Sign up for our Crime & Courts newsletter
Get the latest in local public safety news with this weekly email.