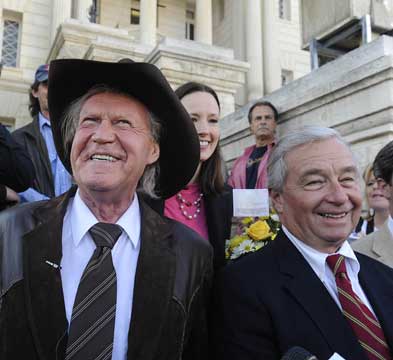 One of Billy Joe Shaver's greatest hits is called "Freedom's Child."
A McLennan County jury granted Shaver his freedom Friday, finding him not guilty of aggravated assault in the March 2007 shooting of a Waco man on the back porch of Papa Joe's Saloon near Lorena.
"I feel like I'm whistlin' past the graveyard right now," a relieved Shaver said after the trial, standing next to his attorneys — Dick DeGuerin, Matt Hennessy and Catherine Baen — and a host of friends and supporters.
A 54th State District Court jury of eight men and four women deliberated about two hours before determining that the 70-year-old acclaimed singer-songwriter from Waco acted in self-defense when he shot Billy Coker in the left cheek after the men exchanged words at the bar.
"God bless that jury," DeGuerin said. "I think they knew that Billy Joe did what he had to do. He isn't happy about it. It was unfortunate, but I think everybody learned a lesson."
Shaver's friends, Grammy-winning singer Willie Nelson and Academy Award-winning actor Robert Duvall, attended part of the four-day trial to show their support.
Shaver said he was going to celebrate Friday night by driving to Houston and "playing all night" at the Firehouse Saloon.
Another notable songwriter, Kris Kristofferson, was on his way to Waco to support Shaver, but got detained in Hawaii, DeGuerin said.
Shaver, who called Coker's mother a few days after the shooting to apologize, apologized again to Coker and said he hopes he and the 53-year-old TXU employee can be friends one day.
"The jury made their decision, and I accept it," Coker said as he was leaving the courthouse.
The Coker family had no other comment.
Moments after the verdict was read, prosecutors Mark Parker and Beth Toben approached the family, and Parker said, "I'm sorry."
Parker said he doesn't think Shaver's celebrity status unduly influenced the jury's verdict.
"I hate to sell the jury that short," Parker said. "We presented all the evidence we felt was admissible, and we let the jury decide. They made their decision."
Shaver also is charged with unlawfully carrying the .22-caliber revolver in a bar, a second-degree felony. Judge Matt Johnson set Shaver's bond on that charge at $7,500 and gave him until next week to pay it.
The prosecutors and DeGuerin all said they are hopeful that something can be worked out regarding the gun charge.
Toben, playing off Shaver's autobiography "Honky Tonk Hero," called Shaver a "Honky tonk bully" in her closing summation. She said Shaver went from asking himself "What would Jesus do?" and initially excusing some of Coker's boorish behavior that night to "What would John Wayne do," after he led Coker out back and asked him, according to witnesses, "Where do you want it?" before shooting him in the face.
Shaver, who testified Friday, denied that he asked Coker, "Where do you want it?"
Instead, he said he asked Coker to apologize to him after Coker told him to "shut the f--- up." When the dispute escalated, Shaver said it was Coker who suggested that they take it outside.
Shaver said he was digging in his pockets on the way out, wondering if he had brought his gun with him.
"I felt in my pocket and I didn't know if God put it there or what, but there was my little gun," Shaver said. "I said, 'Please, you really want to do this? Where do you want to do this? Why do you want to do this?' "
Two state witnesses who were outside said Shaver asked Coker "Where do you want it?" and immediately raised the pistol and shot Coker in the face. They said Coker did not have a knife in his hand or rush Shaver.
Shaver said Coker had been stirring drinks with his knife all night in an intimidating manner and once stirred Shaver's beer in a cup and wiped it off on Shaver's sleeve. Shaver, who was there with his wife at the time, Wanda, said recently he had broken his neck and was in no shape to try to fight the younger, stronger Coker.
Shaver said after he shot Coker, he showed him his small pistol and put it back in his pocket to let him know he wasn't going to shoot him again, and Coker apologized.
Shaver surrendered himself, his gun and the clothes he was wearing that night to police a few days later.
During cross-examination, Toben asked Shaver repeatedly why he just didn't leave the bar if he felt uncomfortable, intimidated or scared by Coker's actions.
"I'm from Texas." Shaver said. "If I was a chickens---, I would have left. But I'm not a badass, either."
Toben suggested that Shaver became mad and jealous after Coker, whose cousin was married to Wanda Shaver before he committed suicide seven years ago, started talking to his wife.
A witness said he heard Shaver ask Wanda after the shooting why "crap like this" has to happen every time they go out.
"I can get more women than a passenger train can haul," Shaver said, denying he was jealous.
In summations Friday, DeGuerin said that Shaver clearly acted in self-defense, calling it "a God-given right that is recognized by law since time began."
Toben, however, countered that Shaver thinks he "is above the law" by carrying a gun into a bar. She said he wasn't scared, he was just acting out his lifelong image as a hellraiser and honky tonker.
"He had a gun going to a knife fight, and he knew he was going to win," she told the jury.