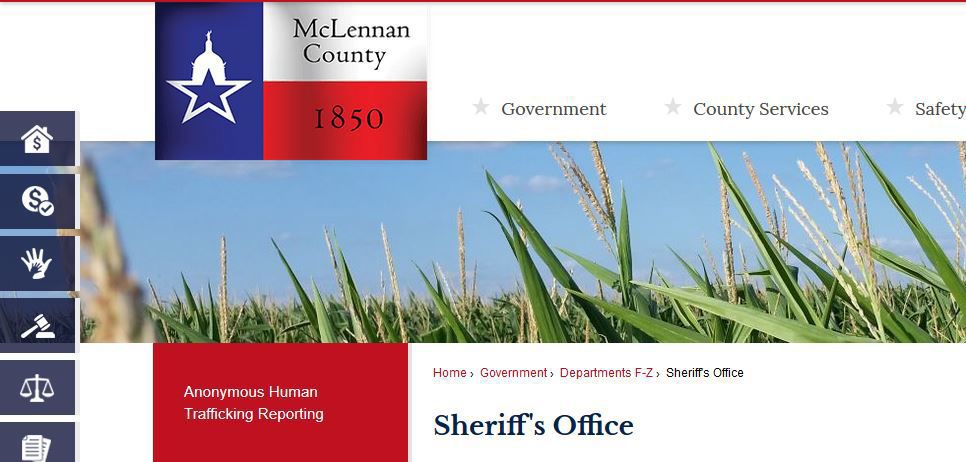 The McLennan County Sheriff's Office expanded its digital reach last week with the debut of the county's first website for collecting anonymous tips that could help identify victims or suspects involved in human trafficking.
Sheriff Parnell McNamara, who has focused efforts on commercial sex trafficking and labor trafficking during the last several years, said tips from the public are key and the new site represents another option.
"This is an anonymous tip line where citizens who are concerned about something can write in an keep their anonymity, and we will investigate every single tip we get," McNamara said. "We are asking the community to address this problem."
Lead human trafficking Detective Joseph Scaramucci said he receives dozens of tips each month and he expects the new site to reach more people with concerns.
"We tell the public if you see something that you suspect is human trafficking, call," Scaramucci said. "We never know what someone is going to see that is going to lead us to a trafficking investigation, so it may seem insignificant, but if someone calls or writes in a tip, we don't want to miss a victim by not seeing that through."
Scaramucci, who has taught human trafficking courses across the country and internationally, said he always asks law enforcement officials how they gauge success. In trafficking investigations, true success is helping victims, he said.
"I think true success is to locate and identify human trafficking victims and find some kind of recovery for them," he said. "The icing on the cake is always arresting suspected traffickers."
The online form allows individuals to state the type trafficking case suspected, any possible suspects, the location of the incident and any additional description. Files, including photos, can also be upload to provide detectives additional information.
"If something doesn't look right, it probably isn't," McNamara said. "It is so important for the public to come forward and help us, especially when it comes to human trafficking."
Sign up for our Crime & Courts newsletter
Get the latest in local public safety news with this weekly email.