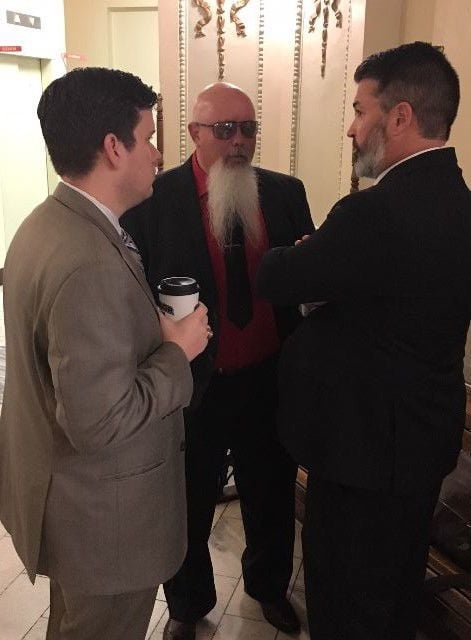 A McLennan County grand jury Wednesday re-indicted 24 of the remaining 37 defendants in the Twin Peaks biker shootout on a variety of charges, as the district attorney's office continues to veer sharply from the prosecutorial path it took three years ago.
The bikers had previously been indicted in 2015 or 2016 on identical charges of engaging in organized criminal activity as members of criminal street gangs.
The new charges handed down Wednesday include three murder counts, in addition to first-degree and second-degree riot charges and tampering with physical evidence charges.
Prosecutors are expected to dismiss the cases of remaining Twin defendants who were not re-indicted Wednesday, officials close to the cases said. The statute of limitations to charge bikers with riot runs out next week, though there is no statute of limitations on murder.
While the DA's office did not dismiss the engaging in organized criminal activity charges, the new charges will supersede the older charges and are the ones prosecutors say they will pursue from now on.
The original organized crime charge carried a maximum sentence of life in prison. Some of the defendants now are facing a lighter possible maximum sentence, while those who were indicted on murder or first-degree riot charges could still be sentenced to life.
Judge Matt Johnson of Waco's 54th State District Court said Wednesday he will not require the bikers re-indicted in his court to make post-indictment bonds or to be arrested again. Judge Ralph Strother of 19th State District Court said he also will not require the bikers to post new bonds, saying he deems the original bonds to be sufficient.
Nine bikers were killed and 20 injured on May 17, 2015 in the shootout between Bandidos and Cossacks at the former Twin Peaks restaurant. The DA's office has dismissed 118 of the original 155 Twin Peaks indictments in the past few months, and none of those dismissed defendants were re-indicted Wednesday.
Among those still facing charges with a possible life sentence is Jeffrey Battey, a 53-year-old Bandido from Ponder, who was re-indicted on a murder count and a first-degree felony riot count in the shooting death of Matthew Smith.
Seth Sutton, Battey's Waco-based attorney, said if "Reyna's regime" had wanted the grand jury to get a complete picture of the evidence, prosecutors should have allowed Sutton to address the panel.
"As with the original indictment from 2015, Mr. Reyna clearly did not want the grand jury to hear the truth," Sutton said. "We look forward to the day when we will finally get to present exactly what happened on May 17, 2015, to a jury of 12 McLennan County citizens.
"It is this kind of misguided prosecution that has wasted millions of taxpayer dollars, has undermined the public confidence in our system of justice and has produced hundreds of dismissals with no convictions. As we have maintained from the beginning, we believe that justice will prevail for Mr. Battey and that he will be acquitted of all wrongdoing," he said.
Reyna has kept a low profile at the courthouse since his defeat in the March Republican primary, and he did not return phone messages Wednesday.
Also indicted in the murder of Matthew Smith was Ray Arnold Allen, 48, of Krum, a Bandido who also was indicted on riot charges.
According to court records, Smith, 27, of Keller, was shot twice — once in the upper back and once in the abdomen. The bullet in his back was described as a "medium-caliber jacketed projectile." The bullet through his abdomen hit his right kidney and aorta before exiting.
A Waco police officer reported that as he approached the Twin Peaks shootout scene he saw Battey and Allen standing behind the restaurant "in a triangulated position" in relation to Smith, who was lying on the ground about five yards away and "gasping for air," according to court documents.
An officer noticed Allen had a silver handgun in his hand and said Battey had been shot in his upper right shoulder, according to the documents.
Also Wednesday, the grand jury indicted Glenn Allen Walker, 46, on murder and riot counts. He is charged in the death of Richard Kirschner, 47, of Wylie.
Kirschner, 47, suffered a gunshot wound to his right thigh, one to the left knee and one in the left buttock. He also suffered a superficial cut to the right side of his neck, a scalp laceration and abrasions to his face, trunk and extremities, reports show.
The grand jury also re-indicted Jacob Carrizal, 36, president of the Dallas Bandidos chapter and the only one of the original 155 indicted bikers to stand trial so far. Carrizal's trial ended in mistrial when the jury could not reach a unanimous verdict.
Carrizal was re-indicted on a first-degree riot charge, which has a maximum possible sentence of life in prison.
The Texas Penal Code defines a riot as the assemblage of seven or more persons resulting in conduct which creates an immediate danger of damage to property or injury to persons; substantially obstructs law enforcement or other governmental functions or services; or by force, threat of force, or physical action deprives any person of a legal right or disturbs any person in the enjoyment of a legal right.
Dallas attorney Clint Broden represents Richard Luther, 61, of Garland, who was indicted Wednesday on a third-degree felony charge of tampering with physical evidence.
Broden said it is fortunate that Reyna's term will be over soon "and a modicum of justice restored to McLennan County." He said he hopes that the new DA will "quickly clean house of any person in the office that has been connected with this shameful saga."
"One would have thought that repudiation of Abel Reyna in the March primary would have resonated with Reyna and his assistants," Broden said. "Instead, Reyna appears intent on being the last player at the blackjack table at 3:00 in the morning who keeps doubling down until he is out of chips."
Others indicted Wednesday include:
Timothy Shayne Satterwhite, 50, riot (enhanced) and unlawful possession of a firearm by a felon. His charges were enhanced by a 2011 federal conviction for possession of a firearm in furtherance of a drug trafficking crime.
Jacob C. Reese, 32, one count of first-degree riot and a second-degree riot count.
Roy James Covey, 30, tampering with or fabricating physical evidence, third-degree.
Nathan Champeau, 36, first-degree riot and second-degree riot.
Mitchell W. Bradford, 31, first-degree riot and second-degree riot.
Kyle Smith, 51, first-degree riot and second-degree riot, tampering with physical evidence, third degree.
John Guerrero, 47, first-degree riot.
Richard Clarence Lockhart, 48, first-degree riot.
Tom Modesto Mendez, 43, first-degree riot.
Marshall Mitchell, 64, first-degree riot.
Marcus Ryan Pilkington, 40, first-degree riot.
Reginald Weathers, 46, first-degree riot.
Aaron Carpenter, 36, first-degree riot and second-degree riot.
Wesley McAlister, 35, first-degree riot and second-degree riot.
Owen Reeves, 46, first-degree riot (habitual) and second-degree riot (habitual).
David Martinez, 48, riot.
Jerry Edward Pierson, age not available, riot.
Richard Cantu Jr., 33, riot.
William Flowers, age not available, two counts of riot.