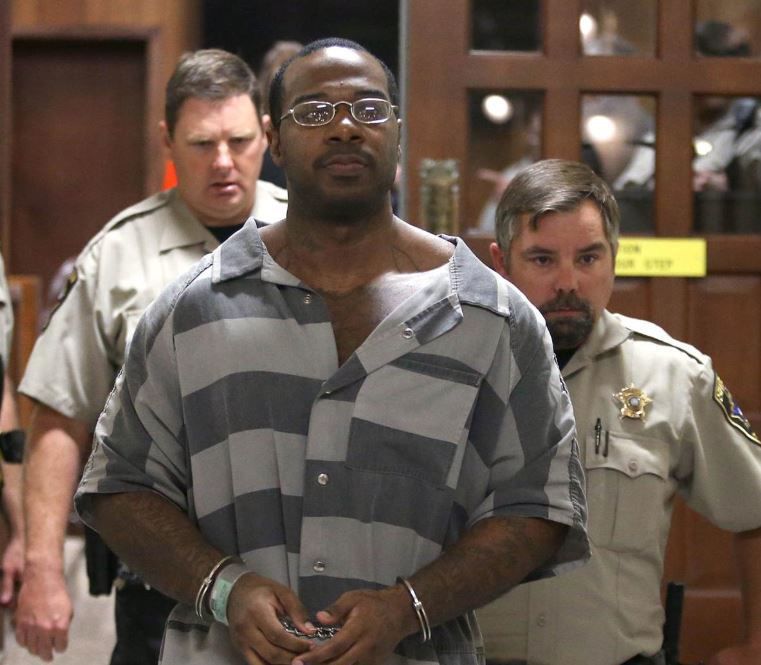 Albert Leslie Love Jr., who has languished in the McLennan County Jail three years while waiting for his capital murder retrial, no longer faces the death penalty, McLennan County District Attorney Barry Johnson confirmed Monday.
Love, a former death row inmate, has been in the McLennan County Jail since May 2017, five months after the Texas Court of Criminal Appeals overturned his capital murder conviction and death sentence in the March 2011 shooting deaths of Keenan Hubert, 20, and Tyus Sneed, 17, at the former Lakewood Villas apartment complex, 1601 Spring St.
Since his return to McLennan County, Love has rejected offers from prosecutors to plead guilty in exchange for a life sentence without the possibility of parole while they continued to hang the threat of death over his head.
Johnson said his office has changed course in Love's case and will not seek the death penalty against Love, who now faces life without parole if convicted a second time.
No trial date has been set in the case, but prosecutors and court officials say he won't be tried again before fall 2021. By that time, 19th State District Judge Ralph Strother, the presiding judge in Love's first trial, will have retired. Strother's successor is expected to be chosen in this year's Republican primary runoff between Kristi DeCluitt and Thomas West, and the winner will preside over the retrial.
Jim Young of Austin, one of Love's attorneys, deferred comment Monday to lead attorney, Ariel Payan, also from Austin. Payan did not return phone messages Monday.
Johnson explained his reasons for dropping the pursuit of the death penalty in an interview Monday.
"It is just one of those decisions where I as district attorney realize that there are several pending death cases and because of the facts of his case, we decided not to spend the million and a half dollars it would take to get a death penalty verdict on him," Johnson said.
"These are tough decisions, but from a practical standpoint, with the legislation and case law that now defines the death penalty, in my opinion, they have gone a long way in legislating the death penalty out of our criminal justice system. So we just have to be careful about the cases that we spend that kind of money on. And if you spend that kind of money, you are still talking about a 15-year appellate case even if you are able to get the death penalty," Johnson said.
Judicial officials are in the process of determining policies and procedures that must be implemented when the court system, including jury trials, resume in the wake of the coronavirus shutdowns.
Strother moved Love's trial to Georgetown because Love's co-defendant, Rickey Donnell Cummings, was tried first in Waco. Cummings has been on death row since 2012.
The Texas Court of Criminal Appeals awarded Love a new trial after ruling 6-3 that his Fourth Amendment rights were violated when Waco police seized the contents of his text messages without a search warrant and Strother allowed prosecutors to use the messages at his trial.
Rickey Cummings' younger brother, D'Arvis Cummings, was sentenced to 20 years in prison in September 2014. He pleaded guilty to murder as a party to the ambush slayings.
Deontrae Majors and Marion Bible, who were in the front seat of the car Hubert and Sneed were in when they were killed, were wounded in the attack but managed to escape.
Testimony from both trials showed Cummings and Love wanted to kill Hubert because they thought he killed their best friend, Emuel "Man Man" Bowers III, at East Waco Park the year before.
Other capital murder defendants with cases pending in Strother's court who likely will be tried by his successor include Christopher Paul Weiss and Keith Spratt.
Johnson said prosecutors are committed to seeking the death penalty against Weiss, the Temple man charged in the November 2017 shooting deaths of his 1-year-old daughter, Azariah, and the child's mother, Valarie Martinez, 24.
Both victims were shot in the head at Tradinghouse Creek Reservoir. Martinez's body was found outside her car at McLennan Park 3, off Willbanks Drive. Her daughter was found shot in the head in a car seat inside the car, officials said.
Spratt is charged with shooting and killing Joshua Ladale Pittman in December 2015. Spratt's co-defendant, Tyler Sherrod Clay, was sentenced to life in prison with no parole after his capital murder conviction in 2018. Prosecutors did not seek the death penalty against Clay.
Trial testimony showed Clay hired Spratt to kill Pittman out of revenge because Pittman reportedly robbed Clay after a dice game.
The DA's office initially said it would seek the death penalty against Spratt before reversing itself and telling the court it now will seek life without parole.
Sign up for our Crime & Courts newsletter
Get the latest in local public safety news with this weekly email.