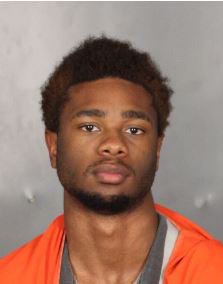 Police arrested a boy last week after he posted a video of himself having sex with a female student in a Waco High School gym bathroom in October, an arrest affidavit states.
Dari Washington, 17, a sophomore at Waco High at the time the video was recorded, was arrested Friday on a class A misdemeanor obscenity charge after he allegedly posted the video.
School officials were made aware of the incident after the video was posted to Facebook, the affidavit states.
During the investigation, a Waco ISD police corporal interviewed Washington, and Washington stated he and the female student had sex and that he posted it to Facebook, according to the affidavit.
Police tried to retrieve the video from Washington's cellphone but were unable to, according to the affidavit.
Police also received a search warrant for Washington's Facebook account and were able to recover the video.
Washington was arrested and taken to McLennan County Jail on the obscenity charge. He posted a $1,000 surety bond and was released Sunday.
According to Waco ISD's student code of conduct, it is against school policy if a student uses technology to "send, post or possess electronic messages that are abusive, obscene, sexually oriented, threatening, harassing, damaging to another's reputation or illegal, including cyberbullying and 'sexting' (including off school property), if the conduct causes a substantial disruption to the educational environment."
Waco ISD spokesperson Bruce Gietzen said any student involved in a similar incident would be subject to possible disciplinary action by school administrators.
"If any student engaged in that type of conduct on campus, it would be a violation of the student code of conduct, and they would be subject to disciplinary consequences," Gietzen wrote in a statement. "Federal law prohibits us from disclosing what disciplinary actions, if any, are taken against any individual student."
In an unrelated investigation, Copperas Cove police detained a 16-year-old boy and a 16-year-old girl Wednesday after both Copperas Cove High School students were caught having sex in a school bathroom late last week, Sgt. Martin Ruiz said.
There was no recorded evidence of the encounter reported, but both students were detained on public lewdness charges.