The anxiety was etched across Marty Lewis' face as he emerged from the Waco Police Department.
It was clear Lewis was uncomfortable being back in Waco. As he sat for a brief interview, one of the first things he said was that he wanted to get back on the road and out of town. Waco left him with bitterness, he said.
It had to be something important to bring Lewis back to the city where the retired San Antonio police detective was arrested after a shootout between biker groups at a Twin Peaks restaurant in May 2015. The decorated former officer was locked up with 176 other bikers that day on first-degree felony charges. He was jailed for 22 days under $1 million bond before his attorney could negotiate a lower bond.
Lewis' mugshot was spread across America as the face of the deadly Twin Peaks shootout. Like the half-white, half-black beard he sports, Lewis was a dichotomy, the ex-cop biker. He is a grandfather and family man, the father of three successful children and a second-generation police officer who retired after a distinguished 32-year career in law enforcement.
Yet police and prosecutors branded him and others as members of violent street gangs who came to Waco in a show of force, armed to the teeth, expecting a brawl with their rivals and not caring if innocent families dining out after Sunday church were in the danger zone.
Lewis, a member of the Valerosos motorcycle group, a Bandidos support club, is still upset about how he and others were characterized after the gun battle that left nine dead and 20 injured. He said he came to Waco to attend a biker coalition meeting, like he had dozens of other times at gatherings across the state.
"I am very disappointed. It makes you look at life a whole different way," Lewis said. "I just think it should have been handled a whole lot differently. Not everybody who rides a motorcycle is a criminal. Not everybody who rides a motorcycle is a bad guy. There are good and bad people in all walks of life, no matter what you do in life. You own it, no matter if you wear a police uniform or wear a cut. I am disappointed. I expected more."
Lewis was among 155 of the bikers indicted in the shootout. Now, only 27 cases remain. McLennan County District Attorney Abel Reyna dismissed the vast majority of the cases, including Lewis', while special prosecutors are reviewing three cases they are handling. A special prosecutor dismissed one of the four cases they were assigned, saying there was not sufficient probable cause to make an arrest.
Lewis returned to Waco late last week after making arrangements with Waco police officials to retrieve the Glock .40-caliber pistol he carried as a narcotics and vice detective when he retired in 2004. He also picked up his biker "cut" or vest he was wearing when he went to jail.
The vest means "brotherhood" to Lewis. However, the gun has more sentimental value. Not only was it the gun he carried for years before, but San Antonio police officials honored him on his retirement by engraving his father's badge number on the pistol in recognition for his years of service.
After his father retired from the police department, his badge number was given to Patricia Calderon. She wore badge 213 until she was killed in 1988, the first woman officer killed in the line of duty in San Antonio. The badge will never be issued again, and the engraving on the gun honors them both. It holds special meaning for Lewis.
After his arrest, Lewis lost his job as a bus driver for the Northside Independent School District. He is now driving a shuttle bus for a San Antonio hotel.
"Twin Peaks cost more than I wanted to spend," he said. "It cost my reputation, my job, it cost a lot. I was the poster child for the national media. My face was everywhere. I had never been arrested in my life, never had a parking ticket, never had a moving violation. I feel there are no winners in this thing. There are absolutely no winners. Everybody lost in this thing and people are still paying for it and suffering. And it is still not done."
Lewis is among about 130 bikers who have filed civil rights violation lawsuits against McLennan County, the city of Waco, Reyna and a handful of law enforcement officials. Those lawsuits are pending in a federal court in Austin. Dallas attorney Don Tittle represents about 100 of the bikers in the civil lawsuits.
"Marty's reputation just got trampled on," Tittle said. "His rights as an American citizen were trampled on. Like so many of the other people who were there, it would have only taken five minutes to sit down and talk to him and learn that this individual is a person. He is a good person with a family and a person who served with distinction in law enforcement. He proves that everything the police and Reyna said about these people is across-the-board false."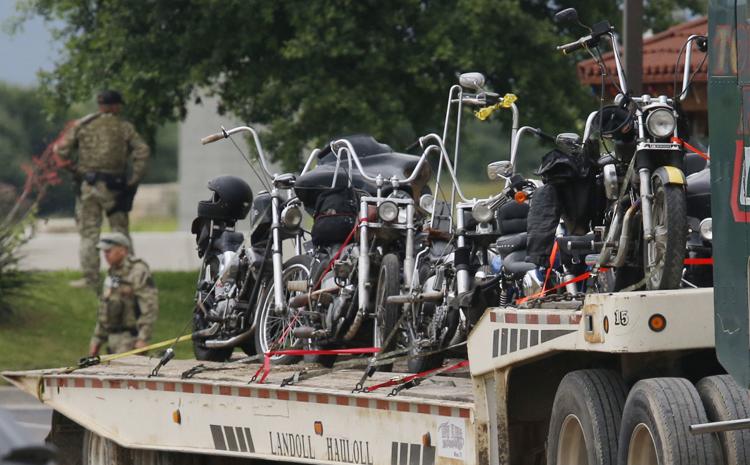 After Reyna dismissed most of the criminal cases earlier this year, his office also dismissed, or "non-suited," at least 16 of the 26 civil forfeiture cases that were filed in June 2015. Those cases involved pickup trucks, Harley-Davidson motorcycles and cash.
State law allows prosecutors to seize cash, vehicles, property and other valuable items they allege are used in a crime. If successful, the items are sold at auction, and the proceeds can be used to assist law enforcement.
Many of the bikes and other vehicles seized already have been returned to the owners. Some were repossessed by lenders after payments were missed.
Waco police Sgt. W. Patrick Swanton said detectives are working with bikers whose cases have been dismissed to return items seized at their arrests, such as Lewis' pistol and vest.
"Special Crimes detectives are releasing items when we can," Swanton said. "We are even shipping things back to people, so we feel we are doing everything we can and we feel like we are bending over backward to accommodate people. If those cases have been dismissed, we would love to get rid of these things officially, but we can't do so without the permission of the McLennan County District Attorney's Office. We are encouraging attorneys to reach out to the DA's office to make arrangements so we can release those vehicles and other items."
Sign up for our Crime & Courts newsletter
Get the latest in local public safety news with this weekly email.