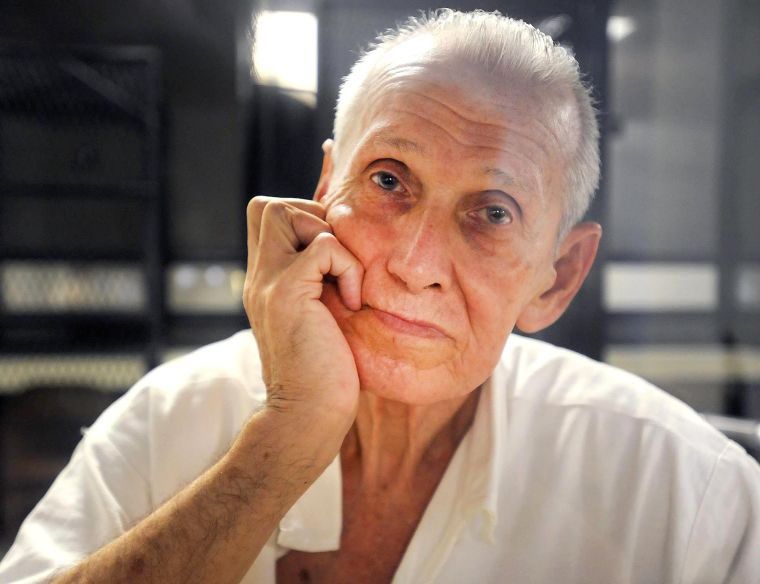 Limestone County District Attorney Roy DeFriend does not necessarily believe in coincidences but said he was pleased when the Texas Board of Pardons and Paroles notified him Friday that it was denying medical parole for twice-convicted murderer Carlos Don Stultz.
DeFriend said the notification email from the Texas Department of Criminal Justice came just 15 minutes after he had faxed a letter from Stultz's daughter, who pleaded with the board to let her father die in prison because she feared the frail 77-year-old would hurt her or someone else if he were released.
DeFriend knows the board might have already made its decision. But he wants to believe the woman's letter played a major role.
Stultz has been in prison 50 years and has been rejected for parole 28 times. He was a ranch hand living in Mexia with a wife who was five months pregnant when he was convicted of killing 17-year-old high school student Kathy Jones at her home near Mexia in 1969.
He also was convicted of killing a 12-year-old girl in Dallas, also in 1969. He was sentenced to death, but his sentence was commuted to life after the U.S. Supreme Court declared the death penalty unconstitutional in 1972.
DeFriend has been leading the charge for years in the battle to keep Stultz from being released, but he had not met or talked to Stultz's daughter until Thursday.
She read about Stultz being considered for medical parole in Wednesday's Tribune-Herald and felt compelled to speak out against his release, DeFriend said. The woman fears for her safety and asked that her name or place of residence not be revealed, DeFriend said.
He sent out hundreds of emails asking Limestone County residents and others to write to the parole board to protest Stultz's release. He said he believes several hundred wrote to the board, including McLennan County Sheriff Parnell McNamara, who was in college at Baylor University when Kathy Jones was killed but remembers his father, Deputy U.S. Marshal T.P. McNamara, a Jones family friend, talking about the brutality of the crime.
McNamara called Stultz a "soulless killer" who he said continues to be a danger to others despite having Stage 4 chronic kidney disease and requiring a wheelchair to get around.
"Carlos Stultz is a cold-blooded psychopath who can never be rehabilitated no matter how long he has been in prison," McNamara wrote in his letter to the parole board. "This criminal was, is and always will be a danger to anyone who comes in contact with him and he should never be released from prison for any reason."
Stultz talked about having a daughter in an interview with the Tribune-Herald in 2014. He said he saw her only once, when she was an infant when her mother brought her to prison for a visit. He denied his guilt in the two killings and said he had turned his life over to God.
His daughter told DeFriend she was taunted as a child in school at Mexia about being the daughter of a murderer, although her mother and grandmother never told her why her father was in prison. She later was adopted by family members and changed her name.
It was not until after her mother died a few years ago and she found her baby book while going through her mother's belongings that she learned for sure that Stultz is her father, she told DeFriend.
Stultz and his wife were living with her mother in Mexia when he killed Jones, a popular high school student who was a twirler and played in the band. Stultz's mother-in-law found his bloody clothes in the washing machine and was aware that something had happened to Jones. Despite her dilemma, she alerted authorities.
Stultz's daughter said Stultz threatened to kill her grandmother if he ever got out of prison, adding that her grandmother slept with a pistol under her pillow every time Stultz came up for parole, DeFriend said.
"She told me she saw the story in the Tribune-Herald and knew she had to do something," DeFriend said of Stultz's daughter. "I want to thank the parole board for doing the right thing and denying him parole. But also, I want to say thank you to these two brave women — this woman's grandmother, who turned Stultz in, and her granddaughter, who wrote to the parole board and said do not release my father because I am afraid he would hurt me or someone else."
DeFriend said he also wants to thank the residents of Limestone County, who flooded the parole board with protest letters.
"They rose to the occasion again," he said. "Every time we have asked them to help us keep this guy in prison, they rise up time and time again."
After the woman's grandmother called police, Stultz confessed to a polygraph operator and led authorities to Jones' body, DeFriend said. Stultz stabbed her 18 times and sexually assaulted after she was dead, an autopsy revealed.
Stultz was last denied parole in March 2018 and was not supposed to come up for review again until February 2023. However, Texas Department of Criminal Justice officials notified DeFriend last month that Stultz was under review for parole because of his medical condition.