A former Waco attorney under indictment on a murder-for-hire charge must continue wearing a GPS ankle monitor while awaiting trial on allegations she and another attorney plotted to kill her ex-husband.
Judge Thomas West of Waco's 19th State District Court denied a motion from Chelsea Tijerina to remove the tracking device, but did extend her nightly curfew by an hour and lifted travel restrictions to allow her to travel freely in Texas.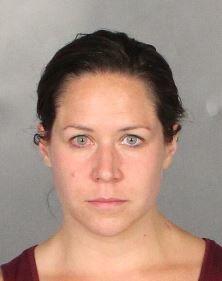 Tijerina, 33, and attorney Seth Sutton, 46, were arrested in May on solicitation of capital murder charges, accused of plotting to hire a hit man to kill Tijerina's ex-husband, Waco attorney Marcus Beaudin.
Tijerina and Sutton remain free on $1 million bond each and both are wearing court-ordered GPS ankle monitors as a condition of their bonds. Sutton was able to amend travel restrictions placed by the terms of his bond in an agreement with the DA's office in October.
At a brief hearing Thursday, McLennan County First Assistant District Attorney Nelson Barnes opposed Tijerina's request to remove the ankle monitor because of the serious nature of the allegations and because Child Protective Services officials reported to Barnes' office that they consider her a risk to flee with her two children should the monitor be removed.
Tijerina's attorney, Jessi Freud, disputed the notion that Tijerina is a flight risk and objected to Barnes' assertions. Freud declined comment after the hearing.
In the motion to amend Tijerina's bond conditions, Freud said the ankle monitor is no longer necessary to secure Tijerina's presence in court or required to ensure the safety of the community.
The motion states Tijerina is living in Hays County and alleges the monitor is hampering her ability to find a job, limiting her ability to enhance her child visitation rights and is limiting her ability to exercise. Tijerina has one child with Beaudin and another child from a previous marriage.
"The monitor also causes bad bruising, especially when she tries to exercise regularly, and exercise is vital to her mental health at this time," according to the motion.
She and Sutton are charged with trying to hire an undercover Waco police officer, who had infiltrated Sutton's motorcycle club, to kill Beaudin. No trial date has been set.
Arrest documents state the officer started riding with Sutton's motorcycle club, the Red Mouse Cult MC, and became a prospective member. Arrest affidavits do not specify how much Sutton and Tijerina offered to pay for her ex-husband's death or say why they wanted him killed.
According to arrest records, Sutton solicited the undercover officer May 14 to kill Beaudin, and the two talked about the plot before Sutton offered to pay for the gun and to help the officer leave town after he committed the murder, records show.
After the initial meeting between Sutton and the undercover officer, Waco police enlisted the help of the Texas Rangers on May 20. The next day, Sutton and Tijerina met with the undercover officer to plan, arrest affidavits state.
Tijerina provided details about Beaudin's whereabouts and how to carry out the murder, according to police reports.
"Chelsea Tijerina (Beaudin) and Sutton provided a timeline for the murder as well as establishing alibis for Chelsea Tijerina (Beaudin) and Sutton," affidavits state. "On May 22, Sutton met (with the undercover officer) an provided (the officer) with $300 to purchase a firearm to be used to murder Marcus Beaudin."
Beaudin, 37, was arrested in February on a felony charge of indecency with a child. Woodway police accused Beaudin of inappropriately touching a 10-year-old family member in December. He has not been indicted in that case, and Beaudin's attorney, Josh Tetens, has said Beaudin denies the claim.