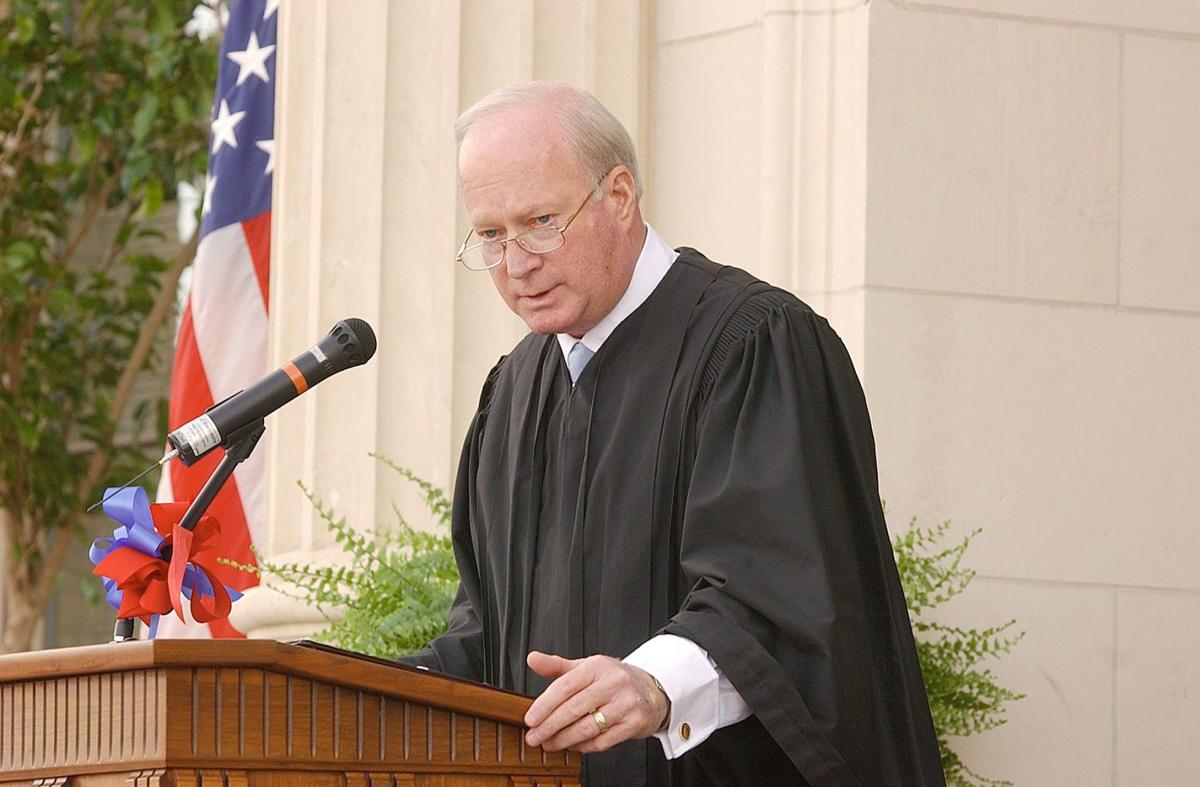 The 5th U.S. Circuit Court of Appeals has formally reprimanded U.S. District Judge Walter S. Smith Jr. after finding he made "inappropriate and unwanted physical and non-physical sexual advances" toward a court employee in his chambers in 1998.
As part of the court's order, Smith has been stripped for a year from hearing any new criminal and civil cases filed on or after Dec. 3.
In spite of finding that Smith's conduct "was in contravention of existing standards of behavior for federal judges," the Judicial Council of the New Orleans-based federal appellate court concluded that his actions do not warrant a recommendation of impeachment.
Smith, 75, who has been a federal district judge since 1984, declined comment Friday through his judicial assistant. In conjunction with the reprimand order, Chief U.S. District Judge Fred Biery, of San Antonio, issued an order Friday that directs all new cases filed in Waco's federal court as of Dec. 3. to be assigned to a visiting judge docket.
Biery's order transfers many of Smith's normal duties to U.S. Magistrate Jeffrey C. Manske, including pretrial proceedings and requests for injunctive relief. Visiting judges will be brought in to handle matters over which Manske has no jurisdiction, Biery said.
Manske did not return a phone message Friday.
Smith has been under investigation for at least a year by the 5th U.S. Circuit Court of Appeals after former Dallas attorney Ty Clevenger's complaint that Smith made improper sexual advances toward a former courthouse employee in his chambers in 1998.
His complaint included a sworn deposition from the woman detailing the alleged groping encounter and a certified letter she wrote the judge describing the adverse effects the incident had on her.
Clevenger supplemented his complaint against Smith in October to allege that Smith and Waco attorney Greg White violated conflict-of-interest standards by failing to disclose that White represents Smith in the judicial sexual misconduct investigation to attorneys opposing White in a case presided over by Smith.
The investigation council also found that Smith did not follow appropriate procedures regarding his subsequent recusal from the case involving White.
Clevenger called the reprimand against Smith "a joke" and said he will continue to seek Smith's impeachment with the U.S. House of Representatives.
"The Judicial Council found that Judge Smith committed a felony and all he got was a reprimand. He gets to keep his job and now he has a smaller workload. The reprimand is further proof that federal judges cannot or will not police their own," Clevenger said Friday. "Congress needs to quit punting the ball and start reclaiming its constitutional role in judicial oversight."
The order of the Judicial Council also said that Smith "does not understand the gravity of such inappropriate behavior and the serious effect that it has on the operations of the courts."
"The Judicial Council also finds that Judge Smith allowed false factual assertions to be made in response to the complaint, which, together with the lateness of his admissions, contributed greatly to the duration and cost of the investigation," the order, signed by 5th Circuit Chief Judge Carl E. Stewart, says.
The Judicial Council also directed Smith to complete at his expense a sensitivity training course "about appropriate professional interaction." The council appointed U.S. District Judge Ed Kinkeade of Dallas to serve as liaison between Smith and the Judicial Council and to make recommendations as Kinkeade deems appropriate.
While the council deemed Smith's actions did not warrant impeachment, the order says it has imposed unspecified "severe sanctions" otherwise available to it under the Rules of Judicial Conduct and judicial disability proceedings.
Clevenger's initial complaint against Smith also included allegations that Senior U.S. District Judge Harry Lee Hudspeth, of Austin, who was chief judge of the Western District of Texas at the time, was told about the allegations against Smith and "failed to take appropriate action."
There was no public mention of Hudspeth in the Judicial Council's order.
The former clerk wrote a letter to Smith in 1998, telling the judge that his "proposition to me completely caught me off-guard."
"It frightened me and has caused me much grief and emotional anguish," she wrote. "It was very inappropriate, and I did nothing to provoke it."
According to the woman's testimony, on the day she says she was assaulted, she ran into Smith at the third-floor water fountain in the Waco federal courthouse and he invited her to visit him in his chambers. She said it was 8:30 a.m. and he had a "pretty strong smell" of liquor on his breath.
The woman said she was puzzled by his request because they had barely spoken and rarely saw each other at work.
She said she went back to her desk and her phone rang. She said it was Smith asking where she was because he had told her to come see him.
When she went to the judge's office, Smith closed the door behind her, put his arms around her and kissed her, she testified.
"I just froze. I couldn't move. And he said, 'Let me make love to you.' And I, and I, I just freaked out," she said in the deposition.
She said Smith tried to touch her inappropriately, but she pulled away and told him she had to get back to work.
The woman testified that after the incident, Smith sent her flowers at work and continued to make advances.
She told her supervisor, who reported the alleged incident to Hudspeth, who at that time was presiding judge over the federal district that includes Waco.
She testified that Hudspeth called her at home but seemed dismissive about her charges.
"He asked me, 'What do you want me to do about it?' " she testified.
Besides his supplemental complaint against Smith, Clevenger said he also filed a State Bar of Texas grievance against White on allegations he failed to disclose his attorney-client privilege with Smith to opposing parties in a federal lawsuit pending in Smith's court.
In response to Clevenger's allegations, Keith Langley, an attorney on the opposite side of White in a case pending in Smith's court, filed a motion in October asking Smith to recuse himself.
"IFIC has recently learned that counsel for six parties in this case, Greg White, represents the Honorable Walter S. Smith Jr. in a concurrently pending proceeding," the recusal motion states. "Greg White is and has been counsel of record for six litigants in this case for at least 11 months, and has signed and filed all of the pleadings, discovery, motions, responses and replies of the six parties he represents."
Court records indicate Smith filed a sealed order in the case in October. Another notice indicated the case has been reassigned to a judge in Austin.
In October, White downplayed his role in the civil case, a dispute among contractors, subcontractors and bonding companies over who will pay for cost overruns in an extensive remodeling project at the Carl R. Darnall Army Medical Center at Fort Hood.
White, who also is an adjunct professor at Baylor Law School, said then that he merely is serving as "local counsel" in the case and that the lead attorneys are from Atlanta.
White declined comment on the Judicial Council order Friday.
Clevenger's dispute with Smith began six years ago, when Clevenger filed a racketeering lawsuit against an elected official and an attorney from Robertson County. The suit alleged the men and others conspired to improperly acquire the rights to royalties from landowners with oil and gas interests.
Smith dismissed the lawsuit and sanctioned Clevenger $25,000 for filing what the judge ruled a frivolous lawsuit. The Robertson County attorney filed a grievance against Clevenger with the State Bar of Texas, and it was while defending himself against the bar grievance that Clevenger subpoenaed the former federal deputy clerk and took her sworn deposition.
"I sat across the table face to face from her and she swore under oath to tell the truth," Clevenger has said. "I believe everything she said. He wrecked her life and ended her career.
"She said in the deposition how hard it is for a woman without a four-year degree to find a good career, and she needed that job. I think he needs to answer for it. I don't care if it was 17 years ago. That was 17 years on the bench when he shouldn't have been on the bench."
Clevenger, who has since moved to New York, said Friday that a U.S. District Court in Washington, D.C., filed charges this week seeking to have him disbarred.
He said he thinks the disbarment proceedings are directly related to his website, DirtyRottenJudges.com, in which he openly criticizes judges, including one in Washington, D.C.
"It is retaliation for the website, plain and simple," Clevenger said.
Sign up for our Crime & Courts newsletter
Get the latest in local public safety news with this weekly email.