A Waco woman awaiting sentencing for her role in a 2019 drunken driving hit-and-run wreck that nearly killed a Baylor University student was jailed without bond Friday after her fourth violation of bond conditions since her arrest.
Gabriela Shay Estrada did not contest the state motion to revoke her bond Friday in a brief hearing in Waco's 19th State District Court. Judge Thomas West ordered her jailed without bond and will sentence Estrada on Nov. 1. Estrada acknowledged during the hearing that she failed to charge her GPS ankle monitor for 46 hours.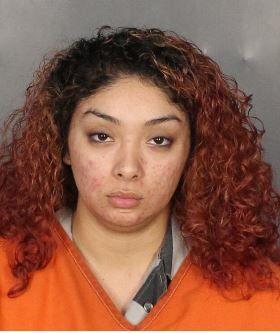 Estrada, 23, pleaded guilty Aug. 19 to aggravated assault with a deadly weapon in the Dec. 15, 2019, incident in which she struck Baylor student Grace O'Heeron with her car near South 12th Street and La Salle Avenue and drove away.
Friday's hearing was the fourth time state prosecutors sought to revoke Estrada's bond for violating conditions of her bond.
West sent Estrada back to jail for 30 days in April after she was arrested on a new DWI charge and tested positive for cocaine while free on bond. Estrada was arrested April 10 on suspicion of drunken driving after she crashed her 2017 Nissan Rogue into a utility pole near the La Salle Avenue traffic circle, not far from where O'Heeron was hit. That charge remains pending.
In November 2020, former Judge Ralph Strother revoked Estrada's $75,000 bond and increased it to $100,000 after she was seen on Facebook videos smoking marijuana and drinking from a brown paper sack while driving. She was released the same day after posting the higher bond.
The fourth issue involving Estrada's bond conditions was an apparent misunderstanding about whether she was free to leave after she was drug tested at the courthouse, her attorney, Cody Cleveland, said. That situation did not result in additional sanctions against Estrada, who faces up to 20 years in prison.
Cleveland declined comment on the outcome of Friday's bond hearing.
O'Heeron graduated from Baylor in December with a bachelor of business administration degree in management information systems. She said last month that she completed nine months of physical rehabilitation and is working on a master's degree in digital forensics at Sam Houston State University.
She spent a month in the hospital after suffering traumatic brain injuries, multiple skull fractures, a shattered pelvis and leg injuries. She said she is expected to suffer lifelong neurological and psychological effects from her brain injury and is dealing with short-term memory loss, attention deficit and other ailments.