A Waco man who police say shot and killed another man and injured two other people in May was indicted Thursday.
A McLennan County grand jury indicted Nicosia Omar Harlan, 25, on a first-degree murder charge and two second-degree felony aggravated assault charges.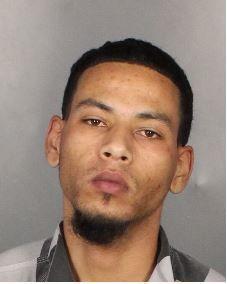 Harlan remains in the McLennan County Jail under $260,000 bond, charged in the May 19 shooting death of 19-year-old Michael Ray Brooks Jr. during a confrontation at a home in the 2500 block of Lasker Avenue.
Harlan's attorney, Michel Simer, declined comment on the case but said she has scheduled a bond reduction hearing for Harlan on Friday in Waco's 19th State District Court.
Waco police reported they found Brooks dead in the home suffering from multiple rifle wounds. They also found another man and a woman in the home with gunshot wounds that were not life threatening, police said at the time.
Police alleged in an arrest affidavit that Harlan was in his vehicle and could have left without firing the rounds that killed Brooks and injured the other two people.
The night of the shooting, police found Harlan at an apartment complex on North Valley Mills Drive. He agreed to speak with officers about the incident, according to the affidavit.
"Harlan informed (police) that he had gone to 2513 Lasker to confront the individuals who had previously assaulted his relative and a friend," the affidavit states. "Harlan informed (police) that he had brought a rifle with him as a precautionary measure."
A man who knew Harlan tried to calm the situation and asked Harlan to leave, the affidavit states. Harlan told officers another man, later identified as Brooks, was outside the front door with a pistol and fired several rounds at Harlan. Harlan returned fire, according to the affidavit.
If convicted of murder, Harlan would face from five to 99 years or up to life in prison.
112 pounds of meth
In other action, the grand jury indicted a South Texas man on charges he possessed 112 pounds of methamphetamine worth about $5 million. Michael Blanco, 50, of Weslaco, was indicted on first-degree felony charges of possession with intent to distribute more than 400 grams of methamphetamine.
A Department of Public Safety trooper with a drug dog named Renegade pulled Blanco over north of Waco on Interstate 35 in February 2019. Troopers reported Blanco was driving suspiciously, plus there was a companion vehicle that the trooper suspected had been traveling with Blanco from the border area that the trooper reported tried to position itself between Blanco's Ford pickup and the trooper's car.
After the trooper stopped Blanco's vehicle, Renegade "alerted" to the presence of drugs, the trooper wrote in an affidavit. After searching the vehicle, the trooper found 112 pounds of methamphetamine concealed in four stereo speaker boxes in the truck.
Law enforcement officials said the estimated street value of the seized drugs is about $5 million.
If convicted of the indicted charge, Blanco would face from 15 to 99 years and up to life in prison.
Sign up for our Crime & Courts newsletter
Get the latest in local public safety news with this weekly email.