A registered sex offender was sentenced to 35 years in prison Thursday for sexually assaulting a teenager last year and exposing himself in a grocery store parking lot two years ago.
Adam Antonio Navarro, 34, pleaded no contest to sexual assault of a child and pleaded guilty to a count of indecency with a child by exposure. Judge Susan Kelly of Waco's 54th State District Court sentenced Navarro to concurrent 35-year and 20-year prison terms after Navarro nearly blew up his plea agreement by telling the judge he was not guilty of sexually assaulting a 15-year-old girl.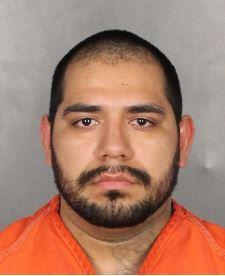 Kelly said she would not accept the plea bargain as long as Navarro insisted he was not guilty. She did tell him, however, that she would accept his plea of no contest, which has the same legal effect as a guilty plea.
After consulting with his attorney, Josh Tetens, Navarro decided to continue with the plea agreement by pleading no contest.
"We appreciate and recognize the work that law enforcement, victim services and the District Attorney's Office did to ensure justice was served in this case," Tetens said. "Mr. Navarro did not contest his plea or sentence based upon the evidence and advice of counsel, and never intended to seek a trial."
If Navarro had gone to trial and been convicted by a jury, he would have faced an automatic life prison term because of his previous conviction for sexually assaulting a teenage family member in 2006. He must be given credit for serving at least half of his sentence before he can seek parole.
Navarro pleaded no contest to sexually assaulting a 16-year-old girl at a party at a residence attended by nine other people. The girl told investigators she had been drinking and went into the bedroom to lie down. According to court records, she said Navarro entered the bedroom under the guise of using the restroom and she pretended to be asleep but watched him.
She reported that Navarro fondled her as she continued to pretend she was asleep. She moved around, but he continued to molest her and took a picture of her with his phone, according to court records. He left the room but returned and removed her shorts and sexually assaulted her, and stopped when someone knocked on the door, reports state.
When other people at the party confronted him about raping the teen, Navarro said he thought she was 19, according to police reports.
Navarro pleaded guilty to exposing himself in February 2019 in the H-E-B parking lot at 9100 Woodway Drive.
He was convicted in 2006 of prohibited sexual conduct for having improper sexual contact with a 15-year-old girl, court records show. He was placed on probation and required to register as a sex offender.