A woman who was involved in a robbery attempt three years ago at a Crawford residence that turned into a six-hour standoff with police was sentenced to eight years in prison Tuesday.
Dandi Daugherty, 42, pleaded guilty to two counts of aggravated robbery in the Crawford incident. She also pleaded guilty to possession of a controlled substance in a 2016 case. Prosecutors dismissed an unlawful possession of a firearm count against Daugherty as part of the plea bargain.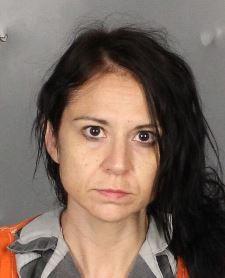 Judge Thomas West of Waco's 19th State District Court accepted the plea agreement and sentenced Daugherty to three concurrent eight-year prison terms. Daugherty, who must serve at least four years in prison, will be given credit for the 1,080 days she spent in the McLennan County Jail before her cases were resolved.
Daugherty and Christopher Alan Bamsch were arrested on Memorial Day, in May 2018, after they threatened Bamsch's parents with weapons at their home on Winding Trail. The situation escalated into a standoff with local law enforcement officials as the pair tried to gain access to his parent's bank account information, authorities said.
Bamsch pleaded guilty in August 2019 to two counts of aggravated robbery and one count of unlawful possession of a firearm by a felon and was sentenced to 20 years in prison on each of the robbery counts and 10 years in prison on the weapon charge.
Bamsch, who has a 2015 felony conviction for aggravated assault, is serving those three sentences concurrently with a 10-year federal sentence for unlawful possession of a firearm by a felon. The federal conviction stemmed from the same May 2018 incident at his parents' home in Crawford.
Daugherty was convicted in 2015 of possession of a controlled substance and spent time in a state-jail facility.
"She is relieved to get this taken care of and put this behind her," said Daugherty's attorney, Brandon Luce. "She wanted to take responsibility for her portion of what occurred in Crawford three Memorial Days ago."
Bamsch's parents and his 8-year-old son were at the home at the time. Those three family members were able to escape and run to a neighbor's house early in the morning after Bamsch and Daugherty fell asleep, officials said.
The McLennan County Sheriff's office SWAT team and Crawford police deployed tear gas, and the pair surrendered. According to records filed in the case, Bamsch threatened and "unlawfully restrained" his parents with a .38 caliber revolver during the incident.