A Waco woman who nearly killed a Baylor University student in a 2019 drunken hit-and-run was sentenced to 20 years in prison Monday after repeatedly violating the conditions of her bond.
Judge Thomas West, who jailed Gabriela Shay Estrada in early September after her fourth bond violation, sentenced her Monday to the maximum punishment on the second-degree felony.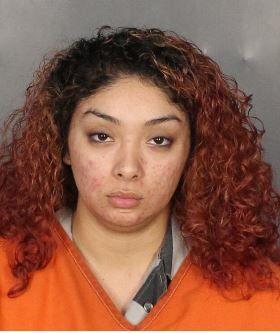 Estrada, 23, pleaded guilty Aug. 19 to aggravated assault in the incident on Dec. 15, 2019, when she struck Grace O'Heeron with her car near South 12th Street and La Salle Avenue and drove away.
Estrada pleaded guilty without benefit of a plea agreement from prosecutors. She asked for probation but left her fate in the judge's hands.
Estrada, the single mother of a 3-year-old girl, must serve at least 10 years in prison before she can seek parole because the judge ruled she used her car as a deadly weapon in the hit-and-run.
O'Herron, 23, spent a month in the hospital after suffering traumatic brain injuries, multiple skull fractures, a shattered pelvis and leg injuries. She said she is expected to suffer lifelong neurological and psychological effects from her brain injury and is dealing with short-term memory loss, attention deficit and difficulty walking.
She graduated from Baylor in December with a bachelor of business administration degree in management information systems, but she said it would not have been possible without the support and understanding of her professors.
She is working on a master's degree in digital forensics at Sam Houston State University, but testified Monday that the effects of her brain injuries might force her to drop out of school.
"I am very thankful that this chapter of my life is finally getting some closure and I hope that it will show that drunk driving has real consequences and can really hurt people," O'Heeron said after Estrada's sentencing hearing. "I want to thank everyone who helped me and supported me throughout this. If it wasn't for the hard work of the DA and police I wouldn't be here and none of this would have ever happened. Huge thanks to them and the judge for helping keep the community safe."
West sent Estrada back to jail for 30 days in April after she was arrested on a new DWI charge and tested positive for cocaine while free on bond. Estrada was arrested April 10 on suspicion of drunken driving after she crashed her 2017 Nissan Rogue into a utility pole near the La Salle Avenue traffic circle, not far from where O'Heeron was hit.
In November 2020, former Judge Ralph Strother revoked Estrada's $75,000 bond and increased it to $100,000 after she was seen on Facebook videos smoking marijuana and drinking from a brown paper sack while driving. She was released the same day after posting the higher bond.
The fourth issue involving Estrada's bond conditions was an apparent misunderstanding about whether she was free to leave after she was drug tested at the courthouse, said her attorney, Cody Cleveland. That situation did not result in additional sanctions against Estrada. Cleveland declined comment after Monday's hearing.
Waco police Sgt. Jeremy Angel, who tracked down Estrada after the December 2019 hit-and-run, said she was so drunk that he declined to put her through a field sobriety test for fear that she would fall and hurt herself. Waco Police Detective John Clark said that Estrada's blood-alcohol content was 0.195% after the December incident and 0.114% after her DWI arrest in April in which she drove up onto the crest of the La Salle traffic circle and struck a utility pole.
Under state law a person is considered legally intoxicated at the threshold of 0.08%.
O'Heeron testified that she was the one who brought to prosecutors' attention the Facebook post showing Estrada driving while she and her boyfriend smoked marijuana and were drinking. She told the judge that it hurt her to watch Estrada partying while she was undergoing nine rigorous months of rehab therapies.
Prosecutor Kristen Duron played a portion of the the Facebook post during the sentencing hearing.
When asked by Cleveland during cross-examination what her future holds, O'Heeron said, "I can't see past today. I don't know. I used to have a really bright future, but I don't know."
Duron said Estrada earned the maximum penalty by almost killing O'Heeron while drunk and through her subsequent behavior while on bond.
"The defendant had a chance to learn from this offense and show remorse and empathy while on bond, which she failed to do," Duron said. "The court's decision appropriately weighed the seriousness of the offense as well as the defendant's bond violations and subsequent actions that put the community at risk."
Waco psychologist Lee Carter, who evaluated Estrada at the request of the defense, testified she came from a "troubled background" that included prolonged sexual abuse at the hands of a family member, another sexual assault when she was a teen and a drug-dealing father who spent 11 years in federal prison beginning when she was 5.
He said she received no counseling or treatment after the sexual assaults and turned to alcohol and drugs to "self-soothe" against her depression, anxiety and chronic post-traumatic stress disorder brought on by the sexual abuse.