The brutal cold that froze thousands of McLennan County residents in their homes away from work and school this week also may have punched down the spread of the coronavirus causing COVID-19 to a level not seen since the summer.
Although the fatal severe weather paused the regular stream of data releases tracking local COVID-19 cases, hospitalizations and deaths, its de facto shutdown of local communities and travel likely also will slow the virus' spread in the way that almost a year of messaging about masking, social distancing and avoidance of gatherings has sought to, health officials said.
Waco Family Health Center CEO Dr. Jackson Griggs said there is a five-day period when someone with the coronavirus is most likely to transmit it to others.
"This weather has created havoc for so many people, but it has a silver lining from a pandemic standpoint," Griggs said.
Infectious disease specialist Dr. Farley Verner agreed the week's paralyzing weather left a glimmer of good news in its wake where the coronavirus is concerned.
"Nature created this six- to eight-day lockdown for us," Verner said. "It's of significant benefit."
The people who were infected but asymptomatic or pre-symptomatic before the icy weather hit will be less likely to transmit it to others.
"The people they come in contact with won't be passing it on next week," Verner said.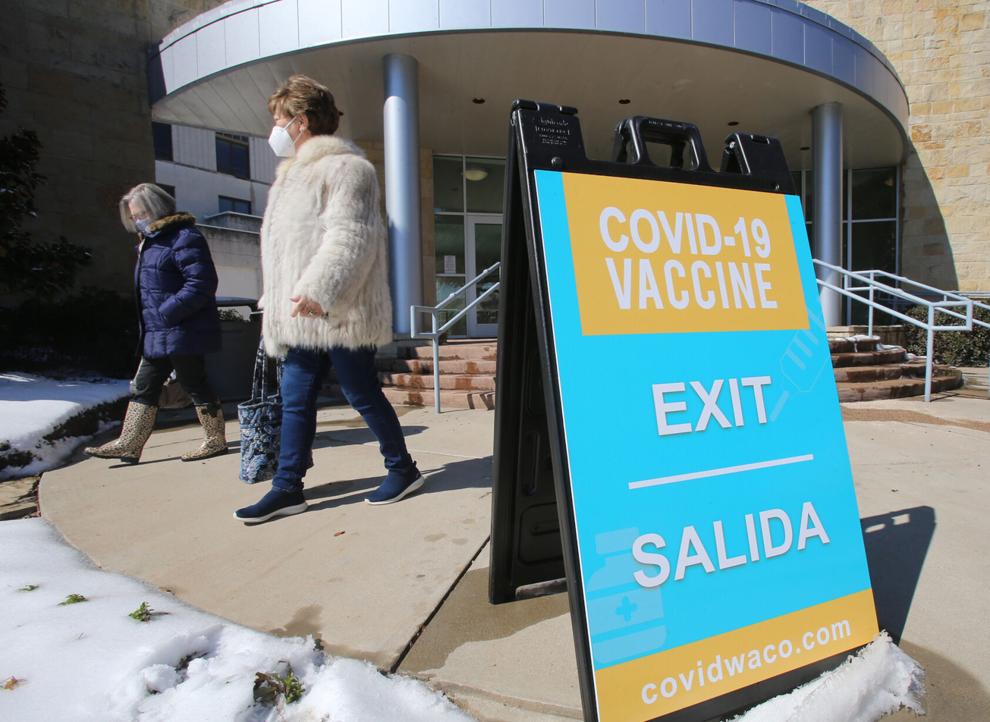 Before the winter storm, the county's COVID-19 cases and hospitalizations were starting to taper off after a January that saw a post-holiday surge that filled local hospitals beyond capacity and killed dozens. Last week, the rate of all tests coming back positive dipped to less than 10% on a seven-day average.
As of Monday, the last local update available, the county had reported 24,268 total cases, including 269 that remained active, and 23,803 residents with at least on dose of a COVID-19 vaccine.
Griggs said the situation is similar to what the county was seeing in early June, when cases and hospitalizations were low after an almost two-month shelter in place order.
"We've had nine cases per 100,000 people. That's as low as we've seen since June," he said, referring to the daily average of newly confirmed cases.
At the same time, two months of vaccinations for high-risk populations are starting to shrink the number of people vulnerable to the coronavirus.
Last week's extreme cold and power outages likely created situations where the virus could spread when people gathered in places where warmth was available. However, the risk might not have appreciably increased because of the small numbers of people involved and the likelihood that members of those groups, primarily family and friends, would have had some contact with each other anyway.
The impact of this week's cold following downward trends in the coronavirus' spread offers a window of opportunity for the Waco-area if current measures including masking and social distancing are continued while vaccinations increase, Griggs said.
The prospect of declining cases and hospitalizations coupled with increasing vaccinations does not mean it is time to toss masks away and ignore social distancing, however.
"Everything we did for the last months and months should continue with the same vigor," Verner said. "This is not a time to relax."
The arrival of a more contagious UK coronavirus variant and the possibility that a more aggressive South African variant may follow mean county residents should not relax protective measures or efforts to get vaccinated, he said.
Months of masking and social distancing also may have suppressed the flu season this year. Verner said the county has not seen an upswing in flu cases at a time of year when flu season usually is underway.
"We're past the point in time in previous years where flu season would already be in progress now," he said.
Schools, a major point of flu transmission for students and their families, also have been closed periodically or had a significant number students working from home, he said.
An anticipated dip in COVID-19 cases after the weeklong freeze also does not change the need to continue COVID-19 testing, particularly for anyone who has come in contact with someone with COVID-19 or who feels even mildly symptomatic. Testing joined with contact tracing and investigation remains the best way to identify COVID-19 cases and keep them from spreading, Verner said.
The testing positivity rate also provides a marker for a level where COVID-19 in a community becomes controllable.
"I'm going to keep banging the drum about testing until we reach 3% (positivity rate) and we stay under 3%. When that happens, we'll be able to suppress the virus," Griggs said.
Waco-McLennan County Public Health District spokesperson Kelly Craine said the coronavirus is still circulating in the community, and experience over the past year shows its spread can surge at any time.
"COVID decides to rear its ugly head whenever it wants to," she said.
Free testing put on hold last will will resume Monday at McLennan Community College and the Waco Multipurpose Center. Testing also is expected to resume this week at Baylor University, which has required weekly testing of students and employees using campus this spring. Baylor spokesperson Lori Fogleman said administrators hope to inform students and faculty of testing plans before Monday.
By week's end, vaccination clinics had resumed. On Friday and Saturday, The Waco-McLennan County Public Health District was providing vaccinations at the Waco Convention Center for people who had received their first shot weeks ago and those who missed recent vaccination appointments.
In addition to continuing to vaccinate high-risk patients of its clinics, Ascension Providence held its second vaccination clinic Saturday at University High School for Waco Independent School District and Midway Independent School District at-risk staff members.
Icy conditions and power outages complicated vaccine deliveries this week from the state, but they were getting back on track, Craine said.
Nationwide, shipments of some 6 million vaccine doses were held up by the week's bad weather, but work on the backlog was underway with 1.4 million doses of those delayed on their way by Friday, a White House spokesperson reported Friday.
PHOTO GALLERY