Responding to state legislation seeking to limit how racism should be discussed in Texas classrooms, Waco ISD trustees voted Thursday to reaffirm their commitment to dismantling structural racism.
The legislation, House Bill 3979, lays out rules for discussing controversial current events involving racism, lists specific documents that should be included in the state curriculum and requires a civics education training program for teachers.
"At the heart of the concerns that we have heard I think there's a question: If House Bill 3979 becomes law, will it somehow prevent us from following through on those commitments?" Waco ISD Chief of Staff Kyle DeBeer said during Thursday's board meeting, referring to commitments in an anti-racist resolution the board passed last year. "Or perhaps phrased a little differently: How can you dismantle institutional racism if talking about race and racism is optional?"
The bill states "a teacher may not be compelled to discuss current events or widely debated and currently controversial issues of public policy or social affairs," and that teachers who choose to should explore the topics from "diverse and contending perspectives."
"In the absence of greater clarity, we fear some teachers might feel it is necessary to avoid discussions of current events or race or sex entirely. … It seems like, in a rush to score some political points, the Legislature has not really given much thought to what implementing this would look like in practice in a classroom," DeBeer said.
The legislative session ends Monday, and although the bill was dealt a procedural blow by Democrats Friday that made its passage unlikely, Republican senators revived the bill in the evening and it "now appears back on track to reach Gov. Greg Abbott's desk for approval," The Texas Tribune reported Friday evening.
DeBeer said the first section of the bill, which outlines certain documents and topics for the state board of education to include in the state curriculum, is not the trouble.
He said in an interview Friday that the rest of the bill is worded so vaguely that clashes between teachers and parents over what would be considered "controversial issues" under its rules seem inevitable. Any classroom discussion about racism's role in shaping the world might become too fraught to go on, and teachers might have to leave students' questions about current events unanswered.
Another part of the bill would prohibit schools from requiring employees "to engage in training, orientation, or therapy that presents any form of race or sex stereotyping or blame on the basis of race or sex."
Kincannon said that phrasing is so broad that it could apply to trainings the district uses to make sure employees, who may be from a completely different culture from their students, are more aware of their own biases and how they might impact their work.
House Bill 3979 only names one specific work schools are prohibited from requiring their employees to use for any reason, the New York Times' Pulitzer Prize-winning 1619 Project. The project's goal was to examine the way slavery and racism shaped American history and examine their consequences, along with Black American's contributions to the country. Its title refers to the year enslaved people were first brought to what is now the United States.
Sen. Ted Cruz called the project "propaganda" multiple times, and former President Donald Trump called it a "twisted web of lies," creating an advisory committee to develop "patriotic education" instead. Last year, an Arkansas lawmaker proposed the Saving American History Act of 2020 bill, which would pull federal funding for schools that taught curriculum based on the project.
American Historical Association President Jacqueline Jones and Executive Director James Grossman wrote a letter urging the Texas Legislature to reject its proposal, calling the bill a "gross government overreach into the curricular matters of K–12 public schools." The association also has written letters against bills in several other states that more explicitly target critical race theory.
"Its apparent purposes are to intimidate teachers and stifle independent inquiry and critical thought among students," the letter says. "The act also seeks to maintain high school classrooms as spaces 'safe' and isolated from major themes in the nation's history and from knowledge generally accepted by history professionals."
The letter also says the legislation would likely ban topics students need to learn to pass Advanced Placement and dual-credit history courses, the most commonly offered dual-credit courses in the state.
"None of this damage, of course, is the actual purpose of this legislation, much of which is couched in barely concealed euphemisms," the letter says. "This is about whitewashing American history, keeping to the margins (or excluding altogether) such central issues as slavery; forced removals of Native Americans; inequalities based on race, gender, or other characteristics; and other aspects of our past likely to inspire the vigorous discussion that characterizes a good history class."
The Texas bill does not explicitly mention critical race theory, but it is colloquially called the "critical race theory" bill because it is one of several similar pieces of legislation proposed recently by states, some of which also name the 1619 Project. Critical race theory emerged from work legal scholars did in the 1970s and 1980s examining the role of race in the legal system.
An explainer article from Education Week, a publication focusing on K-12 education news, describes the academic concept of critical race theory's core idea that racism is not just the product of people's individual bias or prejudice, but a force embedded into legal and social systems and policies.
As an example of institutional racism, the article cites redlining, a process government officials and banks used to keep people in predominantly Black areas from getting mortgages.
"Today, those same patterns of discrimination live on through facially race-blind policies, like single-family zoning that prevents the building of affordable housing in advantaged, majority-white neighborhoods and, thus, stymies racial desegregation efforts," the article says.
---
Documents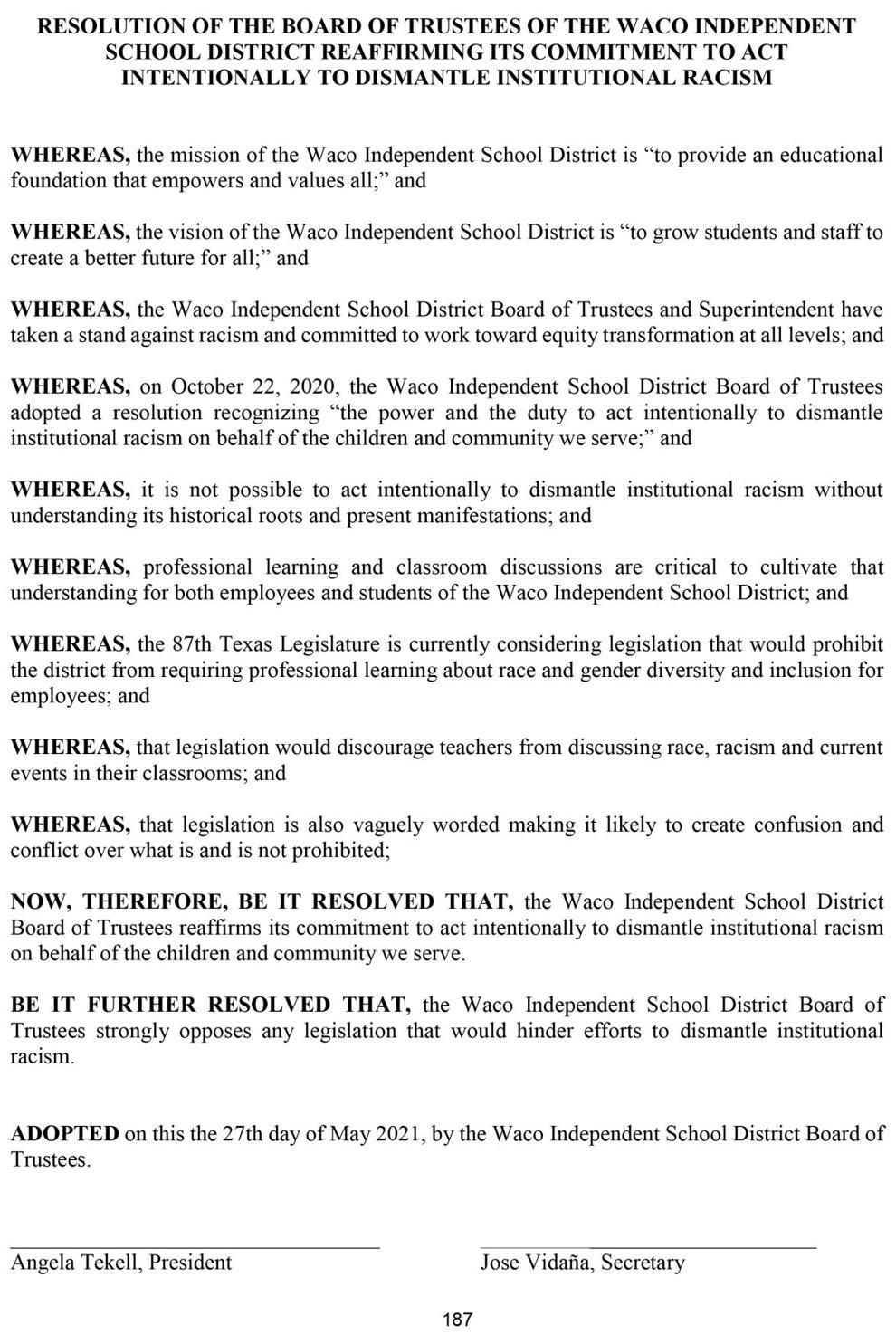 ---