Veronica Penales said her coming out story from high school is like something out of a good movie.
Then her coming out at Baylor University was met with intolerance from some peers. She is one of two Baylor students who have joined a class action lawsuit filed Tuesday against the U.S. Department of Education. The suit challenges exemptions from federal anti-discrimination measures the Department of Education has provided to schools with religious affiliations that also receive federal funding.
Penales said she knew her high school in Shreveport, Louisiana, was accepting of LGBTQ people long before she decided to come out to all of her classmates and teachers at once during her senior year. During a blackout-themed pep rally, she waited until the students were singing their alma mater and held up a pride flag when they reached the word "pride" in the song's lyrics. The flag stood out against the seniors' all-black clothing, and her classmates cheered her on.
"It was like one of those really good movie kind of moments for coming out," Penales said. "Which kind of sucks when you have to go back in the closet."
The sophomore said Baylor Line Camp's emphasis on religion made her decide to hold off on coming out to her new peers for a few weeks after and test the waters first. Two weeks after the camp for incoming freshmen, she felt much more at ease and decided to come out again. She got a rainbow flag painted on her leg at a face-painting stand for students before a football game. She was chosen as a flag runner for the game, one of the six students who run around the field after every touchdown carrying flags that spell out "B-A-Y-L-O-R" with a letter on each flag.
She posted a picture of herself from the game, captioned "flag runner," to her Instagram account. Some students responded with disapproving comments, and one copied Veronica's caption but removed the letter L from the word "flag."
She deleted it and moved on. The next year, the student senate passed the "No Crying on Sundays" bill she wrote, which calls for the Baylor Board of Regents to approve an official student-group charter for Gamma Alpha Upsilon, an unofficial LGBTQ student group. After the bill passed, someone started leaving sticky notes with anti-LGBTQ slurs written on them on the door to her dorm room, Penales said. Her residence hall director was apologetic and reported the incidents, but nothing ever happened.
Penales identifies as queer, and said she hopes the lawsuit will force Baylor University to formally recognize LGBTQ student groups and take stronger action against homophobia on campus.
"Baylor has been trying to silence this issue for as long as it's been an issue, and I don't think they're going to be able to do that anymore, especially with the lawsuit out," Penales said.
Two Baylor University students have joined a class action lawsuit against the U.S. Department of Education.
The lawsuit argues the Education Department should, in cases of LGBTQ discrimination, hold religious higher education institutions that receive taxpayer money to the same standards as other institutions.
"The Department's inaction leaves students unprotected from the harms of conversion therapy, expulsion, denial of housing and healthcare, sexual and physical abuse and harassment, as well as the less visible, but no less damaging, consequences of institutionalized shame, fear, anxiety and loneliness," the lawsuit states.
'Concrete action'
Penales said the national consequences of victory would be "concrete action" toward getting clubs like hers officially recognized and help fight discrimination on campuses. Multiple LGBTQ student groups have been asking for recognition Baylor for decades. The latest iteration, Gamma Alpha Upsilon, has been asking for 10 years.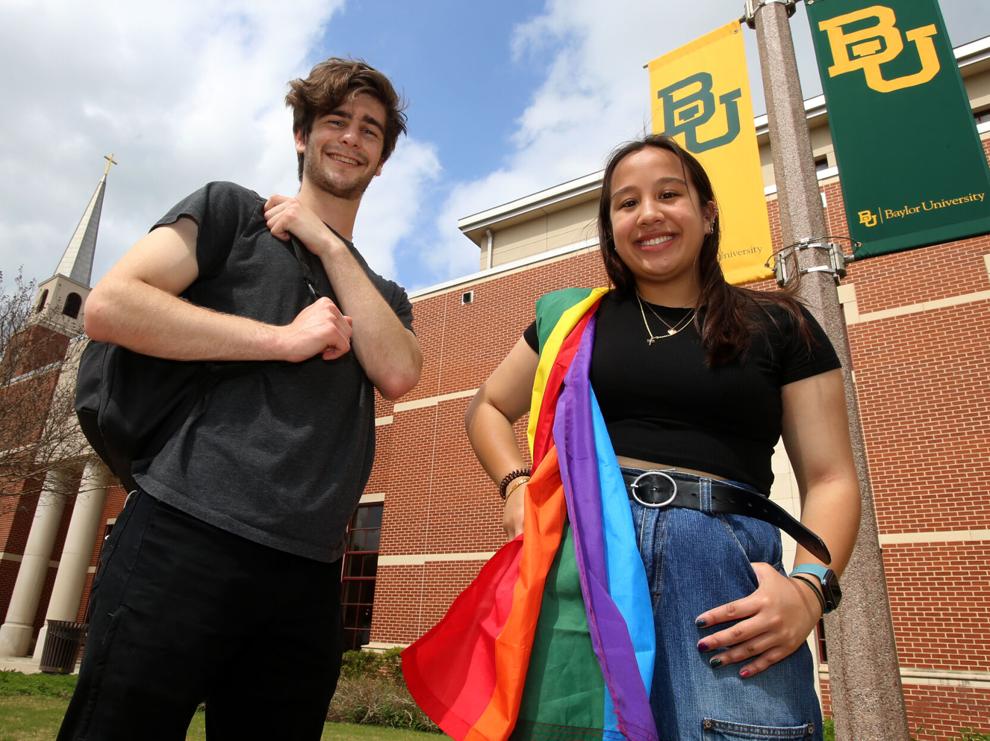 Paul Southwick, director of the Religious Exemption Accountability Project, filed the lawsuit Tuesday in the United States District Court of Oregon's Eugene division. Southwick is representing 30 named plaintiffs and three anonymous plaintiffs who are all students at religious higher education institutions throughout the country, including two Baylor students, Penales and Jake Picker.
Southwick said the lawsuit aims to make the Department of Education protect LGBTQ students under Title IX anti-discrimination laws.
The lawsuit contains personal stories from each plaintiff. In one, a graduate of Bob Jones University in Greenville, South Carolina, remained closeted on campus but was disciplined for posting online about LGBTQ issues and a book with a lesbian main character. During a meeting with administrators, they presented her with print-outs of her social media activity over the last month, called the posts evidence she was gay and "attempted to force her to admit she was homosexual."
In another anecdote, a student at Cedarville University in Ohio who used a pseudonym in the lawsuit said she lives in daily fear of being outed.
"Baylor is on the more progressive side of oppression," Southwick said. "Veronica and Jake can be out. Their names are in the lawsuit. They're not going to be expelled. … Yet the oppression remains because if they date someone of the same sex or hold hands on campus, they could be in trouble for that."
In 2019, Baylor President Linda Livingstone said in an email to students that no one would face disciplinary action for their sexual identity, and reiterated that no mental health professionals who work with students practice conversion therapy, a dangerous and traumatic pseudoscience. In the same email, she announced the university would take steps to better support LGBTQ students.
Jake Picker, vice president of Gamma Alpha Upsilon, said he joined the lawsuit partially out of frustration and that he has been waiting for an opportunity like this. He said by not formally recognizing the student group, the university is making it harder on LGBTQ students.
"I'm really tired and sick of seeing my friends treated like this, being disregarded and kind of abandoned by the university they pay so much money to go to," Picker said.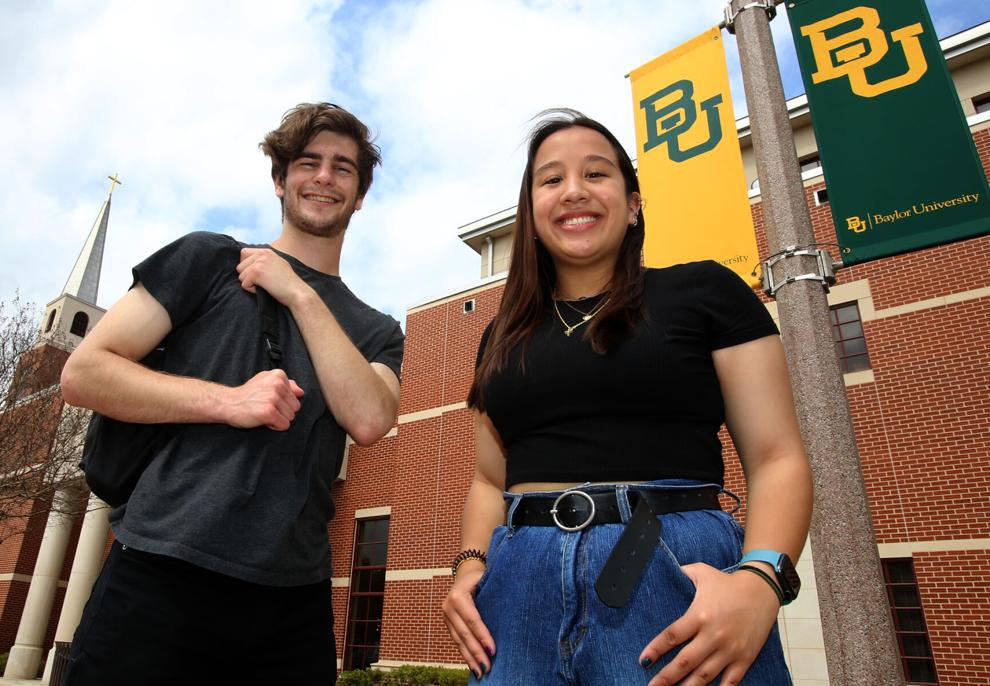 Picker, a senior studying biology at Baylor, said he went to a private Christian high school where several of his friends were expelled for being openly queer. He said the lawsuit is a way to force the university to do more to protect students from discrimination.
"For all I know, Linda Livingstone's words and messages, everything she said about wanting to support and love queer students, those could all be fully factual," Picker said. "But if the board of regents, the trustees and the donors don't want that, they can't do it."
Baylor's view
Baylor aims to support its students but has a constitutional right to freedom of religion, according to a university statement on the lawsuit.
"Baylor University maintains certain rights to exercise its freedom of religion under the U.S. Constitution and other federal laws without interference by the government. This includes exemptions for religiously affiliated institutions that uphold traditional religious beliefs about marriage and sexuality," according to the statement. "As part of our Christian mission, Baylor continues to strive to provide a loving and caring community for all students, including our LGBTQ students."
Southwick said the university's statement on human sexuality calls marriage between a man and woman the "Biblical norm."
"Temptations to deviate from this norm include both heterosexual sex outside of marriage and homosexual behavior," the policy states. "It is thus expected that Baylor students will not participate in advocacy groups which promote understandings of sexuality that are contrary to biblical teaching."
Southwick said Penales' pattern, coming out to an accepting community, then returning to the closet after attending a religious university, is a common one for queer students. But according to the Religious Exemption Accountability Project's research, most never come back out.
The project surveyed 3,000 students at more than 130 universities with religious affiliations about queer students' experiences, mental health and whether they feel safe.
The report found 12% of all students identify as LGBTQ, but the majority remain closeted for fear of rejection or punishment.
"We thought that was the case," Southwick said. "You see one of these cases in the news every so often, one student here expelled, one student there. Kids often feel very alone, like they're the only student on campus. So part of this research report was to show 'look, you are not alone. There are a whole bunch of you and everyone's just too scared to come out.'"
The study found 2% of the institutions' general student population has experienced sexual assault, compared 14% of trans and nonbinary students, who also were much less likely to go to the university for help for fear of outing themselves.
"We know there are a lot of people out there," Southwick said Tuesday. "In a class action, these 33 kids are in the shoes of 100,000 kids. We can't add everyone to the class action, but we've already been contacted just in the last few hours by parents of queer kids or queer alumni or queer students. So yes, there's going to be lot more, and that is part of the goal of the lawsuit."
Southwick said the legalization of same-sex marriage and the recent decision to protect LGBTQ employees under federal laws known as Title VII have changed the picture drastically in most of the country, but the universities have remained a "fortresses of oppression."
"There are laws on the books at these schools that are oppressive, and they've been allowed to maintain these oppressive, abusive practices and policies on the basis of religious exemptions," Southwick said.