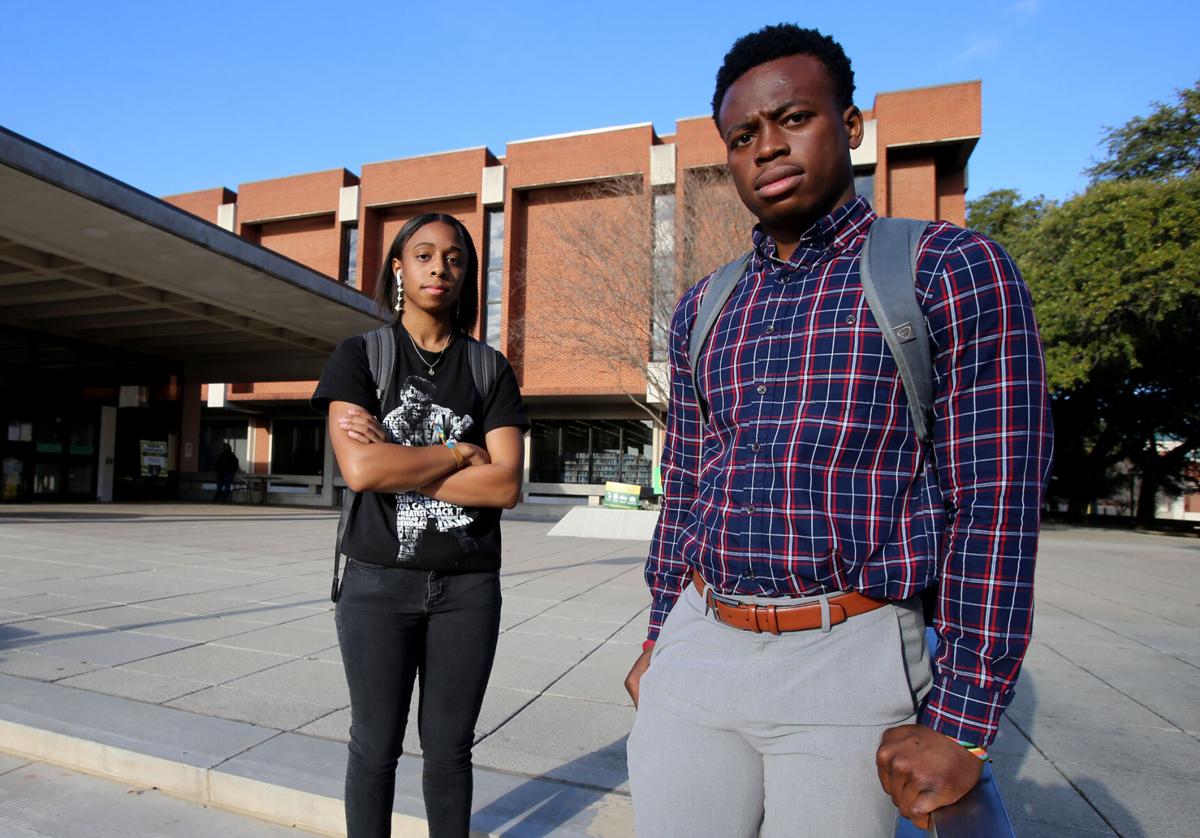 Baylor University students organized a sit-in and renewed calls last week for the university to take stronger measures against racism on campus, after a Baylor security guard called campus police on a group of Black students in Moody Library.
The incident happened not long after a university commission tasked with researching the university's ties with slavery and racism wrapped up its work and submitted its findings. The Baylor Board of Regents will continue discussing the report during its meeting this month. About 100 students gathered outside Moody Memorial Library for the sit-in, and Baylor President Linda Livingstone, Director of Student Activities Matt Burchett, Provost Nancy Brickhouse and Dean of Students Sharra Hynes also attended to listen.
"We all got the same acceptance letter, but we don't get the same level of acceptance," co-organizer Victoria Bingaman, a sophomore, said in an interview Thursday. "Starting on that path as a community was really the point of last night's sit-in."
Bingaman said she helped organize the sit-in because of what she sees as a weak response on the university's part to the incident at the library Jan. 27. She said the sit-in was a way to teach other students about racism and what they can do combat it.
"I don't think Baylor is handling it well," Bingaman said. "We heard from people who were in grad school last night, that did their undergrad at Baylor, and we heard from people who've been on campus literally four months. And we all, in the time we've been at Baylor, have had traumatic experiences where Baylor is not dedicated to making sure we feel equal and we feel safe on this campus."
The incident happened Jan. 27, just before Black History Month. Bingaman, who was there that night, said students were meeting after someone posted a tweet asking Black students to meet up for an impromptu study session. Bingaman said socializing during the pandemic is difficult for everyone, with limited numbers on campus and no club meetings or parties, but Black students make up only about 5% of the student body.
"A lot of times we feel extremely isolated," Bingaman said. "Situations we feel comfortable in, mentors we feel comfortable with, people that we know are going to share information with us and help us grow as a community are Black students."
A Baylor University spokesperson said there had been multiple noise complaints against the study group.
Bingaman said the group is an informally organized study group for Black students of all grade levels. She said the garden level of Moody Library is usually full of people talking at a normal volume, studying or reading. She said there was nothing unusual about the group's noise level, and there was a sorority holding a meeting on the ground floor at the same time that day.
"It was really typical behavior for the garden level of Moody, just socializing and studying," Bingaman said. "As you go up, it gets progressively quieter."
She said a white security guard told the gathered students the library is "not a basketball arena," and when multiple students took offense and approached to tell the security guard why they took issue with his comment, he called campus police.
"It immediately notified us, 'Okay, this is something that is racially charged,'" Bingaman said. "Because no one followed him, you can see in videos posted online … when he backs away from students, they don't step toward him."
The university put out a statement apologizing for the incident the next day, reiterating the university's commitment to being a welcoming community.
"In this instance, there was a cultural disconnect, and we simply missed the mark," according to the statement. "We understand changes need to be made in how we treat and respect others within the Baylor Family, and we must further the important conversations related to race and cultural understanding on our campus."
Sam Onilenla, a junior, was also at the library that night. He was already organizing a protest at the statue of Robert Emmett Bledsoe Baylor, the university's cofounder, namesake and one of many figures tied to the university's history who owned slaves.
Last year, the Baylor Board of Regents passed a measure formally acknowledging the school's ties to slavery and creating the commission that recently submitted its report to regents. At that time, a university spokesperson said there were no plans to remove the statue.
Onilenla said the implication that the study group was treating Moody like a basketball arena was racist, and compared it to other instances of white people asking Black students, unprompted, if they play the sport.
"That sort of thing happens on our campus," Onilenla said. "When groups of families come, they'll ask 'what sport do you play' and it's the exact same thing. So comparing a bunch of Black students in a basketball arena to students in a study area … why would you make that analogy in the first place?"
Baylor police arrived, spoke to the students but took no action, then left. Some students left too, upset by the experience.
"Freshmen who were coming out and this was their first experience meeting other Black students, meeting upperclassmen, which is so crucial … almost felt scared. And that wasn't an environment they wanted to be in." Bingaman said.
A few days later, on Monday, the anniversary of the university's founding, Onilenla's protest at the Judge Baylor statue attracted about 50 students who gathered holding Black Lives Matter signs and calling for the statue to be removed.
Bingaman said the statue is a constant reminder to Black students, and the statue's status as a cute must-do photo op for students is especially uncomfortable.
"He was a violent man at the end of the day," Bingaman said. "There is nothing wholesome about Judge Baylor. There is nothing Christian about Judge Baylor."
Onilenla said the university's next step should be outlining specific steps to prevent incidents like the one that happened in Moody. He said he knows the university has diversity training for both students and employees, but incidents like this show something must be missing.
"This foundation of this institution has been racism and confederacy," Onilenla said. "Even though we've made strides, those layers are still there."
Baylor NAACP President Lexi Bogney, who was one of six students who served on the commission, said she and the other students had one last meeting with the regents before turning in its report.
"I believe in everything on that report, and I'm excited for everyone to see it when it gets released," Bogney said.
She said the overall experience was a positive one, and she felt student's perspectives were given equal weight during discussions.
"After final edits, a lot of our ideas were on that report right next to other commission members' and prominent faculty," Bogney said.