Connally Independent School District is mourning the death this week of a 10th grader from COVID-19, the latest in a string of such deaths in the small school district.
The district on Thursday sent a letter to parents confirming the death of George Moralez, 16, the previous evening. He was the son of Sabrina Moralez, a Connally Junior High School staff member and mother of two other Connally students.
The school district's letter says George died after battling COVID-19 for more than a month. Sabrina Moralez posted on her Facebook page that George passed away Wednesday at 8:52 p.m. surrounded by family and close friends.
"I still can't believe I won't hear his voice, laugh, hug him, or see his smile," she wrote.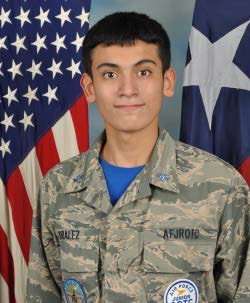 Connally officials said George had been a student at the district since kindergarten and was involved in extracurricular activities including Air Force JROTC, and he served as a manager for the football team.
Lt. Col. Ray Matherne, an instructor and leader of Connally's Air Force JROTC program, said George never failed to put a smile on his face.
"Universally, he was a special kid," Matherne said. "He is the one student, no matter how your day is going, no matter how tired you are, he would always put a smile on your face."
Matherne, who met Moralez when he was in middle school, said the 16-year-old was in his second year with the JROTC program, and he will miss his greetings and smiles.
"He was universally liked by all students and he never met a stranger. He would talk to anyone," Matherne said. "He will be greatly missed."
George's was the only COVID-19 death reported by the Waco-McLennan County Public Health District on Thursday, bringing the disease's death toll among McLennan County residents to 663. He is the second pediatric patient locally to die of COVID-19.
George also is the fourth member of the Connally ISD community to die of COVID-19 since the late-summer COVID-19 surge began.
At Connally Junior High School, teacher David McCormick died Aug. 24, followed by teacher Natalia Chansler Aug. 28. Angela Thompson, an instructional aide at Connally Primary School, died in mid-September.
"Connally ISD continues to work closely with the McLennan County Health Department to monitor COVID-19 rates among students and staff," according to the school district's letter.
Assistant Superintendent for Human Resources Jill Bottelberghe said the districtwide active case count is less than 2%. Under the district's COVID-19 plan, masks are currently not required but highly encouraged for both staff and students.
The district said funeral arrangements for George are pending, and details will be shared when available at the request of the family, along with information regarding contributions to the family.
The district had additional counselors at the high school Thursday and will make arrangements for further counseling if needed.
The public health district reported 78 new COVID-19 cases among McLennan County residents Thursday, bringing the active case count to 570.
Local hospitals were treating 97 COVID-19 patients, and 85% of the hospitalized COVID-19 patients were unvaccinated, according to the health district.
About 52% of McLennan County residents 12 and older are fully vaccinated, compared to 62% statewide and 66% nationwide.