McLennan County's largest school district reopened its doors for students Tuesday, with about half of all Waco Independent School District students choosing to learn from home.
For G.W. Carver Middle School students and staff, the return to campus during the coronavirus pandemic meant mourning the loss of their former principal, Phillip Perry, who died from COVID-19 complications March 31, and welcoming their new principal, Isaac Carrier.
Perry, 49, had been in his position less than a year when the pandemic hit, and he died weeks later. Students set up a makeshift memorial in the days after his death on the sidewalk outside the campus, with stuffed animals, chalk art and balloons.
Soon, students will be able to honor Perry in a more official manner, Carrier said. A scholarship has been set up in Perry's name, and a ceremony will be held to memorialize him, with details forthcoming.
Carrier said he is ready to pick up where Perry left off. This is fourth consecutive year Carver has had a new principal.
"Everything happens for a reason, in my mind, and it was no accident that I ended up here," Carrier said. "I wasn't seeking this position. I wasn't seeking any position actually, but this just feels right. There was human selection, but I also believe there was divine selection in that, as well."
Carrier has more than 25 years of experience as a teacher, high school assistant principal, middle school principal, central office administrator and education consultant. He worked in both Dallas ISD and in Aldine ISD, which is near Houston.
The first day at Carver went smoothly, Carrier said, despite some students still registering and coming to pick up their devices for remote instruction Tuesday morning. While the campus was abuzz with activity, people kept their patience, and staff worked with families to get their students ready for the new school year.
Carrier said it was difficult for him to put into words how great the day went, getting students back in classrooms for the first time since March and finally facing the uncertainty of what the new school year would look like. For Carrier himself, returning to manage a campus after years as a district-level administrator felt "off-the-charts fun" to be around students again and staff members who make him proud.
"I was just really anxious, kind of chomping at the bit to start meeting the kids, and they've just been awesome," he said. "It really is about establishing rapport and relationships, and that started today."
The district experienced a glitch with its virtual system briefly Tuesday that was fixed almost immediately, Carrier said. Some families had trouble with their devices, but Carver staff went to some homes to help rectify any technology problems for students.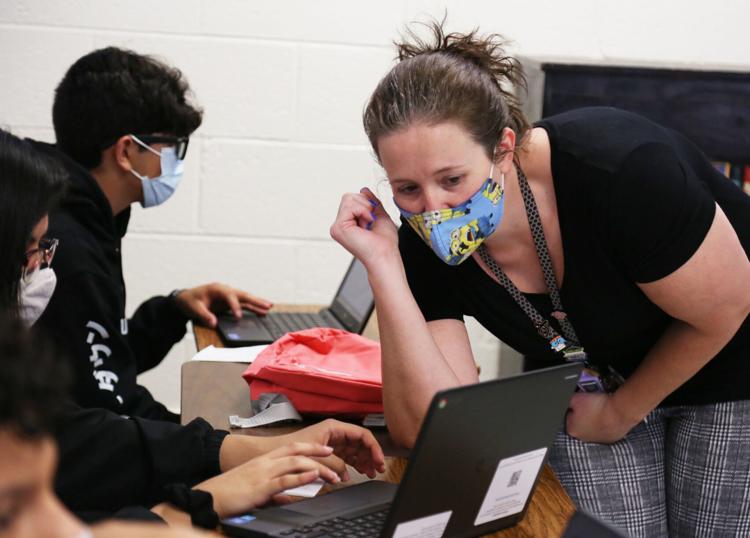 About half of all Carver students returned to the classroom Tuesday, Carrier said. Teachers, including eighth grade English teacher Paige Stanford, are simultaneously teaching both in-person and remotely.
Stanford said almost all of her remote students logged in Tuesday. She teaches 90-minute classes, and students who are doing remote instruction log in to join the class via Zoom so they can hear the lesson, participate and ask questions along the way. The lessons also are recorded so students can go back and watch them if they miss them, although she recommends students log in with the class to ask questions she can answer right away. Otherwise, they can email her.
---
Video
---
Some students and families had trouble logging in, but it was mostly password issues with simple, quick fixes, Stanford said. She heard from many parents of remote learners that they were happy with how things went Tuesday, but she knows there will be technology glitches in the future and other issues beyond her control.
"We need everyone to be patient with each other, to be kind to each other," she said. "If we all work together, we're going to succeed together. As teachers, we're here to help your student as best as we can, and don't ever hesitate to reach out to your child's teacher because they're there to help."
For each class, Stanford asked one student to monitor the Zoom chat while she taught, so the monitor could let other students join as they logged in. She said the students were excited to work together and catch up on all they had missed since March.
"They did really well for not having been in a classroom for six months," she said. "They were pretty quick to adapt."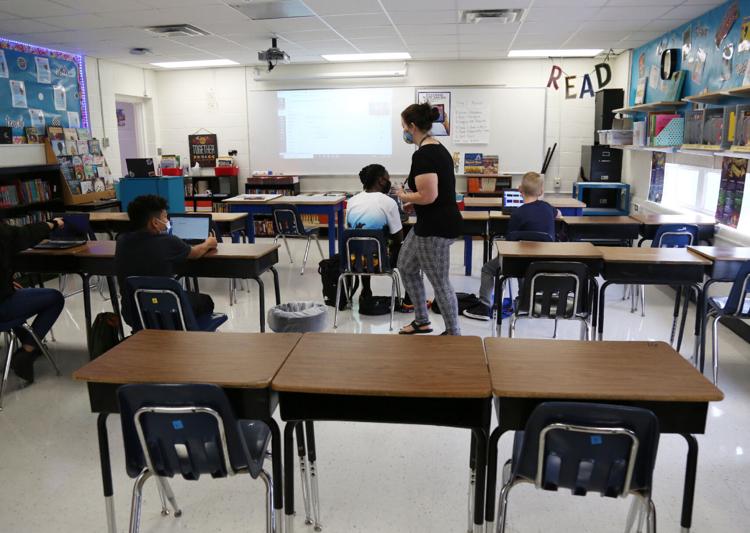 Stanford explained the reasoning behind the new school rules, like social distancing and wearing masks, and the students followed the rules without complaint. She said no one complained about sitting apart from each other or wearing their masks or fidgeting with them, not in all eight and a half hours of the day.
"You'll always have those nightmares before the first day. Today was amazing," she said. "The kids were excited to be back. The teachers were all excited to see the kids. It felt like we'd all come home."
Rapoport Academy, a public charter school, also opened its doors back to students Tuesday for both in-person and remote learning. Half of all elementary students returned for in-person instruction, while 46% of students at Quinn Middle School chose in-person instruction. About 40% of Meyer High School students selected in-person, as well.
Photos: Rapoport students hit the books (and tablets)
Concerned about COVID-19?
Sign up now to get the most recent coronavirus headlines and other important local and national news sent to your email inbox daily.