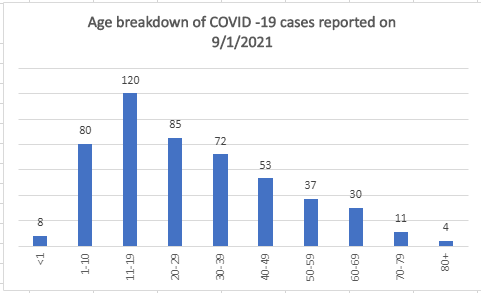 McLennan County hit a one-day record of 501 new COVID-19 cases Wednesday, including 208 residents under the age of 20, as the delta variant continued its rampage through area schools and communities.
The pediatric cases include eight babies under the age of 1, 80 children ages 1-10 and 120 youth ages 11-19, the Waco-McLennan County Public Health District reported. The district reported 191 COVID-19 patients were hospitalized in McLennan County, 95% of whom are unvaccinated.
The county's COVID-19 death toll increased to 544 with the deaths of a 58-year-old man, 36-year-old woman and an 81-year-old man.
Health district senior epidemiologist Vaidehi Shah said she and her coworkers expected some increase when the school year began but didn't expect the spread to happen this fast.
"We are all extremely discouraged by this number," Shah said.
Shah said schools have two tools to help them combat the virus: vaccination and masks. She said as the numbers of cases and hospitalizations have increased in recent weeks, so has the number of people seeking the vaccine through the health district at one of its free clinics. The clinics are scheduled at schools and other central locations, open to everyone and can be found at covidwaco.com.
"We have seen a lot of traction with our vaccination clinics at the schools, and that is excellent," Shah said. "We are glad that people are taking this virus more seriously and getting vaccinated, and not only in schools. We're seeing that all over the community."
Shah said the state discontinued its contact tracing program Wednesday, meaning no one will investigate individual cases. The health district will only use its own resources to investigate outbreaks, clusters and hospitalizations.
Shah said while contact tracing is an "extremely effective" tool when it comes to limiting disease, it's not as useful in McLennan County's situation.
"There are really no mitigation measures in place," Shah said. "If we identify close contacts and they do not quarantine, it pretty much makes contact tracing ineffective."
Connally Independent School District has closed all its campuses until after Labor Day after high case counts this week and the death of a second junior high teacher from the disease.
On Wednesday, Connally ISD announced it would cancel its football games Thursday and Friday against neighboring La Vega ISD. Indoor volleyball games had already been canceled.
"The first drive-through testing session for CISD staff, students and community members conducted this morning yielded a 26% positivity rate," Assistant Superintendent Jill Bottelberghe said in a letter to parents. "With this data, we felt it necessary to cancel all indoor and outdoor activities at all levels, as we continue to make the health and safety of our community a top priority."
David Andrew McCormick, 59, a seventh grade social studies teacher, died of the virus Aug. 24. Natalia Chansler, 41, a sixth grade social studies teacher who had joined the district last year, died four days later.
Axtell ISD will also close Friday due to COVID-19 concerns, with plans to reopen Tuesday. In a Twitter post, Axtell Superintendent J.R. Proctor said the district is experiencing the biggest surge in cases it has encountered so far in the pandemic.
"I would urge you this weekend to exercise as much caution as possible when surrounding yourself with people whose health status is in question," Proctor said. "I would also urge you to be very careful hanging around with anyone that says they have allergies or a sinus infection, due to the fact that an overwhelming majority of our positive cases have begun with similar symptoms."
Axtell ISD canceled a junior high school football game scheduled for Thursday.
Waco ISD's dashboard reported 55 active cases across the district Wednesday. The school district adopted a masking requirement for students and teachers that took effect Monday.
Midway ISD spokesperson Traci Marlin reported an active case count of 201 students and 22 staff on Wednesday, about 2.3% of the district's 8,433 students and 1,238 staff.
Baylor University reported 188 active cases Wednesday.
"We are all extremely discouraged by this number."

— Vaidehi Shah, local epidemiologist