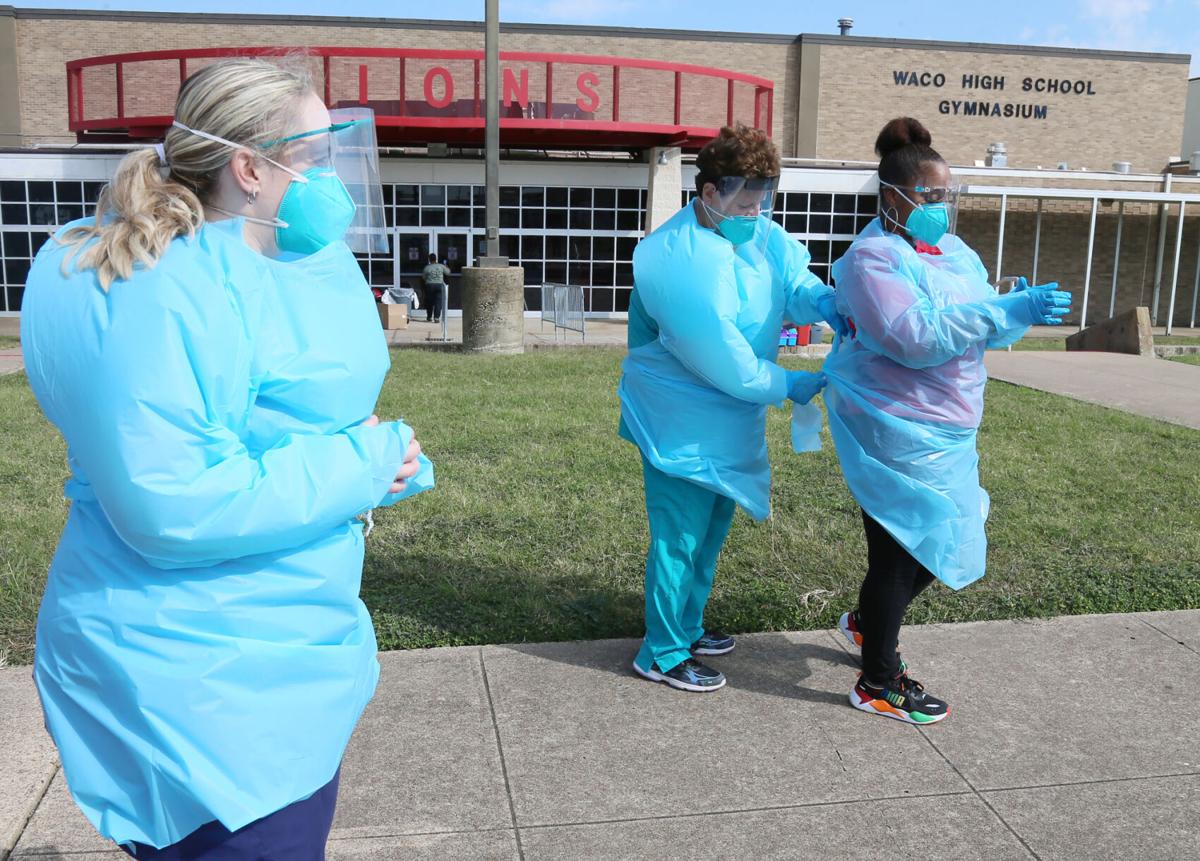 Local public school districts whose budgets have been strained by pandemic-related costs over the last year are waiting on the state, with millions of dollars in federal COVID-19 aid and stimulus hanging in the balance.
A study of the education assistance earmarked for Texas in three rounds of federal COVID-19 aid and stimulus, conducted by public education advocacy group Raise Your Hand Texas, shows as much as $100 million could come to McLennan County public school districts, depending on how state educators and legislators decide on how those funds are distributed.
The analysis takes the amount in the three federal packages, totaling $17.9 billion, and divides it according to each Texas school district's Title I student population. Many schools didn't receive COVID-19 support from the first CARES Act as the Texas Education Agency used the COVID-19 education support for Texas to cover shortfalls in state revenue caused by pandemic shutdowns.
Two of the three national stimulus/aid grants, the Coronavirus Response and Relief Supplemental Appropriations Act (CRRSA) passed by Congress in December and the American Rescue Plan in March, haven't been distributed to school districts.
The Raise Your Hand Texas study estimates that distributing the educational stimulus directly to Texas school districts according to their Title I student populations, could bring the Waco ISD up to $22.1 million from the CRSSA and $49.7 million from ARP.
The comparable figures would be $2 million and $4.5 million for Midway ISD; $3.6 million and $8 million for La Vega; $3 million and $6.9 million for Connally; $957,000 and $2.2 million for Robinson; $650,000 and $1.5 million for China Spring; and $447,000 and $1 million for Lorena.
The Department of Education's Title I program provides funding support to help students from low-income families.
The TEA has requested a waiver from the Department of Education guidelines for how the ARP education money should be spent in Texas, which has put those funds on hold until the guidelines are clarified. About $8 billion in CRRSA funds remain unspent.
Waco ISD Superintendent Susan Kincannon said any federal COVID relief or stimulus money would help, particularly as administrators are planning summer education and the district's 2021-22 budget.
"We're just kind of in limbo, looking at summer school and remediation now," she said. "We have holes to plug, obviously, and the dollars are significant to us."
Sheryl Davis, assistant superintendent for finance and operations, estimated the district has spent roughly $7.5 million on COVID-19-related expenses. Costs include student laptops, tablets and hotspots for internet access; cameras and online instructional hardware for teachers; educational software packages; personal protective equipment; desktop, counter and table barriers; increased school sanitation and cleaning costs; overtime labor expenses and more.
The district relied on the fund balance of its $165.1 million budget to handle the unanticipated expenses.
"We've been through this before. In 2011, we had a $4.5 million (state) cut in our funding," Davis said. "We can weather this for a year or so."
Raise Your Hand Texas is joining the Education Trust, Every Texan and other advocacy groups to lobby Texas legislators to channel stimulus money earmarked for education directly to Texas school districts, rather than have the state use the federal assistance to cover the state's regular educational budget, in a process called supplanting.
Although federal relief/stimulus guidelines provide general direction for how those funds can be used, state officials and some legislators are considering creating a special commission that would direct distribution of that aid, said Eva De Luna Castro, a longtime state budget analyst for Every Texan. Creation of such a commission or panel would further delay funding for districts planning for summer and next school year, she said.
Some Texas school districts hope to beef up their mental health and social resources for students who have fallen far behind academically over the last year and disengaged from their studies.
Waco ISD is thinking along those lines, but the longer the district awaits for any word on stimulus funding, the shorter the window for hiring professionals in those areas, Kincannon said.
"We'd like to solidify those plans, but the longer the state delays, the more difficult it is to hire," she said.
Midway ISD, the county's second-largest school district, has applied for reimbursement of $850,000 spent in technology assistance due to COVID-19, drawing from any federal relief or stimulus funds that might be available.
Wesley Brooks, Assistant superintendent of finance, said the district had upgraded its educational technology for students before the pandemic, but could use additional funds for learning loss recovery and improving some buildings' ventilation systems, allowed under federal stimulus guidelines.
"We're watching it closely," he said.
Waco ISD Board President Angela Tekell said watching possible local district help from the federal government sit unused has been frustrating.
"We have a crisis on our hands and our needs are great," she said.