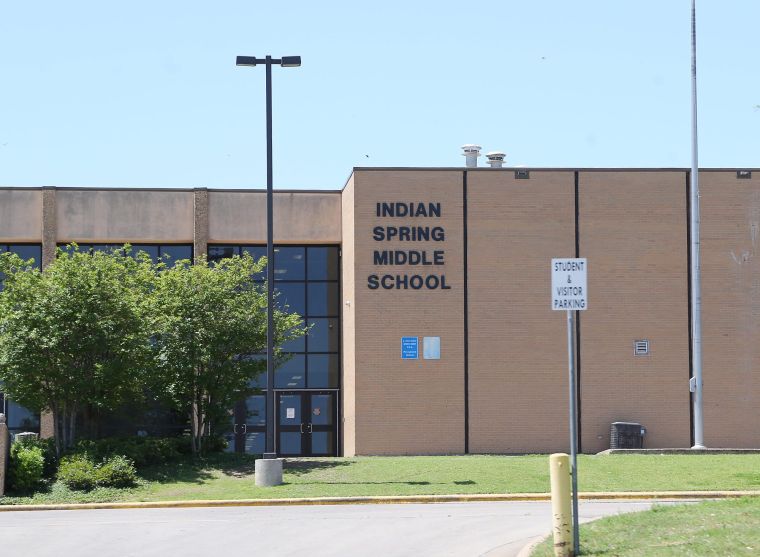 Indian Spring Middle School became the third Waco ISD campus in two days to close its doors to students and staff because of COVID-19, and G.W. Carver Middle School extended its closure to the Thanksgiving holiday.
Eight more people who were on the Carver campus have tested positive for COVID-19 since the school switched to remote-only instruction Wednesday, and school officials are urging students to act as if they are infected, avoiding contact with others, until the contact tracing process is complete, likely by the end of the day Friday, according to a district press release.
Indian Spring made the decision to switch to remote-only instruction for at least a week after a few cases led to a "significant number" of staff members going into quarantine, the school announced Thursday. Carver and Lake Air Montessori Magnet School made similar decisions Wednesday. The Lake Air campus will remain closed until at least Nov. 12, and Indian Spring will remain closed through at least Nov. 13.
Carver officials, meanwhile, decided Thursday to extend their closure at the urging of the Waco-McLennan County Public Health District.
"Today, we received guidance from the health district that our campus should remain closed through Nov. 20 in order to reduce the potential spread of the virus," Principal Isaac Carrier wrote in a letter to families and staff members. "Accordingly, all G.W. Carver Middle School students will continue learning remotely through Friday, Nov. 20. Our campus will reopen for in-person instruction after Thanksgiving Break on Monday, Nov. 30."
When Carver released students at 1 p.m. Wednesday, six people on campus had tested positive for COVID-19 since Saturday, and more than half of the school's teachers were in quarantine, Carrier said in a previous message to families. Carver also went online-only for a week early last month for similar reasons. The campus had 432 students enrolled last year.
Families will be notified by phone if their student has been in close contact with someone on campus who has tested positive, according to Carrier's letter Thursday. The process of identifying and notifying contacts is expected to last through the day Friday.
"In the meantime, if your student has been learning in-person at G.W. Carver, I would encourage you to act as if they have been exposed to COVID-19," Carrier wrote. "To the extent possible, your student should remain at home. Avoid congregate settings, limit public activities, and practice social distancing. Cover any coughs or sneezes. Clean hands often.
"You should also monitor your student for possible signs of COVID-19, which can vary from mild symptoms to severe illness."
Transformation Waco, the charter school system that partners with the Waco Independent School District to operate five campuses, made the call Thursday to dismiss school at Indian Spring at 1 p.m. The campus will switch to remote-only instruction until at least Nov. 13, according to a letter to families from Principal Joseph Alexander. The school had 557 students enrolled last year.
"While only two people at our campus have reported testing positive for COVID-19 so far this week, a significant number of employees are currently quarantining as a result of those and earlier cases," Alexander said. "However, the number of employees out presents a challenge for appropriately supervising students without bringing large groups of students together in the same space. Because of that, we made the decision to transition to fully remote instruction for the next five school days."
Texas schools generally can only switch to remote-only instruction for up to five days in response to COVID-19 infections and continue to receive full state funding, according to Texas Education Agency guidelines. Campuses closed on the order of public health officials that continue to offer remote instruction, however, can continue to receive full funding, and schools can apply for waivers. Details surrounding Carver's extended closure and compliance with TEA guidelines were not clear Thursday night.
The issue comes down to staffing at each of the three schools. Because so many teachers and other staff members have to quarantine after potential exposure to the virus, the schools do not have enough substitute teachers to fill their positions and keep operating normally, but most teachers can still teach remotely while quarantined.
Lake Air Montessori Principal Stephanie Tankersley said in a letter to families that two more people who have been on campus have tested positive for COVID-19, while several others have reported symptoms and are awaiting test results. About 20 workers and 100 students attending in-person classes did not come to school Wednesday because they either were exposed to a sick individual or are waiting for their COVID-19 test results. The school had 786 students enrolled last year.
Students without internet access at home received mobile hotspots before leaving campus Wednesday. Technical assistance for students' Chromebooks, iPads, laptops and mobile hotspots is available 8 a.m. to 8 p.m. Monday through Friday by calling 254-284-1072.
The schools are working closely with the Waco-McLennan County Public Health District, and the campuses will be cleaned and sanitized with hospital-grade disinfectants before they reopen, officials said.
Additionally, free, rapid COVID-19 tests are available to screen students and employees who were on campus.
McLennan County
The public health district reported 110 new COVID-19 cases in McLennan County residents Thursday.
The county's testing positivity rate had increased to 8% by Wednesday on a rolling seven-day average basis, after remaining at 6% since mid-last month. The positivity rate dropped slightly as the average number of tests conducted daily increased in mid-October. The U.S. Department of Health and Human Services is continuing to offer free tests daily at multiple sites in the county.
With the 110 new cases Thursday, 10,784 residents of the county have tested positive for COVID-19. An estimated 675 have active cases, and an estimated 9,949 have recovered. The health district has announced 160 deaths of McLennan County residents caused by the disease. Waco hospitals were treating 60 COVID-19 patients as of Thursday, up from 42 last week.