The list of typical Thanksgiving activities, close gatherings of far flung friends and relatives chief among them, looks about like it was cherry picked from the list of high-risk activities for spreading COVID-19.
So with coronavirus cases soaring locally and statewide, and with almost a quarter million Americans already killed by COVID-19, questions arise for this year's holiday.
Maybe this is the year to follow the lead of education, business, entertainment and shopping, and go virtual. Maybe this is the year that creativity in finding safer ways to connect becomes something to be thankful for.
This week, Waco and McLennan County health professionals warned that rising numbers of new cases and hospitalizations locally, plus a climbing positivity rate despite increased testing, put the county in "uncharted territory."
In fact, the Waco-McLennan County Public Health District issued a Thanksgiving public health alert Friday advising against travel or multi-household gatherings for the Thanksgiving holiday and calling on residents to consider the age and health issues of anyone they might be considering visiting. Rather than a gathering with people outside one's household, it urges alternatives to a traditional celebration.
"We've got to get this under control. … Our hospitalizations are the highest since June and July," health district spokesperson Kelly Craine said. "This is a time to really tighten up. Wear the mask. Avoid social activities beyond the essentials."
For anyone still planning to travel or attend a gathering with anyone outside their household, this weekend is the time to start self-quarantining and limiting outside contacts, said infectious disease specialist and McLennan County health authority Dr. Farley Verner.
"To those people I'd say, starting today, maximize their effort not to come in contact with others," Verner said. "Stay at home as much as possible … if they're expecting to not be infectious when they go see Grandma."
Anyone who decides not to travel this year will not be alone. The AAA organization expects to see a 10% drop in travel across the country and a 5% drop in Texas this Thanksgiving — the largest one-year drop since the 2008 recession.
Anyone interested in getting tested before Thanksgiving should be aware a test can only report on the short period before it was administered, Verner said. A person could test negative for COVID-19, contract the virus after the test and have it without symptoms for several days, with the greatest risk for spreading it during that asymptomatic period.
Even though masking and social distancing are effective in reducing the spread of coronavirus, no one should presume the risk of catching it or spreading it is zero.
"We were at a bad place prior to Halloween, and people approached Halloween like other holidays," Verner said. "They were tired of all these restrictions, I guess, and as a result, there definitely has been an increase (in cases)."
For any gathering, someone needs to take the lead in setting and communicating rules and expectations for everyone about wearing masks and social distancing, rather than assume everyone attending will know those rules, Family Health Center CEO Dr. Jackson Griggs said during the city's weekly COVID-19 press conference this past week.
Playing COVID-19 cop with friends and family may not be easy, especially if some disagree about protective measures, Craine said.
"It's a lot to keep up with, and everyone in your group has to be part of that strategy," she said.
Changing parts of a traditional Thanksgiving may provide bits of protection. Rather than cooking a big meal together, order one from a restaurant for curbside pickup or delivery. Use disposable dishes and flatware to minimize cleanup. Seat fewer guests at tables and in multiple rooms. Open windows and doors for increased air flow. And, although Waco's November weather can be fickle, outside dining and cooking are options.
The Salvation Army's downtown Community Kitchen and Shelter, in fact, is erecting a 40-foot-by-60-foot outdoor tent that, when combined with its patio and parking lot, will provide adequate space for people to eat with a safe distance between them. Salvation Army spokesperson Diana Barrett said the center's dining room is too small to accommodate the 200 to 300 people at the traditional dinner, but expanding outside will allow social distancing and management of the group's size.
The different setup helps protect participants, many who lack access to health care or have underlying health conditions, which could have serious consequences if they contract COVID-19, Barrett said.
"We're erring on the extreme side of caution," she said.
The outdoors, plus a grill or firepit, expands Thanksgiving cooking options, said Michele Brown, a Texas State Technical College culinary arts instructor.
A turkey can be broken down and grilled, and sweet potatoes can be wrapped in foil and grilled over low heat. Kids can get into the act by roasting marshmallows, with supervision, that can be used to top the sweet potatoes, she said.
Brown had other tips for inside dining:
Bake stuffing or filling in muffin tins rather than one common dish. Rather than pass around serving dishes, designate one person in the kitchen to serve plates and a second person to deliver them to the table.
Have a laptop or a tablet in the kitchen while cooking so other family members can join the conversation or recipe-swapping without having to be there in person. Have adults connect online for a virtual wine tasting or an offbeat soda-tasting one for teens and children.
Liven up mask-wearing by having everyone write something they are thankful for on the outside of their mask.
What is important is finding ways to connect with others for the holiday, Brown said.
"It's super-difficult to be alone right now," Brown said. "Rather than sitting in the dark and being sad about it, get your laptop or your phone and call somebody."
---
5 simple pre-Thanksgiving recipes to check out this week
---
How to have a cozier Zoom Thanksgiving
Capturing the view
For once, electronic devices at the table are something to celebrate. Think about how you will position your laptop or other device so those dining with you remotely can see as many people at your table as possible. This may involve changing up the seating arrangements, putting more people on one side of the table than usual.
Your computer or phone might sit on a buffet, side table or the table itself; move it around as the evening goes on.
Maryanne Sullivan of Jersey City, New Jersey, plans to leave the head of the table empty and put her laptop there, while her Massachusetts-based brother does the same at his family's table. The effect, she says, will "be a continuation of one long table."
Feeding distant guests
If you want to celebrate with family who might be unable to cook for themselves, think about how to get Thanksgiving food to their home. If they are nearby, drop things off well ahead of time; provide any necessary chilling, reheating or serving instructions so they can share the meal with you and not get lost in the preparations.
If your virtual guests are farther afield, consider ordering the meal from a restaurant to be delivered on Thanksgiving Day. Many restaurants will be creating Thanksgiving takeout or delivery menus, and you might be able to get the whole shebang delivered to your loved ones' door.
To personalize things further, see if a nearby caterer or restaurant might prepare specific recipes to be delivered. Perhaps your Thanksgiving doesn't feel complete without Aunt Sue's roasted butternut squash, or your sister's famous streusel apple pie? This might still be possible, if budget allows.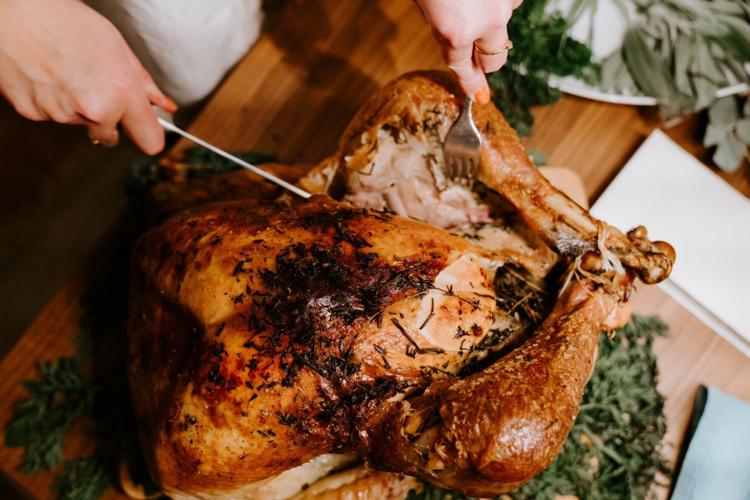 Coordinating menus
To feel more connected, create a menu together with remote friends or family. Choose specific recipes, and at least everyone can be eating the same Parmesan roasted Brussels sprouts and scalloped sweet potatoes.
Let everyone contribute a favorite recipe, perhaps. Then, when someone on the Zoom screen says, "Wow, this is the best green bean casserole ever," you can heartily agree from your side of the internet.
Sullivan's family is picking two recipes to make in tandem with her brother so she can feel like "you're eating the same stuffing I'm eating."
They are also both laying in a supply of the same prosecco to make it feel celebratory.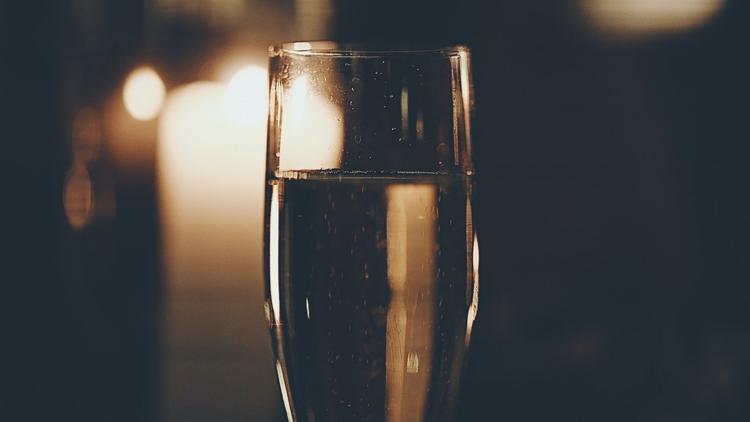 "Even though this is a very unusual time, it's still a time we'll remember, and we want it to be filled with positive thoughtful memories," Isom Johnson says.
Send out the same cocktail-making kit or cheese boxes for everybody in advance, she suggests.
Matching cheese boards on Zoom? Very 2020.
Setting the stage
While many of us take care to set a nice table for the holiday, and perhaps create a seasonal centerpiece, this is a good year to take it up a notch to warm the homes of everyone celebrating with us virtually.
"There will be a lot more attention to detail with things like personalized name tags and fancy pieces of beautiful dinnerware and glasses, and all the bells and whistles of a very special, fancy dinner," Isom Johnson predicts.
For the tech savvy, she also recommends creating a family holiday Zoom background for everyone. It could involve rotating or fixed images, perhaps of a childhood home, previous family gatherings, past vacations. Let the teens or millennials in your house take on this task.
Another good task for the younger set: creating a shared playlist.
Joint activities
Post- or pre-meal games are a great way to connect and spark conversation. There are personalized, online bingo and card games for a crowd, for instance, and many board games work well over screens. You can have some lively Scattergories games via Zoom if you send everyone the word lists ahead of time, and a few rounds of virtual charades are easy.
Think about coordinating a pre-Thanksgiving non-perishable food drop-off to the local pantry. Everyone can share in the good feelings that come with making sure others have enough to eat.
And especially in these difficult times, psychologists say that finding things for which to feel grateful can lift your mood. A week or so before the holiday, ask everyone to write down one or more things they feel thankful for, large or small. Put them in a bowl or in an online chat, and during or after the meal take turns reading your own or others.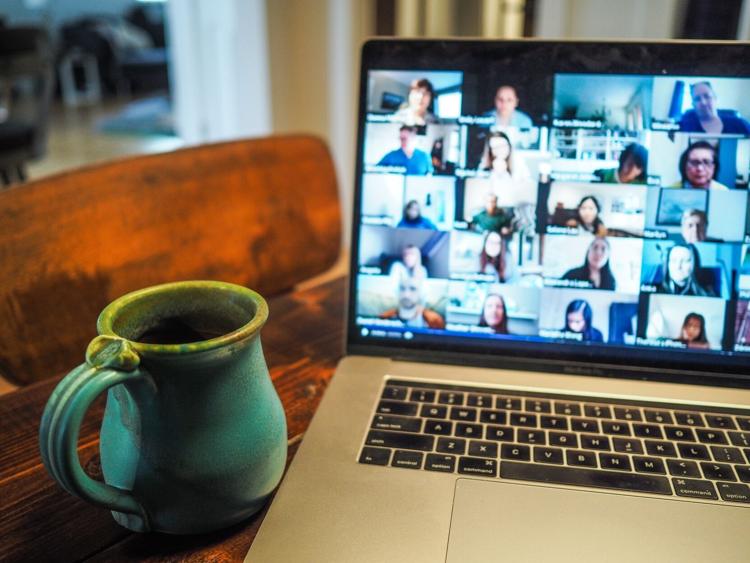 Concerned about COVID-19?
Sign up now to get the most recent coronavirus headlines and other important local and national news sent to your email inbox daily.