If you are driving down Moonlight Drive in Robinson and see a home with five round, 1,500-pound bales of hay lined up in front, don't stop to ask if they are for sale. They aren't.
And they are not there as early Halloween decorations. They were placed there strategically for the protection of the owner, whose home has been struck four times by speeding motorists who blew through a stop sign at Surrey Ridge Lane and crashed into or through the house.
And that does not count the dozen or more times motorists have failed to stop and driven into the yard but managed to avoid hitting the house.
Kevin Harless, 44, grew up in the home at 3565 Moonlight Drive. He now lives in Midlothian with his wife, but he has serious concerns for the safety of his 74-year-old father, who has lived on Moonlight Drive his entire life and has no plans to move.
Kevin Harless said is also frustrated because he has contacted city of Robinson, McLennan County and state officials about the dangerous situation there but his concerns mostly had fallen on deaf ears. That was until the day after a car ran through the house for the third time in October. He said that the following day, McLennan County crews were there installing rumble strips on Surrey Ridge to warn motorists of the approaching stop sign at the T-intersection.
In that case, the 18-year-old driver crashed through the house, did a doughnut in the backyard and drove back through the house on his way home, but not before causing $30,000 in damage.
Luckily, no one was living there at the time. The home was still being rebuilt from a December 27, 2019, late-night incident in which a one-ton pickup ran through the stop sign, through the front yard and crashed through the home's front brick wall. The truck continued through a bedroom, demolished a bathroom and continued into a back bedroom, where Harless' sister, Katie Harless, was sleeping.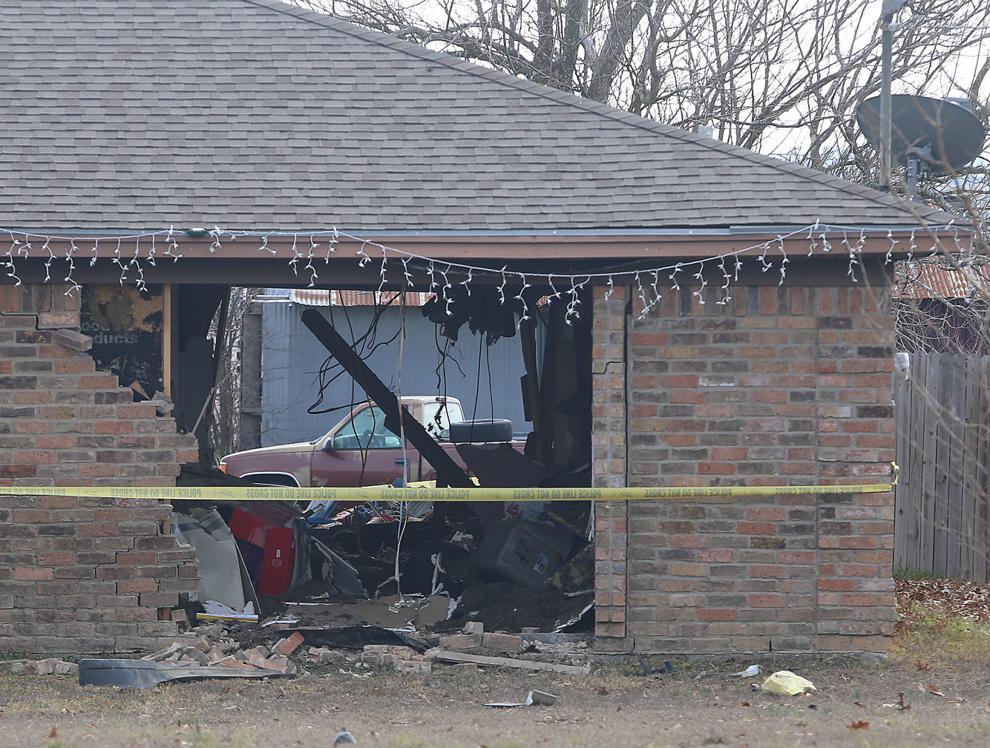 The truck slammed her from the bed and pushed the bed through a wall and into the back yard, where it hit a tree. The tree later died from the force of the impact, Kevin Harless said. It also destroyed a 100-year-old dresser that belonged to Kevin Harless' great-grandmother.
The crash caused $150,000 in damage to the house and has left Katie with post-traumatic stress disorder and anxiety-related issues, she said.
Katie Harless said she fortuitously rearranged her room about two weeks before the truck came barreling through. Had she not done so, the truck would have hit her bed squarely with her in it.
"I have PTSD, but luckily I was not seriously injured physically, no internal injuries or broken bones. But I was bruised from head to toe and had scratches from head to toe and a knot on my head," she said. "Luckily, nothing life-threatening, but it definitely didn't feel good, and I have had PTSD ever since and have had trouble sleeping."
The family is in the process of rebuilding the home again. This time, Kevin Harless is adding LED lighting along the front in hopes the extra illumination will help people avoid the home. He is grateful for the good Samaritan who read his Facebook post about the family's saga and delivered the bales of hay about a week ago to serve as a potential home shield.
He said he has tried to get his father to move because of the inherent dangers of that location. Instead, he said, his father tried to get him to move back home to Robinson.
"My father loves that home," Kevin Harless said. "He loves McLennan County. He loves Robinson. I have asked him to sell the property and move to Dallas with me. He doesn't want to. He wants to spend what time left, if he can, where he loves to live. Which is here. That is what he wants.
"The only thing I want out of this is to be able to give my father his wish of staying in the home and the city he loves as long as he possibly can. But I can't allow him to do that, and I've told him this and it really breaks his heart. But I can't in good faith allow him to stay in this house if I don't feel confident that no one is going to get hurt," he said.
Asked why he does not move to a safer location, Charles Harless points to a spot just over the fence line in his backyard that was damaged by a motorist who narrowly missed the house but crashed through a pile of lumber on July 11, hit the fence and flipped his Mercedes.
"Right over there was my grandfather's farm," he said. "I have been here a long time. I have been here all my life. I grew up on this road. When I was growing up, this was an old gravel road, and when they paved it, it became like a super speedway."
The family considered putting up barriers to try to stop the automotive onslaught. They were warned that they possibly could create liability for themselves should a driver be injured or killed after striking a barrier, Kevin Harless said.
The problem intensified after the county made major improvements to Surrey Ridge to accommodate a major housing surge in the area, he said. Drivers coming down Surrey Ridge toward Moonlight Drive come over a hill. Those speeding or who are impaired top the hill and cannot stop in time or do not see the stop sign at all, he said. Those unable to stop cross Moonlight Drive and find themselves in the Harless yard and heading toward their home.
Surrey Ridge is a county road, and Precinct 1 crews recently added a warning sign and rumble strips, Kevin Harless said. He said County Commissioner Jim Smith, a former Robinson City Council member and school superintendent, seems sincerely sympathetic to their concerns.
Smith, who was in budget workshops Thursday, did not return phone messages seeking comment for this story.
"Every time we contact the city, they point the finger at the county, and they point the finger at the state," Kevin Harless said. "At this point, everybody has to understand why I don't feel very confident that anybody is going to do anything at all. It should be a cumulative effort between three governmental bodies, and it just doesn't seem like they are communicating very well."
Texas Department of Transportation spokesperson Jake Smith said in a statement that the agency is aware of the situation and is working to correct the issues.
"TxDOT's number one goal is the safety of Texans and the traveling public," he said in the statement. "TxDOT has worked with its partners in McLennan County previously to address concerns surrounding the intersection of Surrey Ridge Lane, a county road, and West Moonlight Drive (Farm-to-Market Road 3148), including implementing safety measures at the intersection, such as sign upgrades and rumble strips. Currently, the county and TxDOT are exploring additional options to improve safety at the intersection."
Robinson City Manager Craig Lemin said the city, state and county have discussed the situation. He said the city has no right-of-way at the intersection, and all entities are concerned about potential liability issues created by placing barriers there.
"Everyone is hesitant to put up an obstruction and then someone hits it. Then you get into creating a potential hazard," Lemin said. "That is the difficulty there. It is one of those situations where you have people at risk in the house and people at risk on the road, and what do you do to protect them? That is a tough one. Not being our road, all we can do is talk to the other entities and ask them to do something."