Greater Waco is still sizing up the aftermath of last week's record freeze, including broken pipes, damaged buildings, and a need for food and drinking water, and local leaders are pointing needy residents to federal disaster relief.
Local officials and nonprofits are still trying to determine how much immediate assistance Waco needs and how much damage has occurred as a result of winter storms last week. McLennan County is one of 108 counties in Texas under a federal disaster declaration allowing individuals and businesses to apply for recovery money.
"We're working to procure every dollar that we can and are prepared to respond to the restoration and repair process excellently," Waco Mayor Dillon Meek said.
Waco-McLennan County Emergency Operations Coordinator Elizabeth Thomas said the federal assistance programs are meant as a last resort, after people with insurance have filed their storm-related claims. To apply, go to www.disasterassistance.gov or call 1-800-621-3362.
She said the two assessments the city issued, one asking people to list what their needs are and one asking people to list what they can donate, will help officials get a sense of how many people are in need. The surveys can be found online at waco-texas.com/recovery.
"Documenting all those damages and associated costs is going to directly impact our federal reimbursement rate," Thomas said.
Thomas said cities that accept federal help have to cover at least 25% of the cost, and FEMA covers the rest.
In Waco, 215 households were still without water as of 2:45 p.m. Monday. Water department spokesman Jonathan Echols said the water system is using around 30 million gallons per day, lower than previous days but still higher than the 18 to 20 million it would normally use on a winter day.
Echols said the city repaired 80 of the more than 100 leaks that have sprung up since the storm. Fresh leaks will continue to form over the next two days or so as pipes warm, officials said.
The damage has reached homes, businesses and institutions, including Baylor Scott & White's McClinton Cancer Center on Hillcrest Medical Blvd. The center is temporarily closed after the building took significant storm damage, a spokeswoman told the Tribune-Herald in an email. She said the center is rescheduling clients, giving treatments at alternate locations and making transportation arrangements for patients who need it.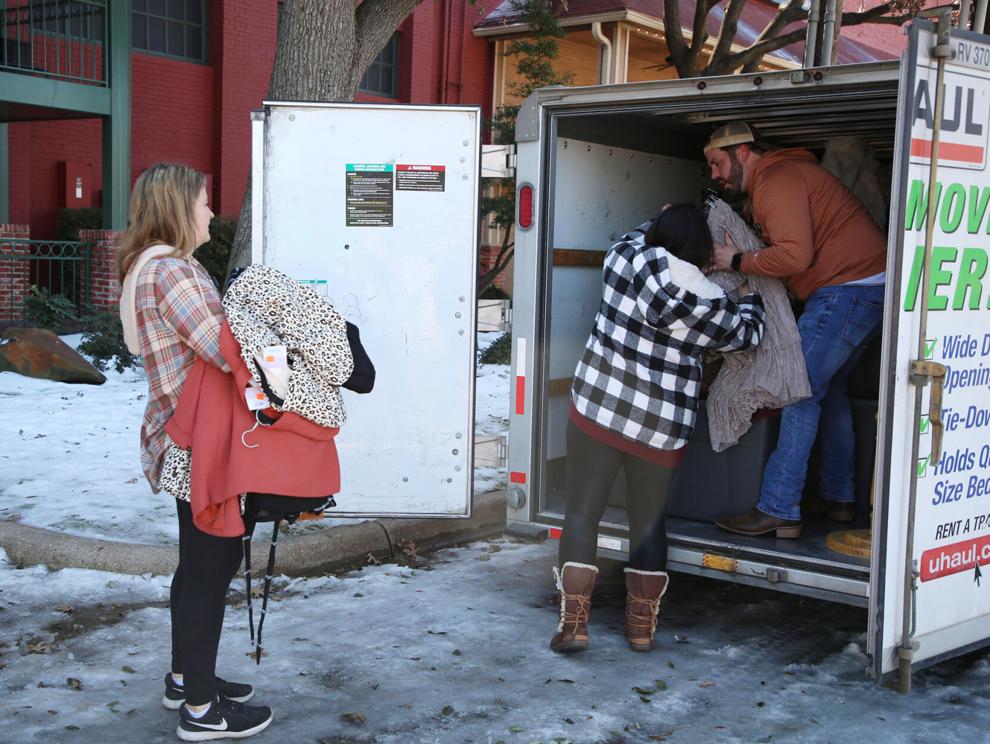 The Waco Foundation has partnered with the city of Waco to form an emergency fund, which will focus on collecting donations and distributing them to nonprofits that focus on immediate needs like food and home repair. As of Monday, the Waco Foundation had accrued a $25,000 gift to seed the fund.
"We're still working out the programming for the home repair piece," said Natalie Kelinske, the foundation's communications director. "That's kind of the last piece. We'll be able to announce, hopefully tomorrow, who the new nonprofits are that we're going to be working with and what the eligibility is for home repairs and things like that."
Meek said people should feel free to donate directly to specific nonprofits they want to support, but Waco Foundation is best-equipped to manage the overall relief fund.
"Waco Foundation is best set up to administrate a fund like this, more so than the city" Meek said. "People were calling, saying 'What's the best way for us to give?'"
Meek said the city does not plan to contribute to the fund directly at this time. He said the city has already incurred "exorbitant costs" during the disaster: opening emergency warming shelters, repairing damage to the water system and treatment plants, distributing water, and taking emergency measures such as sanding roadways. He said city staff is still working on an itemized list of the costs so far to request aid from the federal and state government.
"I'm really proud our EOC has come together around this coordinated, strategic effort, to begin to assess the data to move forward" Meek said.
The foundation created similar community funds for the city of West after the 2013 chemical plant explosion and for Waco's COVID-19 response. Kelinske said city was interested in creating a single fund where people could donate for storm relief, something other Texas cities are doing.
"When West happened, there were donations coming in from all over the United States and really the world, because it was something that just happened there," Kelinske said. "In this case, it was all over Texas. I think what we'll see are businesses and families who were not as severely impacted wanting to give back to those who were."
Caritas of Waco will serve as a partner, receiving funding and distributing immediate resources like clothing and help with utility payments.
"If they see a spike in the number of people accessing resources because of Winter Storm Uri, this fund would support those individuals and families," Kelinske said.
Anne Owen, co-executive director of Caritas of Waco, said that spike started on Monday morning. The Caritas food distribution center at 300 S. 15th Street in Waco served about 125 families before 11 a.m. Monday, as many as it would normally serve in a whole day. Owen said bottled water, which is supplied by Central Texas Food Bank, was in high demand.
"Since it's the first day it's hard to say, but it is comparable to the first days of the COVID-19 shutdown," Owen said.
She said as the weather warms up her staff expects to see more people coming to the center, and Caritas needs more volunteers than usual. More people than usual are calling in to ask about assistance with utilities, especially gas and electric bills, and asking for help with home repairs.
"If someone has a $5,000 electric bill, we probably can't help them with all of that," Owen said. "But we will hopefully be able to help them with a portion of it."
---