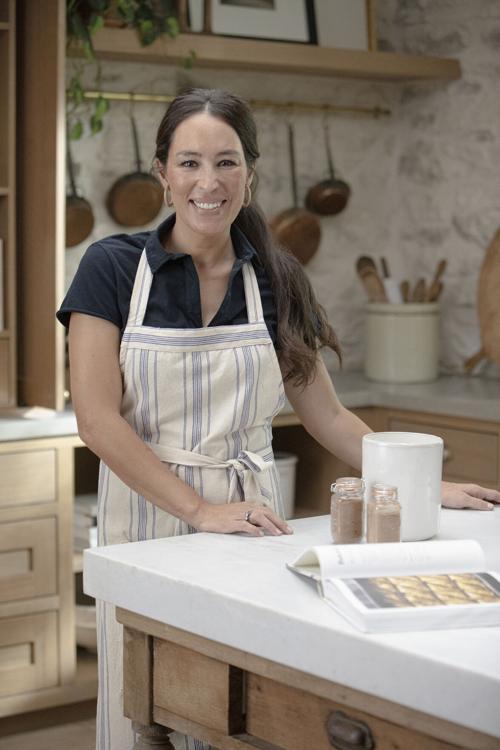 Fans of Chip and Joanna Gaines' home renovation series "Fixer Upper" or Joanna's recipes, found in her best-selling cookbooks, can get fresh samples of both in television previews this week.
Joanna's new show for the upcoming Magnolia Network, "Magnolia Table with Joanna Gaines," will get a two-hour preview on the Food Network starting at 6 p.m. Sunday. Created by the Gaineses in the years since "Fixer Upper" ended a successful four-year run on HGTV in 2018, the Magnolia Network, taking over the DIY Network cable channel, will offer new series touching on home and building restoration, urban farming, restaurants, gardening, cooking, family and human inspiration.
Sunday's preview starts with "The Making of Magnolia Table," an hourlong account of how the show starting, including the Gaines' restoration of a former grist mill outside Valley Mills, followed by the series' first two half-hour episodes.
The episode titled "A Family Tradition" has Joanna preparing a meal of the Lebanese dish fatayer with hummus, Lebanese salad and baklava, one from her childhood, followed by "A Friendsgiving Feast" that has her cooking "Friendsgiving casserole," green beans amandine, cranberry sauce and cherry almond crisp.
"Magnolia Table with Joanna Gaines" focuses on how food brings people together.
"With just one bite, food can bring you back to a specific moment in time," she wrote in a press release describing the series. "Season one of my cooking show is filled with tried and true, family favorites that do just that. Recipes that remind me of my childhood, or my heritage, or lazy Saturday mornings at home with my family."
Last April's "In the Kitchen With Joanna Gaines" special on the Food Network drew the highest ratings for the network's weekend daytime programs.
The Magnolia Network show complements Joanna's cookbooks, "Magnolia Table: A Collection of Recipes for Gathering" and its Vol. 2 follow-up. Foods made from her family recipes are also on the menu at Waco restaurant Magnolia Table and the Silos Baking Co. bakery.
The early episodes of "Magnolia Table with Joanna Gaines" and the reboot of "Fixer Upper" also are part of the Magnolia Network programming included in the rollout of the new streaming service Discovery Plus, which will launch Monday.
Discovery Plus offers programming from Discovery-affiliated networks including HGTV, Food Network, Animal Planet, Discovery, TLC, OPN, Lifetime, History Channel, A&E and more, including the yet-to-debut Magnolia Network. The service costs $4.99 per month with an ad-free version for $6.99 monthly.
The streaming service's initial Magnolia Network offerings include a new season of "Fixer Upper" with more renovations of Waco-area homes plus opening episodes for 10 new series.
Production and travel disruptions last year because of COVID-19 delayed production of Magnolia Network series, forcing a postponement of the network launch from October to sometime this year.
Most of the network's programs will not be set in Waco as "Fixer Upper" was, which elevated Waco on the Texas tourism map, but Waco tourism marketing director Carla Pendergraft said that will not matter once COVID-19 starts to come under control and more tourists return to Waco.
Magnolia-related tourist traffic dropped about 10%, from 1.6 million annual visitors to 1.4 million, in the year after "Fixer Upper" left HGTV in 2018, she said. But the Gaineses' retail empire, publishing and continuing renovation work have kept the couple and Waco in public view.
"In the eyes of the world, Chip and Jo are Waco," Pendergraft said. "I don't think they've lost any of their appeal."
While tourism is slowly rebounding within COVID-19 restrictions and public caution, any increase in tourist traffic because of the upcoming Magnolia Network would be welcome news after a 2020 that saw travel-related tourism largely shutdown for months.
The changes imposed by COVID-19 — family visits that did not happen, daily life more centered on the home because of shifts at work and school, families and friends touched by death — may make the Gaineses' themes of home, relationships and a human touch to craft all the more popular, Pendergraft said.