Alison Frenzel, a co-owner of downtown Waco's Fabled Bookshop & Cafe, loves to talk books and knows she is not alone.
So even as the bookstore slowly rebounded from a spring shutdown because of state and local COVID-19 measures, progressing from online sales and curbside service to a gradual store reopening, something was still lacking. Not the connection between book and reader, but maybe reader and reader.
Frenzel decided to revive the store's book clubs, but online, with participants interacting via Zoom teleconferencing. As with past clubs, a book was selected in advance to allow people to read it, then a discussion held at a specific date and time.
Last month, the online club debuted with some 22 customers converging online to chat Christina Baker Kline's historical novel "The Exiles." Even better, the author herself joined the discussion — something that cost and logistics would have made difficult for an in-person visit.
"It's been great," Frenzel said. "I've been delighted at the response, though I know some people are 'Zoomed' at this point."
The next book club discussion will take place at 7 p.m. Tuesday about Amy Jo Burns' "Shiner," a novel about a mother and daughter in rural West Virginia that Frenzel found deep in a publisher's catalog, read it and then sung its praises to staff and customers alike. It has been a Fabled pick before, and 13 people already have signed up for Tuesday's discussion.
Getting Burns to participate is a plus, but Frenzel said the pandemic not only has depressed sales for writers, but effectively frozen book signings and talks.
"It's a tremendous challenge to publish a book right now without any publicity," she said.
Going virtual opens doors for authors, too.
"Honestly, getting to connect with readers online during the pandemic has been the highlight of my publishing experience this year," Burns said by email. "Now more than ever, readers seem eager for that authentic connection that books provide — not only reading them, but getting to discuss them, too."
The Pennsylvania native also said some readers are able to ask questions online that they might have been reluctant to ask in person.
"I think readers have felt more comfortable asking the questions that are really on their minds that they might not feel comfortable asking in person, whether it's through Zoom, email, or the chat function during a larger virtual book club," Burns said. "I've really appreciated the thoughtful conversations I've gotten to have about all different kinds of topics."
In-person author appearances, by the way, are starting to come back. Fabled will hold an outdoor book signing session for local author Scott Erickson and his book "Honest Advent" at 6:30 p.m. Thursday, and J.H. Reynolds, creator of "Monsterstreet #4," will meet readers at 10 a.m. Oct. 31.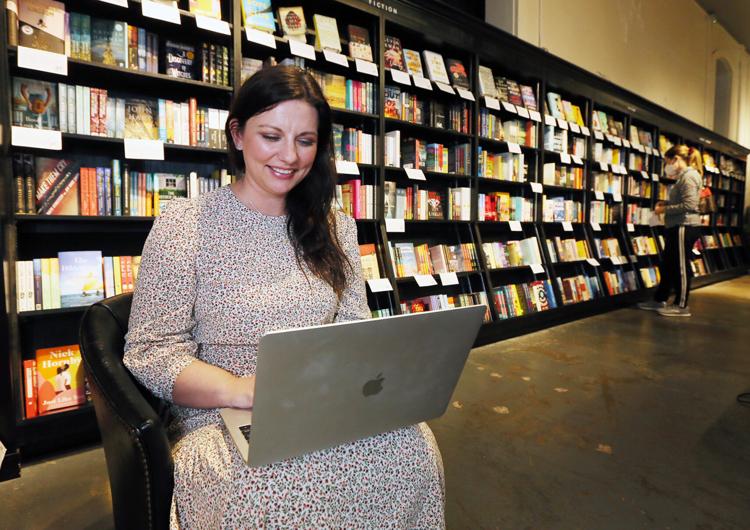 Frenzel and her bookstore club are not alone in wanting to talk books. Both the Waco-McLennan County Library and the Hewitt Public Library have shifted in-person book clubs and discussion groups to virtual ones online.
A two-dimensional virtual environment is not quite the same as the beer-producing real spaces Waco-McLennan County Library community services supervisor Jessica Emmett used for the past three years with her "Books and Brews." But it is what it is.
"A lot of people are getting Zoomed out, but this is an OK substitute," Emmett said.
Online attendance has been about half of what the in-person discussions would draw, and it has been somewhat fluid with new attendees at each meeting on the second Tuesday of the month. With more people working from home during the pandemic, the online book discussion has provided a needed social contact for some, she said.
Emmett said one participating mom-at-home posted on social media, "OMG, this is my first adult conversation on something outside the house."
Books for discussion usually come from a mix of genres with reader suggestions. Over the months of work and school left out-of-kilter by the pandemic, a lot of those suggestions have been for something, anything, light-hearted.
"The escape of books is always there for people," she said.
Books and Brews' next meeting will be at 6:30 p.m. Nov. 10 to discuss Martin Clark's "The Substitution Order."
The library's adult fans of anime and manga also meet online at 7 p.m. on the third Wednesday of the month to discuss books as well as film.
At Hewitt Public Library, some in-person activities are adapting to a new COVID-19 normal, with crafts, culinary and reading groups shifting to online interactions. Some book clubs are almost 10 years old, and members accustomed to talking with each other every month prompted adult services librarian Linda O'Neil to revive the morning and evening clubs online.
"There's a good group of ladies in the morning club who like talking about books and getting together," O'Neil said, noting several are retirees. "They have bonded for each other and over a love of books."
Last month, O'Neil led the clubs online in Zoom discussions rather than face-to-face ones at the library.
"It worked out splendidly," she said. "I think they missed seeing each other. It was good just to have that normal again."
Club participation before the pandemic varied month to month, but sometimes peaked as high as 20 people. O'Neil has noticed new participants joining the regulars, particularly as changed work-from-home schedules allow participation while others are simply looking for social interaction.
The morning and evening clubs also have different personalities.
"You have to be more selective with the morning club and something not too heavy," O'Neil said. "The nighttime club is pretty much open to everything."
The morning book club will meet online Nov. 4 to discuss Lisa Wingate's novel, "The Book of Lost Friends," while the evening club will take up Marie Benedict's "Lady Clementine" on Nov. 12.
Even when in-person services and interactions return in full, leaders of the online book clubs expect them to continue in some way, because of convenience and a growing ease with online interactions.
"The longer this goes on, we'll be definitely investigating what kind of virtual and online programming we can offer," Emmett said.
Get local news delivered to your inbox!
Subscribe to our Daily Headlines newsletter.