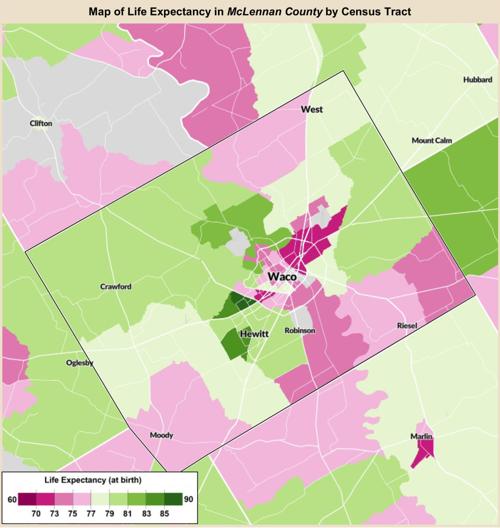 A state highway and staggering demographic differences separate the people who likely will live the longest in McLennan County and those who have the shortest life expectancy, according to a report recently released by the Episcopal Health Foundation.
Woodway residents have a life expectancy at birth of about 86 years, but just across State Highway 6 in West Waco, life expectancy drops by about 15 years, according to the Foundation's life expectancy map, which shows a link between where people live and how long they are likely to live.
Episcopal Health Foundation spokesperson Brian Sasser said the foundation decided to highlight life expectancy disparities by neighborhood to broaden the conversation about improving people's health. It is not just about going to a doctor, he said.
"We're always trying to bring attention to the underlying causes of poor health that have nothing to do with going to a doctor," Sasser said. "This map highlights that because it's not all about access to medical care or having insurance."
The report found a statewide median life expectancy of 78 years and significant gaps in life expectancy across neighborhoods in Texas, using 4,709 census tracts.
"Ranking all census tracts based on life expectancy uncovers an 11-year gap in life expectancy in Texas with the bottom 5% of census tracts having a life expectancy of 72.1 years or shorter and the top 5% of census tracts having a life expectancy at birth of 83.3 years or longer," according to the report.
---
Interactive map
---
In McLennan County, the census tracts with the lowest life expectancy at birth include part of East Waco bordered by East Waco Drive, U.S. Highway 77 and the Brazos River, and part of West Waco bordered by Valley Mills Drive, Franklin Avenue and State Highway 6. The life expectancy at birth for these areas is about 71 years.
But just across State Highway 6 in Woodway, people can expect to live 15 years longer, until about 86 years old, according to the map.
Dr. Brenda Gray, director of the Waco-McLennan County Public Health District, said that gap in life expectancy based on where people live is growing, as are the number of health disparities, or preventable differences in the burden of disease, injury, violence and access to health resources, for socially disadvantaged populations. Health disparities cause about 80,000 unnecessary deaths a year, Gray said.
"The disparities are not decreasing, so that means we have to have a different lens or a different paradigm of how we go about this work," she said. "It's very clear that place matters. ZIP code matters."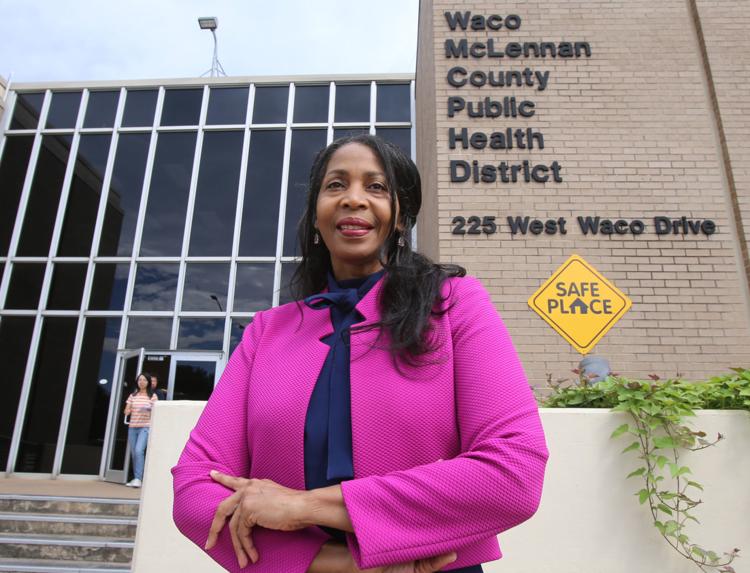 The Woodway area with the highest life expectancy rate, or Census Tract 25.03, has a population of 5,418 people, 81% of whom are white. The median age is 53 years old, and the median household income is $72,216, about one and half times the county's median household income level of $46,262, according to the Census Bureau.
In that census tract, 25% of residents have a bachelor's degree and just 3% live below the poverty line, while 19.3% of the county does. In Texas, 16% live in poverty.
But on the other side of the highway in West Waco, or Census Tract 23.02, where people can expect to live about 71 years, 29.2% of the area's residents live in poverty. That is almost twice the state rate. Just 8% of people have a bachelor's degree.
Of the area's 5,354 residents, 41% are white, 29% are black and 27% are Latino. The median household income is $27,892, or three-fifths of the county median income level.
Gray said the report shows a clear connection between large, concentrated groups of minorities and a lower life expectancy. Education and income also impact people's health.
Sasser, the foundation spokesperson, echoed Gray, saying the report shows patterns of lower life expectancy in areas with lower incomes and higher percentages of minority residents.
"Oftentimes, we only think of health as health care at the doctor's office. This is one way to look at that in a different way," Sasser said. "If you're a couple miles apart and the life expectancy is a 10- to 12-year difference, clearly something is going on there other than these people get to go to the doctor and these people don't. If you look at those things that make up the difference, that gets a different kind of conversation started."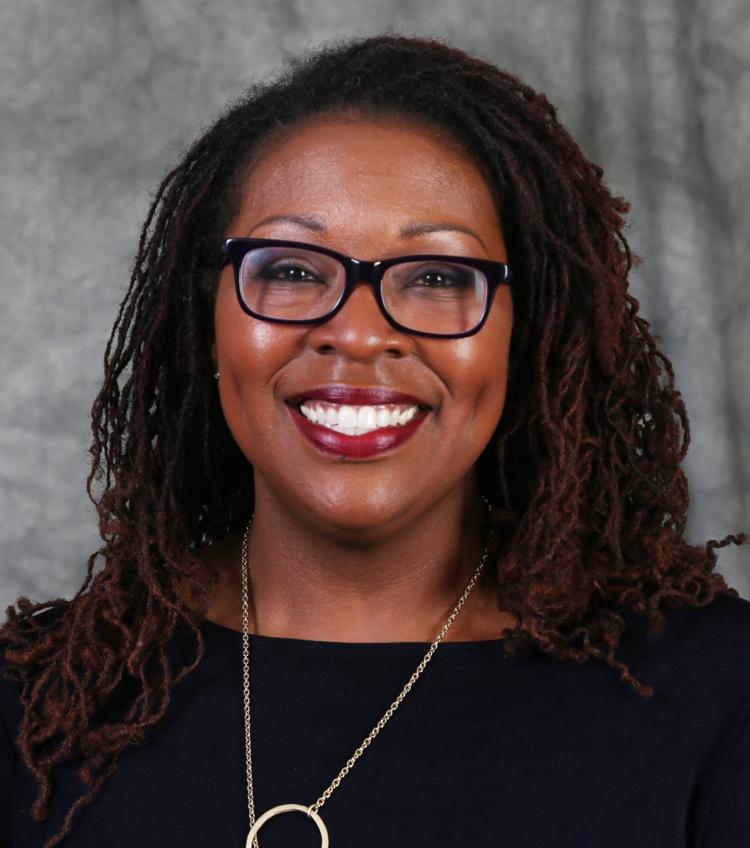 District 1 Waco City Councilwoman Andrea Barefield said those conversations have already begun in Waco and McLennan County. She represents part of East Waco with the lowest life expectancy in the county.
"The inequity across our city has become a priority," Barefield said. "This disparity in health is nationwide. It's a plight of the African American community."
But Gray has started working with the city to implement programs and strategies to address those health disparities and eliminate the location-based gaps in life expectancy. One project she is working on with the city is connecting walking trails across the city so every resident has access to a place to exercise. Another project in the works is the use of mobile health units to go meet people where they are, instead of making them come to the health district.
Gray said she plans to launch a van for maternal, child and adolescent health in 2020 because transportation is one of the biggest challenges for some clients who use those services. That is a population-based approach to public health care, which concentrates resources to help a certain population, such as pregnant teens, instead of individuals only.
The health district implemented another program using community health workers to improve the health of residents in areas of Waco that lack adequate resources. Workers who live in these areas serve clients by cultivating relationships with their neighbors and developing their health goals, said Christy Perkins, a community health worker. Perkins also serves on the Transformation Waco school board.
"We try to establish a plan and get them access to the resources they need," she said. "It could be as simple as wanting to walk around the block once a day."
Gray said she believes these are the types of initiatives the health district and the city have the opportunity to develop and expand until they reach all those who lack the resources they need to be healthy.
"The ground is very fertile here," she said. "One, the funders are at the table, and they're excited about the work of the health district and some of the other departments of the city. We have city leadership that's engaged. We have a community that's engaged, and we have this groundswell of individuals who are saying, 'This is what we want to happen.'"
For Barefield, Gray's ideas are exciting and impressive, especially for someone who has only been in Waco for almost six months. She said the initiatives established by the health district, the city and educational institutions are "tremendous ways" to "quell down the disparities in health we suffer from."
"We know we are doing our best to meet the needs of the community. It's an important need that won't be fixed overnight, but we won't stop," Barefield said. "The health and wellness of our people is our lifeblood."
Get local news delivered to your inbox!
Subscribe to our Daily Headlines newsletter.