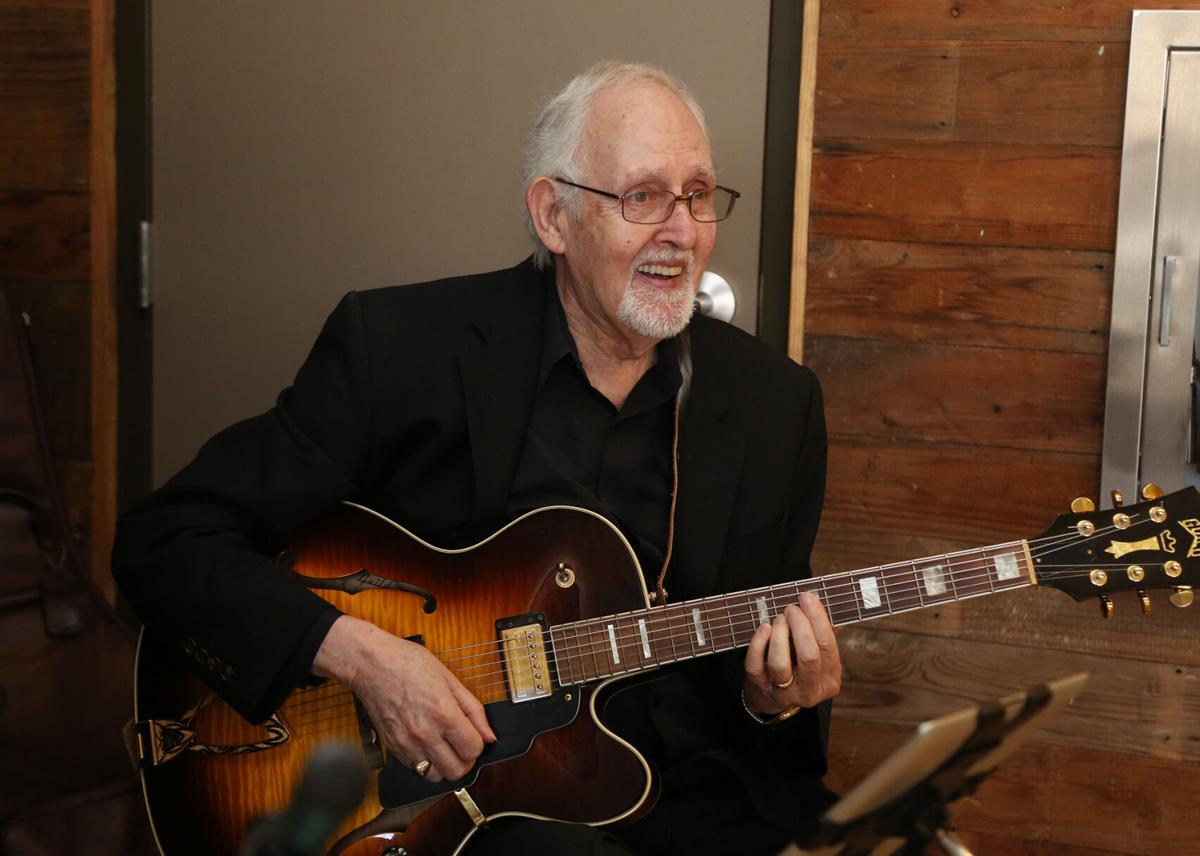 Kenny Frazier taught generations of country musicians how to swing and taught rock guitarists how to play jazz chords.
The Waco native made a name for himself as a teen touring with Western swing and rockabilly bands, and in later decades as the wingman of fiddle legend Johnny Gimble. But above all, he considered himself a teacher and mentor, most notably as the founding jazz guitar teacher in McLennan Community College's commercial music program.
By the time he died Wednesday at age 83, he was recognized as the dean of Waco guitarists and a father figure to musicians far beyond the city limits.
Services for Frazier are set for 1 p.m. Wednesday at First Presbyterian Church. Friends said the guitarist had been in poor health since suffering a stroke and contracting COVID-19 in 2020.
"It's a huge loss for the Waco community, for the guitar community especially," said Pat Kelly, a professional performer and guitar teacher based in Waco. Kelly, who studied under Frazier at MCC, said it is hard to find a guitar player in this area who was not influenced by Frazier, directly or indirectly.
"I still teach students, 'This is how Kenny Frazier taught it to me,'" Kelly said. "He has had as much or more influence on guitarists in this area than anyone has ever had."
Frazier was hailed in 1998 as "one of the best jazz guitarists working today" in "The Jazz of the Southwest: An Oral History of Western Swing," by Jean Boyd.
Frazier was steeped in Texas music from a young age, soaking up the sounds of Spade Cooley and Bob Wills on the radio as well as Waco performers live. He started playing a cheap Stella guitar at age 6, and at age 9, country star and family friend Hank Thompson played at his birthday party, according to Boyd's book. Frazier reciprocated at age 11, playing guitar at Thompson's wedding, which was broadcast live on the radio.
He was well-known as a local performer by the time he quit school at 15 to tour the country with Charlie Adams and the Western All-Stars. During a three-month stint with the band in Dallas, he met Ernest Tubb's guitarist, Leon Rhodes, who introduced him to the music of jazz guitarist Barney Kessel, who would become a lifelong influence.
Returning to Waco, Frazier played a regular show on KWTX-TV with Gimble and was part of the house band at the Terrace Club, where he got to know a then-obscure Willie Nelson. Through the 1950s and early 1960s, he played with a variety of bands in Texas and even played with Elvis Presley on the "Louisiana Hayride" radio show.
He was proud to say in later life that he got fired from a country band in San Angelo. The lead singer took a leave of absence and left him in charge, only to find when he returned that Frazier had turned it into a Western swing band.
Frazier would later emphasize to his students the importance of the swing feel, an elusive quality that is difficult to teach. He told an interviewer from the Baylor University Oral History Institute in 1992 that Nashville country players tend to lack swing.
"It's a very syncopated, driving rhythm section with a very tight, very driving type of solo," he told the interviewer. "It's got its own characteristics, accents placed on the weak parts of the beat that they don't understand, coming in with an accented upbeat, staying on the upbeat."
One of Frazier's early students was Waco's Evan Klaras, whose father, Nick, played occasionally with Frazier in the early 1970s.
"In junior high school, I heard him for the first time," Evan Klaras said. "I was just floored. I played guitar a little bit, but hearing somebody that accomplished prompted me to say, 'That's who I want to be.'"
Frazier mentored the young Klaras and later encouraged him to attend a jazz guitar conservatory in San Antonio.
"He was a great teacher," said Klaras, now a banker who performs jazz regularly. "You always wish you could go back with the mindset of an adult and listen to what he was trying to hammer into you. … He will be missed. He was a gift to all of us."
In the 1970s, Frazier turned away from the touring life to raise a family with his wife, Elouise, and get a college education through Baylor and MCC. But when Johnny Gimble returned to Texas in 1978 after a long stint as a top Nashville session fiddler, Frazier was happy to join his Western swing band. Over the next three decades, the band frequently shared stages with Willie Nelson and other stars.
In 1979, Frazier agreed to get in on the ground floor of MCC's commercial music program, which focused on preparing students for jobs in the non-classical music industry, including jazz, country and rock.
Frazier studied jazz theory for a year at what is now the University of North Texas to make sure he had the foundation for teaching improvisation. He also recruited Dick Gimble, son of the fiddle player, to teach bass and other instruments at MCC. They and other instructors quickly assembled a curriculum.
Dick Gimble said Frazier was not necessarily trying to convert students into jazz musicians but wanted to broaden their musical horizons.
"Jazz encompasses the extent of the professionalism and the depth of understanding of music," said Gimble, who retired from the program late last year.
Graduates of the program include Grammy-nominated soul singer Ruthie Foster, country artists Sons of the Desert, and several contemporary Christian artists, Gimble said. Some, like Pat Kelly, have used the two-year degree as a pathway to the University of North Texas' prestigious jazz program.
Kelly said that when he started at MCC in 1984, he was a long-haired rocker who wanted to be the next Eddie Van Halen. It took him a while to see the value in listening to the likes of Barney Kessel, to whom Frazier eventually introduced him.
Kelly said Frazier encouraged him to hang on to the music he loved but to be open to other sounds.
"He was trying to show me a broader path using what he knew, the jazz language," he said. "He was saying, 'Become a total player. Be able to play some country, some rock, some jazz, even some classical.' I have really bought into that."
Chuck Jennings is among the Waco jazz guitarists who did not study with Kenny Frazier, having come here only a few years ago. But he quickly befriended the older guitarist and became fast friends, meeting weekly to eat barbecue, jam on jazz standards and tease each other with insults.
"Kenny was just a lovable guy," he said.
Jennings will host a jam session in Frazier's honor from 8-10 p.m. Wednesday at Stay Classy Waco, 723 Austin Ave.