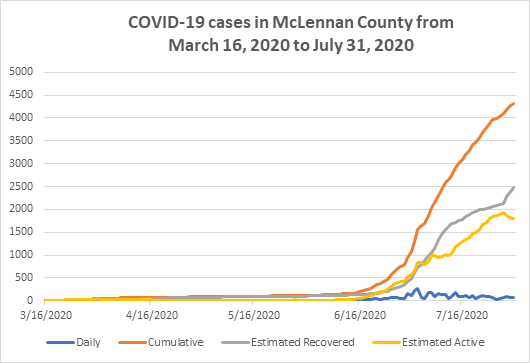 Local health authorities reported 63 new COVID-19 cases Friday in McLennan County as the death of an 81-year-old Black man attributed to the disease brought the county's death toll to 45.
On the last day of July, the county had tallied 4,326 residents testing positive since the World Health Organization declared the COVID-19 situation a pandemic in March. July alone accounted for 3,369 of those cases, or 78%, along with 36 of the deaths.
Still, the caseload has tapered off since peaking between late June and mid-July, when most daily new-case counts exceeded 100. In the past seven days including Friday, 441 cases were reported, an average of 63 per day.
"We've seen some stability this week, in that we haven't seen case counts over 100," said Waco-McLennan County Public Health District spokesperson Kelly Craine.
The June 23 local mask order could have had a delayed effect, Craine said.
"We didn't expect to see results from that until July," she said. "We've also been talking about the message of how risky it is, and how you're likely to get it from someone you know. It seems as though people are taking it to heart."
The health district estimates the county now has 1,802 residents with active cases and 2,479 who have recovered, based on the time passed since their test samples were collected. Seventy patients remained in local hospitals, including 16 using ventilators, the district reported Friday.
Meanwhile, results have started to come in from free testing offered at Waco sites this week, sponsored by state and local agencies. Of 433 tests administered Monday, 281 results were returned as of Friday, including 35 positive tests, Craine said. Other test results are expected in the next few days.
City officials also announced Friday that the municipal court building will reopen Monday after a two-week closure that resulted from an employee who tested positive for COVID-19. The Waco Fire Department did a thorough disinfection of the building, city officials said.
Concerned about COVID-19?
Sign up now to get the most recent coronavirus headlines and other important local and national news sent to your email inbox daily.