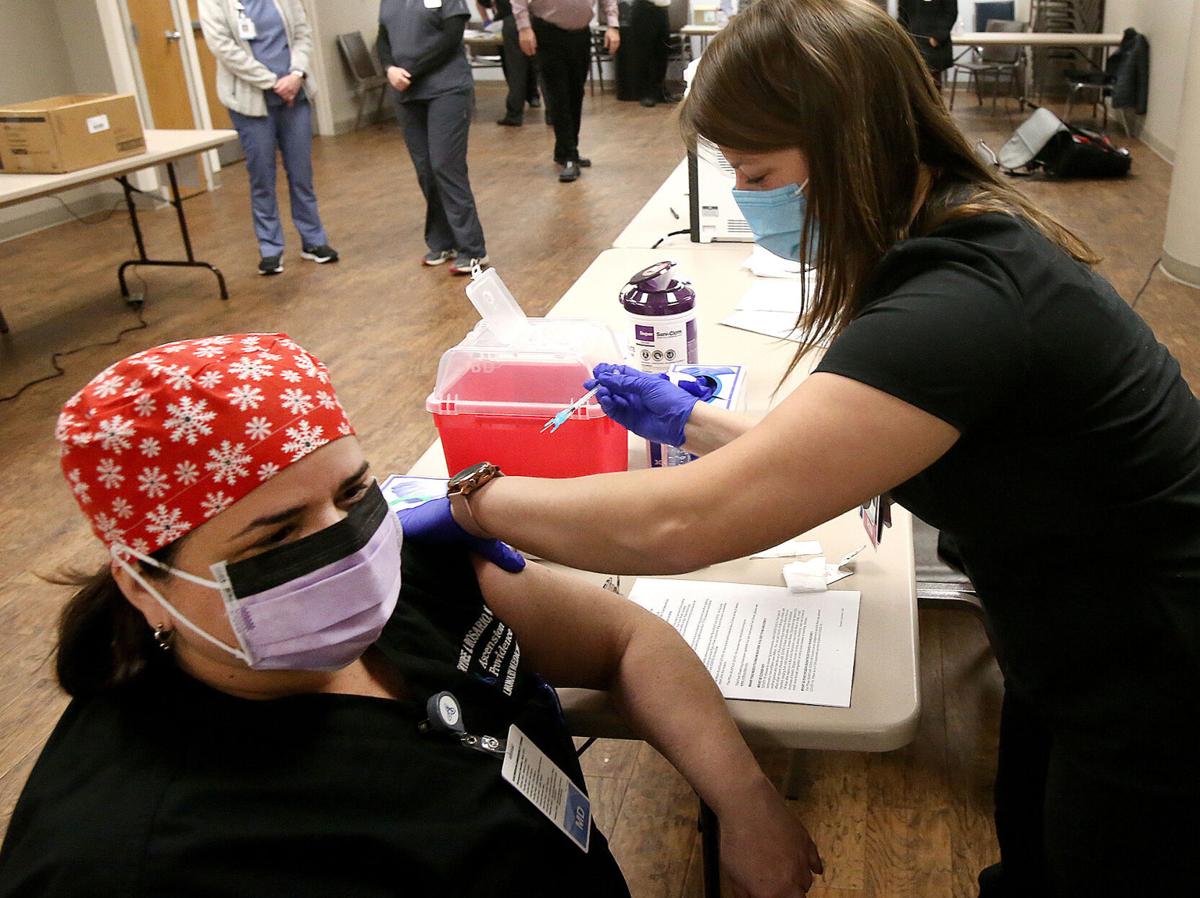 Gov. Greg Abbott's new order against COVID-19 vaccine mandates comes almost two weeks after deadlines passed for Baylor Scott & White Hillcrest and Waco Family Medicine employees to be vaccinated, under policies announced in July and August.
Abbott issued an executive order Monday to prohibit any entity in the state from enforcing a COVID-19 vaccine mandate on workers or customers, and he called on state lawmakers to pass a similar ban into law.
"No entity in Texas can compel receipt of a COVID-19 vaccine by any individual, including an employee or a consumer, who objects to such vaccination for any reason of personal conscience, based on a religious belief, or for medical reasons, including prior recovery from COVID-19," Abbott wrote in his order.
Baylor Scott & White Health and Ascension, the systems that operate Waco's main hospital-and-clinic groups, announced their vaccine requirements in July, and Waco Family Medicine, which operates a system of clinics serving lower-income and uninsured residents, announced its requirement in August. Vaccination deadlines passed a little more than a week ago for Baylor Scott & White and Waco Family Medicine, and Ascension's deadline was set at Nov. 12, the same as its deadline for flu vaccination. All three entities allowed for exemptions in line with longstanding requirements for other vaccinations.
McLennan County Judge Scott Felton said as governor, Abbott has the authority to issue such a mandate. He said he does not have an opinion about whether the issue should be a subject for the Legislature's special session.
"It seems that mandates really haven't been working that well, and I think mandates may not have enough consideration for a lot of other factors, such as natural immunity and other personal decisions," Felton said. "In my opinion, they have the right to make those decisions."
State Sen. Brian Birdwell and state Reps. Kyle Kacal and Charles "Doc" Anderson, who all represent the Waco area, did not respond to requests for comment Tuesday.
CEO Dr. Jackson Griggs said 560 of Waco Family Medicine's 583 employees are fully vaccinated. Some of the 23 not yet vaccinated are on leave for various reasons, and some have delayed their vaccination because they received monoclonal antibody infusions too recently, he said.
"Any of our staff who are not fully vaccinated are wearing N95 masks and receiving testing twice a week and following related protocols," Griggs said.
In a brief statement, Baylor Scott & White spokesperson Megan Snipes said officials are still reviewing Abbott's order, and about 98% of the system's employees statewide have been fully vaccinated. The system includes 52 hospitals and more than 800 care sites, according to its website.
Ascension Providence did not respond to requests for comment Tuesday.
In McLennan County, almost 53% of eligible residents, meaning age 12 and up, are fully vaccinated, compared to almost 63% statewide and more than 66% nationwide.
Abbott, who was previously vaccinated and also later tested positive for COVID-19, noted in his order that "vaccines are strongly encouraged for those eligible to receive one, but must always be voluntary for Texans." In a tweet announcing the order, he said "The COVID-19 vaccine is safe, effective, & our best defense against the virus, but should always remain voluntary & never forced."
The order comes as the Biden administration is set to issue rules requiring employers with more than 100 workers to be vaccinated or test weekly for the coronavirus. Several major companies, including Texas-based American Airlines and Southwest Airlines, have said they would abide by the federal mandate.
Other states
With Abbott leading the charge, conservative Republicans in several states are moving to block or undercut President Joe Biden's COVID-19 vaccine mandates for private employers before the regulations are even issued.
The growing battle over what some see as overreach by the federal government is firing up a segment of the Republican Party base, even though many large employers have already decided on their own to require their workers to get the shot.
The dustup will almost certainly end up in court since GOP attorneys general in nearly half of the states have vowed to sue once the rule is unveiled.
The courts have long upheld vaccine mandates, and the Constitution gives the federal government the upper hand over the states, but with the details still unannounced and more conservative judges on the bench, the outcome is not entirely clear.
White House officials brushed off Abbott's order, saying the question of whether state law could supersede federal was settled 160 years ago during the Civil War. They said the Biden administration will push through the opposition and put into effect the president's package of mandates, which could affect up to 100 million Americans in all.
Noting the nation's COVID-19 death toll of more than 700,000, White House press secretary Jen Psaki accused the opposition of putting politics ahead of safety.
"I think it's pretty clear when you make a choice that's against all public health information and data out there, that it's not based on what is in the interests of the people you are governing. It is perhaps in the interest of your own politics," she said.
Elsewhere, lawmakers in Arkansas have approved a measure creating vaccine-mandate exemptions. Though the GOP governor hasn't said whether he will sign it, it has prompted fears businesses will be forced to choose whether to break federal or state law.
"We are tying the hands of Arkansas businesses that want to make their own decision in how best to keep their people safe," said Randy Zook, president of the Arkansas Chamber of Commerce. Some of the state's largest companies, including Walmart and Tyson Foods, have required some or all employees get vaccinated.
Calls for special legislative sessions to counter vaccine mandates have been heard in states like Wyoming, Kansas and South Dakota, where Republican Gov. Kristi Noem is so far resisting calls to immediately consider a bill that would guarantee people could opt out.
"I hear from people almost daily who are going to lose their jobs, are living in fear," said Republican state Rep. Scott Odenbach, who has clashed with Noem on the issue. "They shouldn't have to choose between feeding their family and their own medical freedom."
In Tennessee, a $500 million incentive deal to lure a Ford Motor Co. project could be undermined if GOP Gov. Bill Lee refuses to consider further loosening COVID-19 restrictions, including vaccine requirements, the powerful House speaker told a local radio station.
In Indiana, Republican Gov. Eric Holcomb is also resisting a push from within his party to ban workplace vaccine mandates.
Bills are being introduced or drafted elsewhere too, including swing states like Ohio and New Hampshire, where the Republican sponsor was elected House speaker after his predecessor died of COVID-19.