Cameron Park reopened to the public Monday afternoon after crews spent all day cleaning up a mess of trees felled by the previous day's snow.
Waco parks officials closed the park Sunday afternoon after evergreen Ashe junipers, cedar and shrubs snapped under the weight of the snow, which measured 4.4 inches deep by day's end.
On Monday, as the snow melted, a 15-person crew wielding pole saws and chainsaws broke down fallen trees and limbs and used a claw-truck to scoop them.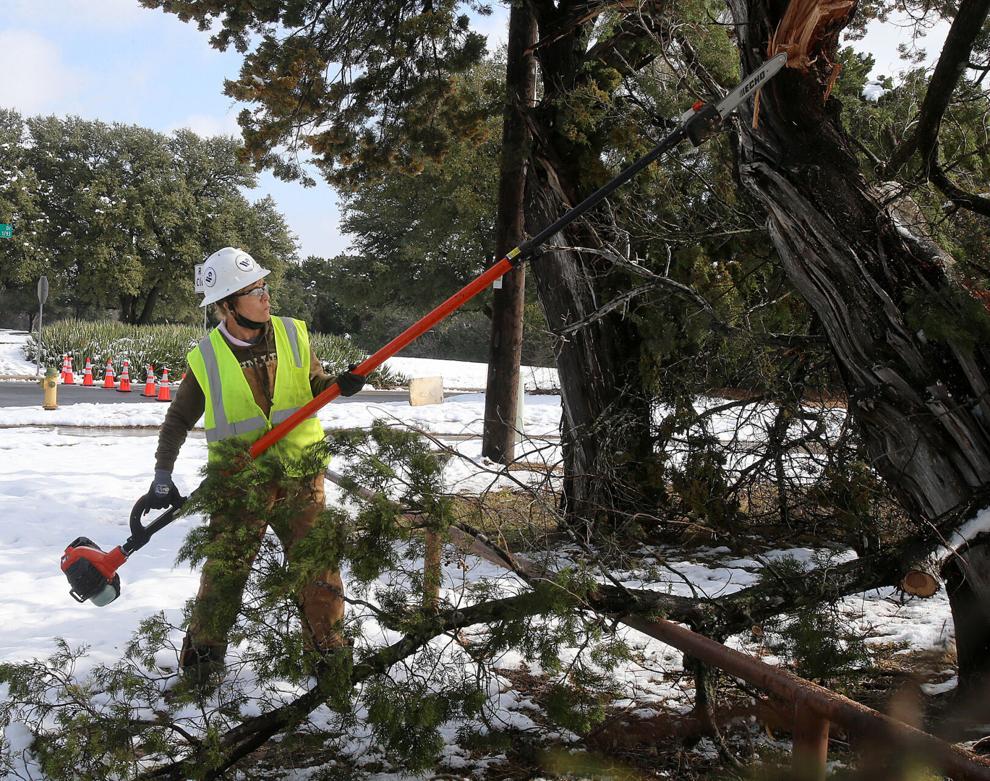 "The problem is that you need to do that over, and over, and over and over," field supervisor Mike Orrson said. "It's literally one tree at a time."
The Cameron Park scene was indicative of substantial tree damage all over Waco that had yet to be fully cleaned up by the end of Monday, parks officials said.
Orrson said the parks department received the first call about the downed trees at Cameron Park around 11 a.m., when the first of multiple cars became trapped by the falling trees in the Mouth of the Bosque area of the park, where the Bosque and Brazos River meet. An on-call worker responded, and the department closed the Mouth of the Bosque area to guests.
"It went south soon after that," Orrson said. "By 2 p.m., it was all hands on deck that I could muster."
By 3 p.m. it became clear that most of the 416-acre park would have to close as more people came to the park to enjoy the fluke snowfall. As the crew arrived, workers could hear more limbs snapping in the distance.
"We were going to close each individual park, Circle Point, Lovers Leap, Mouth of the Bosque, but then we were getting so much traffic trying to clear limbs that we had to make the call to shut the park down so we could clear trees without vehicular traffic and no cars getting struck by falling limbs," Orrson said.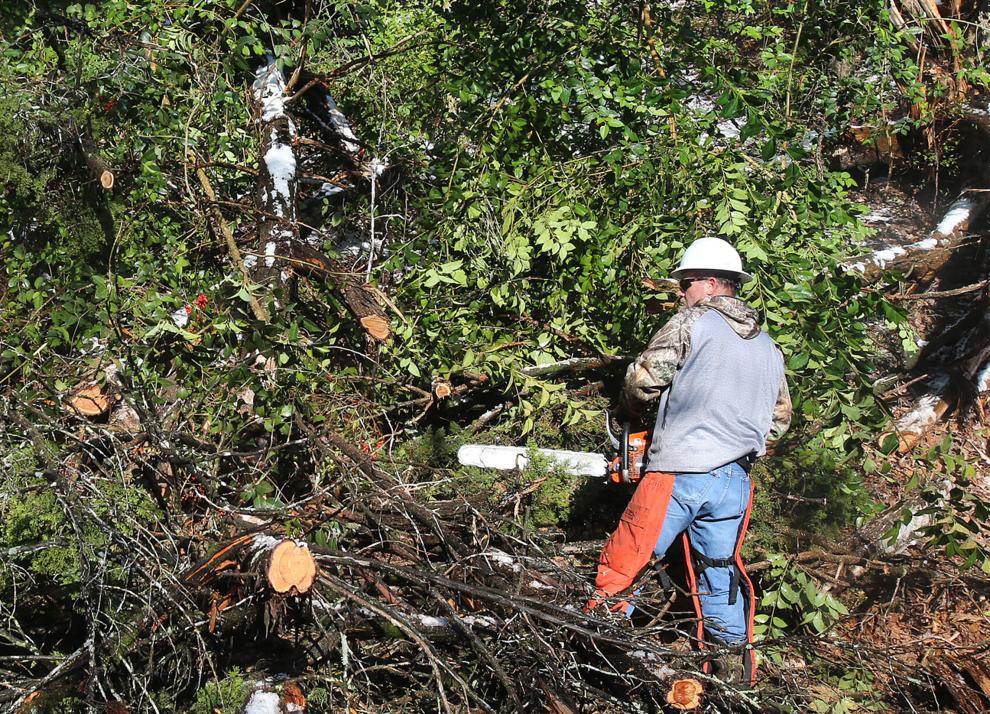 The trees weren't alone. Ligustrum, cane and bamboo that grows along the roadways bent under the weight of the snow and began to hang in the roads, blocking it even more and occasionally breaking until the snow melted. Cook said snow refroze on some roads, complicating the situation further.
Orrson said the last call about a blocked roadway came in around 9 p.m. Sunday. A crew of six people worked until sundown Sunday clearing trees from Cameron Park, plus 14 other downed trees on roadways throughout the city. The parks department temporarily dumped the trees in an empty city parking lot at Riverbend Ballpark, and will take the debris to Waco Regional Landfill once the weather improves.
One 6-foot tall pile of trees and limbs took up 11 parking spaces, and a 7-foot tall pile of wood chips took up another seven parking spaces. Orrson said he estimates the parks department has cleaned up well over 200 individual trees all over town. One of the largest fell in East Waco and took two hours to remove.
"It's countless," Orrson said.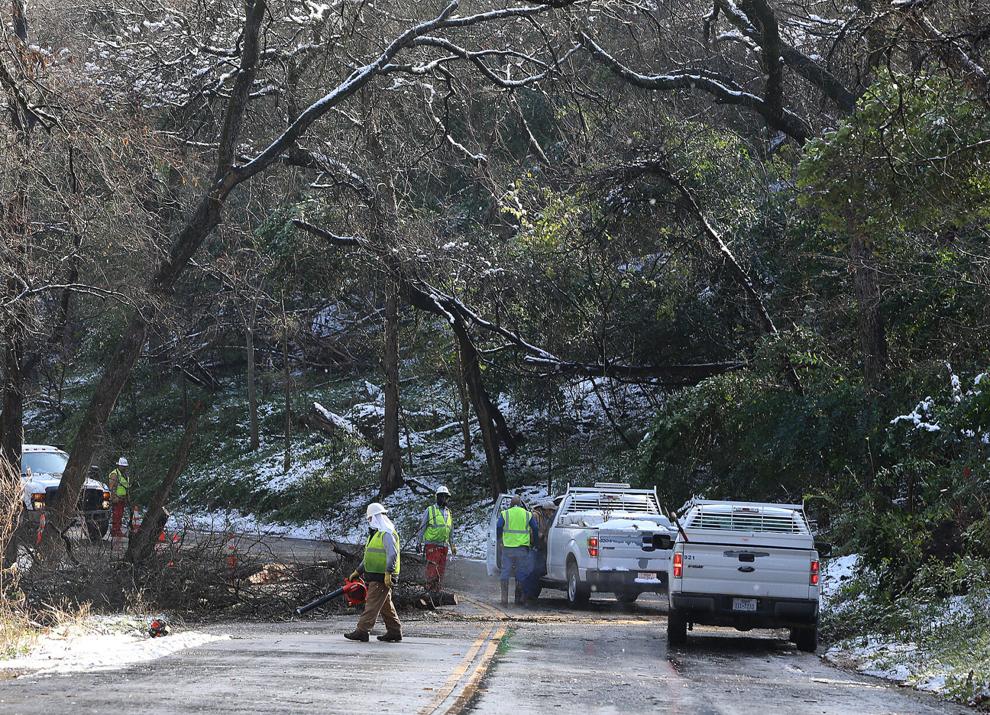 Parks and Recreation Director Jonathan Cook said the tree crew anticipates having to clean up trees or brush after severe thunderstorms, but never all at once.
"That we're accustomed to, but we're not accustomed to snow and ice," Cook said. "We've had some instances where we've had to close roadways, but the extent of this closure is exceedingly rare."
Cook said more open areas such as Pecan Bottoms and Redwood Shelter remained open, but Cameron Park Drive had to close from Rock Shelter to Lovers Leap after five especially large trees blocked the main road.
"The overhead trees make it very scenic at times, but a lot of that heavy and wet snow caused some pretty extensive damage along that drive," Cook said.
Cook said it won't end with Cameron Park, and the 15-person tree crew and 70-person parks crews will have their work cut out for them cleaning up downed trees and de-icing roads in other parks. He also said people should steer clear for now of the Cameron Park trail system, which parks crews have not fully cleared yet.
---
Photo gallery