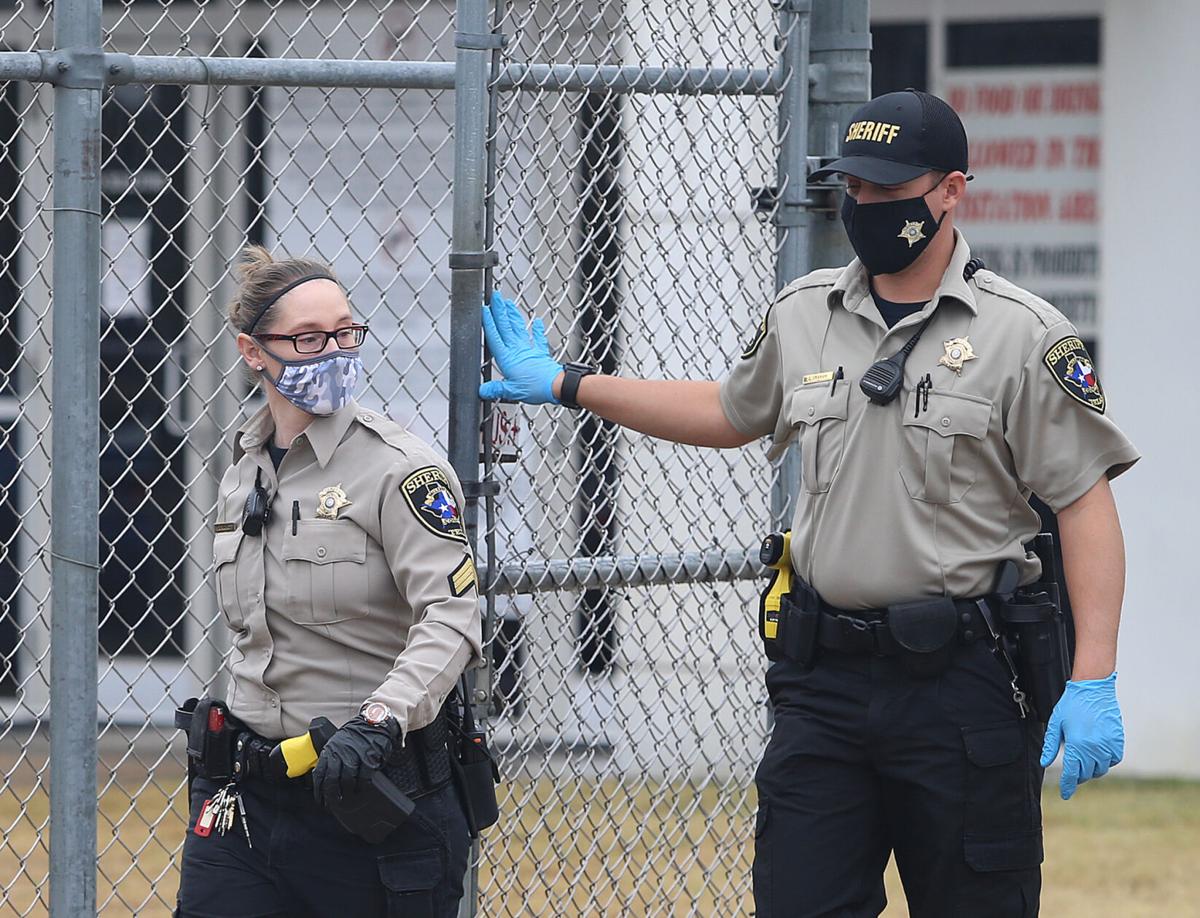 A weekend spike in COVID-19 cases has forced a 10-day lockdown at the McLennan County Jail, which will cause a ripple effect that further stalls dockets in the county's criminal courts.
With no easily accessible vaccine available for jail populations, the pandemic continues to take its toll on employees as well as inmates and the attorneys who are trying to free them from jail.
Maj. Ricky Armstrong, county jail administrator, said Tuesday that 30 county jail inmates and six officers currently had COVID-19, with 200 more in quarantine. That is up from 17 positive inmates the day before and 111 in quarantine.
The surge prompted jail officials to send out a memo Tuesday to judges and court administrators announcing the 10-day lockdown and asking them to limit teleconference hearings involving jail inmates "to those of extreme importance only."
"If the hearing is imperative, please notify the booking supervisors and they will inform you if that inmate is isolated/quarantined. If the inmate is isolated, the hearing must be rescheduled," the jail message said, adding that jail officials will resume normal hearings with inmates via Zoom on Jan. 29.
Armstrong said the 30 cases mark the biggest outbreak in months.
"It slowly creeped up and it really jumped up over the weekend," Armstrong said. "We are taking these special precautions to knock it back down again. We will lock down the facility, with no movement unless absolutely necessary for medical or emergency reasons. We just want to catch it before it gets any worse."
The state began distributing vaccines in mid-December, prioritizing medical workers, emergency medical responders, and residents and employees of long-term care facilities. A second-priority group including residents 65 and older and those with chronic conditions are now getting shots at public vaccine hubs including one in Waco.
But the state hasn't clarified when corrections employees and the state's 186,000 inmates will get their turn, although some have gotten shots because they qualify in another category. Armstrong said he and other jail staffers are waiting for news about the vaccine.
The jail outbreak comes as the virus continues to spread rapidly through the county.
The Waco-McLennan County Health District reported 398 new COVID-19 cases from Sunday to Tuesday, with five more deaths over that three-day period. That brings the number of deaths in McLennan County to 330.
On Tuesday, 286 new cases were reported, bringing the total number of cases to 22,296. There are 1,106 estimated active cases, and an estimated 20,862 who have recovered. According to the health district, 137 people are hospitalized, with 28 on ventilators.
Thomas West, who became judge of Waco's 19th State District Court at the first of the year, was eager to get on the bench to start working on the backlog that worsened dramatically when courts were brought to a virtual standstill by the pandemic.
West has handled about 60 cases in the past two weeks via teleconference, mostly guilty pleas, probation revocations and sentencings. There have been no jury trials since April.
"The safety of all individuals involved is the most important issue," West said. "This will increase the backlog, but we will be able to make up the difference quickly by aggressively setting cases when the jail has gotten over this spike in the virus."
A number of inmates have filed writs seeking to have their bonds reduced during the pandemic. When COVID first became widespread last spring, judges, prosecutors, defense attorneys and jail officials reviewed the jail population to see how many of the county's 1,200 inmates could safely be released on lowered or personal recognizance bonds.
Waco attorney Stan Schwieger has a client in jail under $250,000 bond who is receiving biweekly treatments for a large tumor in his throat. He is charged with sexually abusing a child, and Schwieger said he has been unable to convince a judge or a prosecutor to agree to lower his bond.
"So all we are doing is creating a situation where the county is going to be on the hook for hundreds of thousands of dollars for medical care because it is suggested that persons who have had COVID are recommended to be closely monitored to see how their organs are functioning after recovery," Schwieger said. "Imagine they are going to do that at the the jail while they are caring for them, trying not to get it themselves, trying to isolate those people who actually have the virus and trying to prevent it from spreading and having to care for those people who have it. And that is on top of the other typical diseases that they bring into the jail."
Schwieger said it is frustrating when clients call from jail with COVID-19 or fears that they might get it and there isn't a way to get them out.
"It is extremely frustrating because none of my clients are death penalty-eligible, and none of my clients are within the range of punishment that calls for being infected with a disease or having lifelong effects from that disease," he said. "There are ways we can deal with this.
"There are people who have to be there (in jail). We all understand that. But the remainder did not have to be there for this. The remainder could have been cleared out and effectively dealt with in a manner to ensure the safety of the public and to make sure they show up for court," Schwieger said.