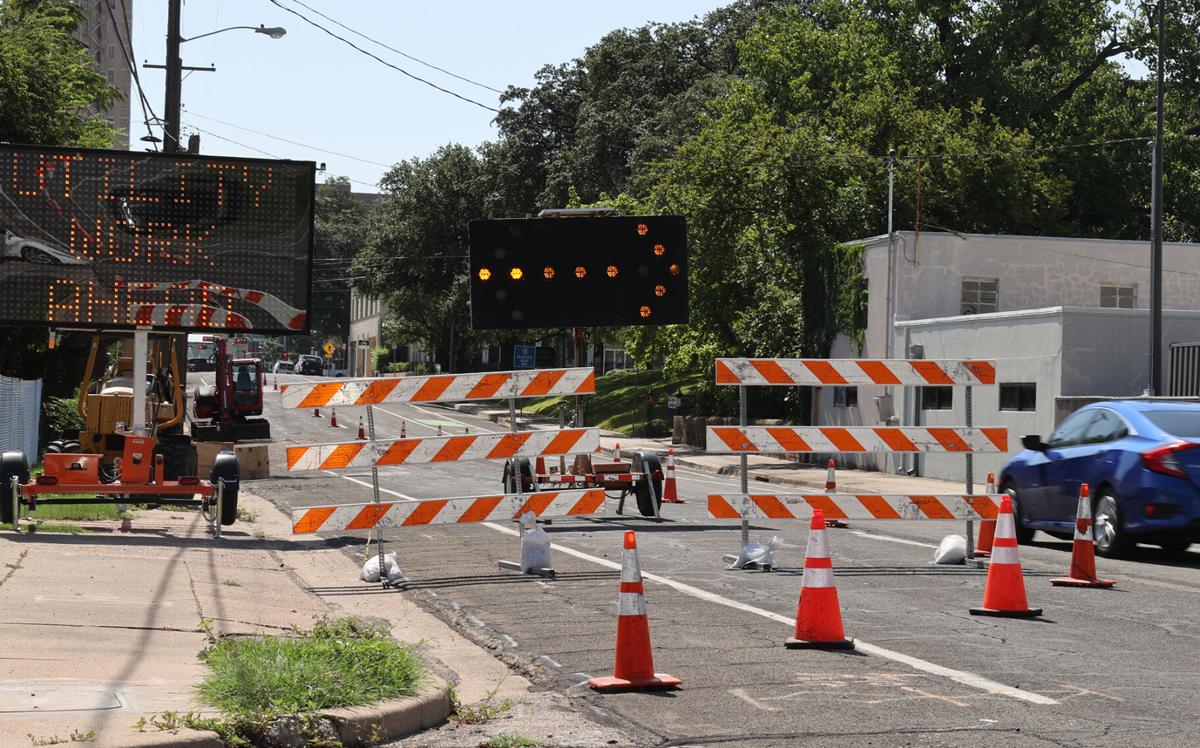 A handful of major streets in central Waco will see $47 million in work between now and 2022, work city officials said is overdue.
Utility work along Fifth Street started in May, and projects along Fourth Street, Washington Avenue, Austin Avenue and Franklin Avenue will follow, city streets division manager Jim Reed said. Extensive work along Elm Avenue in East Waco, also is already underway.
"A tremendous amount of infrastructure planning has been set into motion to not only update our aging infrastructure downtown, but more importantly to play a role in our city's economic growth and vitality," Reed said.
Waco City Council Member Darius Ewing, whose district includes the bulk of the roadwork, said the council started discussing the projects long before he was appointed to the council in June, but he knows significant pavement projects have been put off for too long.
"It almost goes without saying that we waited too long before doing anything major on any streets," Ewing said.
Constituents are vocal about the state of the roads throughout the district, not just in downtown, he said.
"Even though we're working toward it, we've got a backlog from years of not doing anything, so we've got a lot of road in front of us, pun intended," Ewing said.
He also said he has heard anecdotes from business owners about Franklin Avenue in particular, where first-time customers might miss their driveway because of the one-way layout.
The tentative schedule is organized so no two parallel roads are under construction at the same time, in an attempt to limit gridlock in downtown as the projects carry on.
The road work will also include updates for pedestrians and bikes, Reed said. Elm Avenue and a conversion of a large stretch of Washington Avenue to two-way traffic will be next up for bid, and city staff will pick a proposal for each project by November if all goes well, Reed said. In February, Reed presented a new $4.9 million estimate to the city council for the Washington Avenue project, about double what the city initially expected to pay.
Converting Washington Avenue from one-way to two-way from Fifth Street to 18th Street will involve long-needed pavement rehabilitation, addition of bike lanes and sidewalk improvements required under the Americans with Disabilities Act. Because of high costs, initial plans for bike lanes divided from the road have been scrapped for traditional bike lanes, Reed said. The divided bike lanes will remain an alternative bid option.
A pavement rehabilitation project planned along Austin Avenue between 11th and 18th Streets will include updates to sidewalks and sewer infrastructure.
An estimated $4.8 project on Franklin Avenue from University Parks Drive to 18th Street would convert the road to two-way traffic and include sidewalk repairs in spots. Officials are considering two lanes in each direction, potentially with a central turn lane. Work is expected to start in January 2022.
The Franklin Avenue project is key to expanding public transit in the city, Reed said. Franklin Avenue would be the backbone of a proposed Bus Rapid Transit system that would replace Waco Transit's current bus routes with a central line crossing town and smaller routes branching off the main line.
Ongoing work on Fifth Street between Cleveland Avenue and Bosque Boulevard is expected to last another year-and-a-half.
Work is expected to start in fall 2022 on a $13.2 million project on Fourth Street, including pavement work, addition of buffered bike lanes and sewer work.
"When we talk about funding needed to move all of these projects forward for construction, it's important to stress the average cost per project is estimated to be about $8 million," Reed said.
Reed said the city will still need to identify $22.9 million in future funding.
"We are about halfway through finding the funding that needs to be dedicated to these six projects," Reed said. "The largest shortfall … involves future requests starting with budget year 2022."