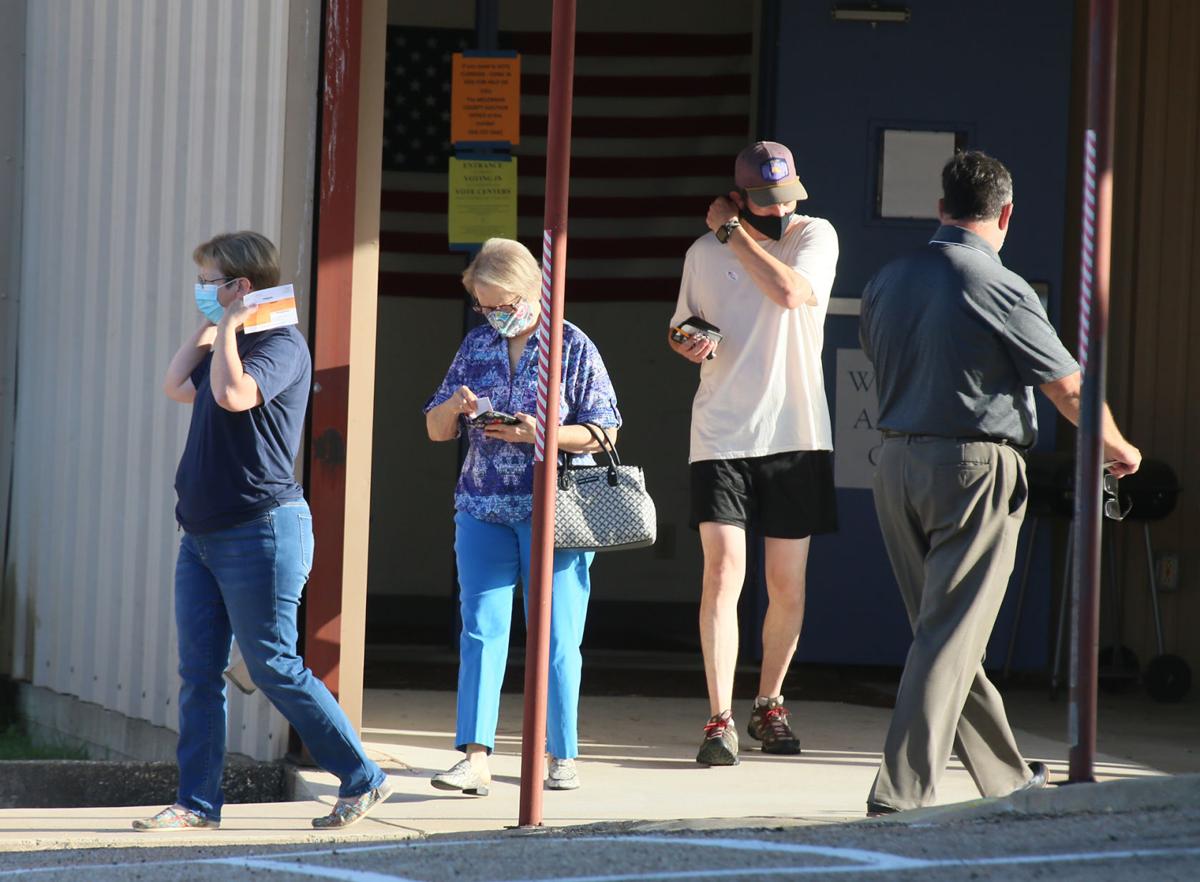 At least three election workers who manned a polling site in Robinson during the two weeks of early voting in the primary runoff have tested positive for COVID-19, a McLennan County election official said Monday.
One of the workers who is hospitalized estimated that from 10 percent to 15 percent of voters who cast ballots at the Robinson Community Center at 106 W. Lyndale Drive did not wear masks into the polling site.
While Gov. Greg Abbott issued a statewide order requiring that masks be worn in public places where social distancing is not easily accomplished, he exempted Texans from wearing masks while voting during early voting and the July 14 primary runoff election.
"Generally speaking, I think everybody ought to wear masks, and those who don't are fools and don't care about their fellow man," said one of the sick election workers, who is hospitalized and asked to remain anonymous.
The worker and McLennan County Elections Administrator Kathy Van Wolfe said they have heard two others working the Robinson polling site also have COVID-19. Van Wolfe said she has not spoken directly to the three who are ill, adding that they could have contracted the virus at multiple locations other than the Robinson voting site, such as at restaurants, grocery stores or family gatherings.
Van Wolfe and the worker confirmed the election workers' illnesses while McLennan County Public District officials said there were 59 new cases of COVID-19 on Monday, with no new deaths reported.
The district reported there have been 3,472 total number of COVID-19 cases reported, with 1,503 estimated active cases and 1,945 estimated patients who have recovered. There are 77 COVID-19 patients hospitalized in McLennan County and 14 of those are on ventilators, according to health district figures.
McLennan County's positivity rate remains high at 22 percent, meaning out of every 100 people tested, 22 test positive. The current statewide positivity rate is 15 percent.
Van Wolfe expressed concern before early voting began in the primary runoff about the health and safety concerns of voters and election workers, many of whom are elderly with health issues. Two of the regular polling locations, McLennan Community College and the Episcopal Church of the Holy Spirit, were closed because of the pandemic and unavailable for use.
In the weeks leading up to the start of early voting, several of Van Wolfe's veteran election workers told her to scratch them from the runoff and general election duty rosters out of concern for being exposed to the coronavirus, Van Wolfe said.
"I guess we will see in a couple of weeks if there has been any fallout from the election as far as illnesses," Van Wolfe said. "I guess we will have to wait to see how this affected the state, not just McLennan County."
Election workers wore face shields and masks and wiped down voting machines after each voter. Voters were able to sign in with a pen that they could keep and were given a pencil to use to dial in their votes on voting machines.
"I am very fortunate that they were willing to come out," she said. "I appreciate that they want to come and help. We can't do it without those workers. They are the most important asset we have and I hope they don't get sick from this."
Van Wolfe said she is hopefully optimistic that plenty of election workers will be available in November and that those sites willing to be used as polling locations will continue to offer those services.
"As of today, we are all booked up," Van Wolfe said of polling locations. "It is a wait-and-see game with COVID because we don't know what tomorrow will bring. Things change daily. It will be interesting to see if we have any more cases statewide because people came out to vote."
While health district spokesperson Kelly Craine said the local positivity rate, which is eclipsing the statewide rate, is alarming, health officials continue to preach the importance of social distancing, face coverings and staying away from large gatherings.
"At this point, I don't think there is anyone who doesn't know someone who hasn't come down with COVID," she said. "So it is likely that people you interact with have COVID and don't know it and have been exposed to it. My strong message is that you are more than likely to get this from somebody you know than from strangers. People can get it at parties or going to visit family and have Sunday dinner or have game night with a small number of people. There is that risk."
Concerned about COVID-19?
Sign up now to get the most recent coronavirus headlines and other important local and national news sent to your email inbox daily.